Be on your toes when Putin enters the room
Our writer finds the Russian President sharp, focused and worth the wait at an annual discussion of Russia and its place in the world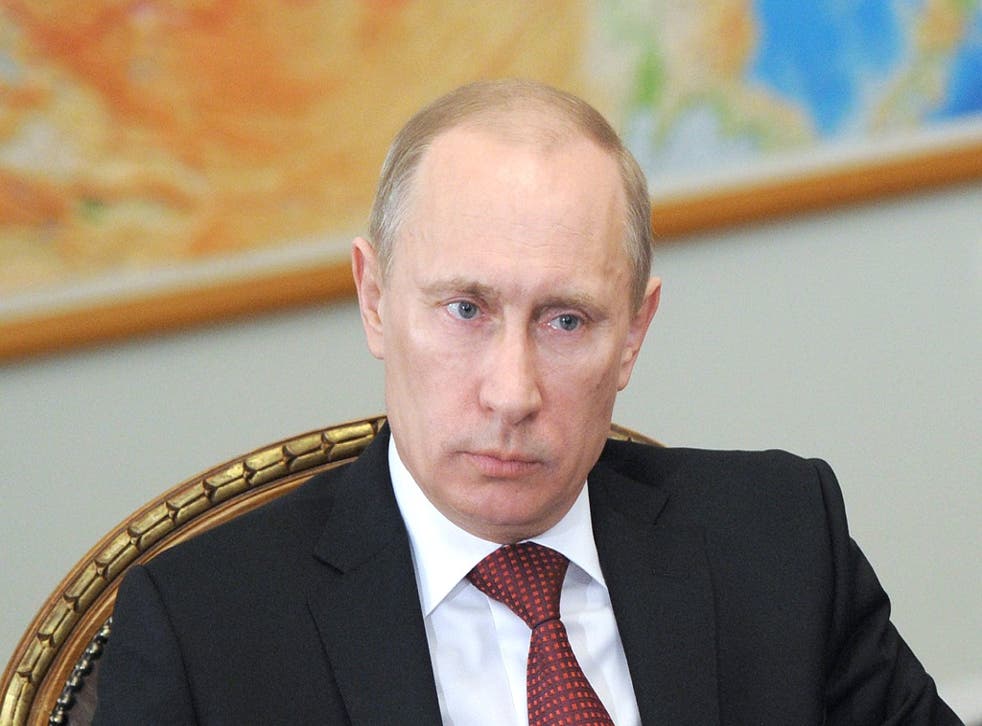 This was the seventh time I had met Vladimir Putin at the annual Valdai meetings in Russia, and this year he was late, as usual. Not as late as he was last year, when we queued up for security in a raging blizzard at a restaurant outside Moscow. But late enough that we had stood around being plied with drinks and nibbles for an hour and a half before being ushered into the huge dining hall – and that was after our departure from central Moscow had been put back an hour.
Waiting for Vladimir Vladimirovich – or VVP as many call him – has been a feature of Putin's 12-plus years at the top of Russian politics. I calculated that one of the American members of our group – who had been to all nine Valdai meetings (I have been to seven) - had spent roughly a day of his life waiting for Putin. His closest staff must have accumulated months of waiting time. A television film, shown on Putin's 60 birthday earlier this month, showed his press secretary and other members of staff playing pool to while away the hours, with not the slightest ill will.
And when the call comes, they snap to. Each year, for us Valdai people, there has been another wait after we have been ushered into the meeting hall. The moment Putin arrives in the vicinity, though, any sense of leisure or relaxation evaporates instantly. The staff – the few aides he brings with him, and the serving staff – tense up in anticipation of The Arrival – which is brisk and extremely businesslike. Once there, Putin does not hang around.
I have never seen Putin other than focused, exceptionally so, on the task in hand. You sense that he values his own time, and his own dignity – which he might rather define as the dignity of the office he holds. I found it telling that this year he received us in the presidential residence at Novo-Ogaryovo in a forested suburb which has long sheltered the houses of the elite just outside Moscow, and he wore a formal suit and tie. This was also where and how he had received us the very first time, nine years ago, when the meeting came out of the blue at the end of a conference to discuss Russia's transition after the collapse of the Soviet Union.
That meeting was blighted by the Beslan tragedy. And the Putin we saw at that meeting – which began, late, after 9pm and went on past midnight - was spitting angry about an atrocity that had taken the lives of so many young children, and not too fussy about the sort of language he used. It veered to the register of the barrack-room – a side of his character Westerners sometimes find inappropriate and shocking.
Many Russian intellectuals feel the same – and it is one reason they tend to hold him in contempt. But it endears him to earthier Russians, marking him out as "one of them". They also like the fact that he got their wages paid on time, after a period of economic chaos, and refuses to kowtow to foreign leaders. If he has not managed – yet – to make Russia great again, in their eyes, he has stood up for Russia in a way that a Russian leader should do.
At that first meeting, Putin was concerned to get his message out – that terrorism was as much a scourge for Russia as it was for Western countries. (This was 2004, and the shadow of 9/11 still hung heavy.) He was impatient to get something done – as any national leader in a similar situation would be. Even in those exceptional circumstances, though, he was not only focused, but brimming with energy, open to all questions that might be thrown at him – until this year, we had never been asked to formulate questions in advance - and no less adept at marshalling facts, figures and experiences to arrive at his conclusions.
Indeed, over the years, Putin has shown a remarkably consistency of manner and approach. And, indeed, appearance. While some speculated that he had been treated with Botox last year or even had a facelift – another explanation was that he had had eye surgery for medical reasons – his appearance has changed little over. He has lost a bit of hair; put on just a little weight, but – as the recent Russian television film demonstrated, in a sequence showing his gym work-outs and daily swims – he remains extremely fit for his 60 years.
Physical fitness, and sport, are clearly personal passions. Another Putin hallmark, though, is loyalty. His closest team has remained almost unchanged since that very first meeting nine years ago. And the corollary of that is that he does not like to be crossed. You can see in his demeanour that he has strong likes and dislikes, and is loth to change his mind once it is made up. Our meetings show that in a small way. If he doesn't like a question, it often seems that this is not because it is embarrassing or he doesn't want to answer it, but because he thinks it's been formulated in a woolly, time-wasting way. Far more seriously, this translates into a ruthlessness towards those he regards as enemies, or simply disloyal.
Much has been made by several of Putin's biographers of the "coldness" of his eyes. Having sat around the table with him, and clinked glasses with him this week, I would say rather that, while his eyes are indeed a strangely light blue colour, that does not make his manner cold. I would describe it rather as detached. He keeps a distance – as those who exercise power are inclined to do. Pop psychologists might cite the loneliness and relative poverty of his childhood in what was post-siege Leningrad, or perhaps the double-life he once led as a Russian foreign agent. Perhaps he has just learnt not to give his innermost thoughts away.
At our meeting on Thursday evening, Putin was asked whether he would be happy to go down in history as the leader who brought stability to Russia after the collapse of the Soviet Union and the tumultuous presidency of Boris Yeltsin. He did not demur, but reeled off the improvements in living standards, GDP, and Russia's sense of itself that had been achieved over the last 12 years as well, and strongly suggested that he intended more to come.
Join our new commenting forum
Join thought-provoking conversations, follow other Independent readers and see their replies