Britain's shameful complicity in Sri Lanka's torture
How dare we allow people to be transported to regimes we know go in for this abuse?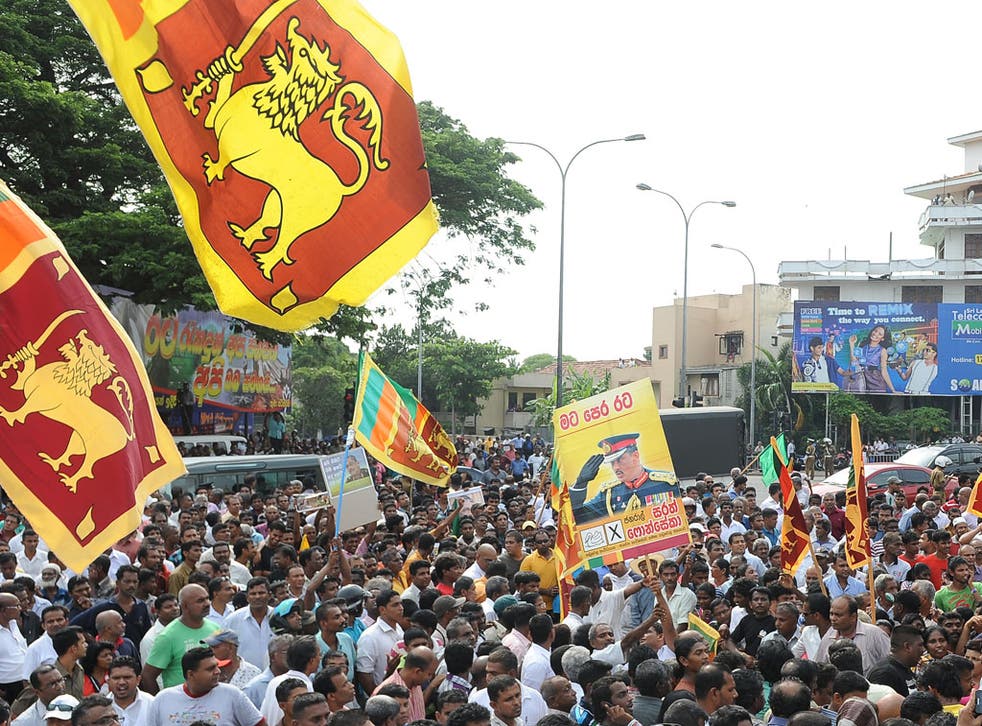 When it first emerged that Britain had knowingly allowed terrorist suspects to be illegally rendered to third party states to be tortured in the early half of the last decade the story made national headlines. How could Britain, a supposedly liberal democracy and bastion of human rights, deliberately allow someone to be transported towards regimes they knew would abuse them?
Sadly we're still doing it to this day. The only people that dispute the allegation that torture is rampant in Sri Lanka is the country's notoriously bullish government who - after the defeat of the Tamil Tiger insurgency in 2009 – feel both impervious and above international law.
Human rights groups, the UN, scores of survivors and even the Foreign Office know torture is common place. Yet our Border Agency is still determined to continue kicking out as many people it can – including those who fled Sri Lanka convinced their lives are in danger.
Every time a new charter flight is announced (the media are usually tipped off by lawyers because the government never comments until the planes have landed) we're told that we shouldn't worry because Britain only deports people they know will not be at risk of ill treatment.
It's a nice line but it's completely false. As this report shows the government does very little to check up on the welfare of returnees once the leave the arrivals hall at Bandaranaike International.
More importantly there's the mounting, compelling and scrupulously documented evidence detailing how people we – and other European nations – have returned have been horrifically tortured. Human Rights Watch have compiled 13 documented cases of returnees being tortured since the end of hostilities in 2009 whilst Freedom from Torture has uncovered a further 24 instances where people who returned voluntarily – usually for family reasons such as weddings and funerals – have found themselves interrogated and tortured over their perceived or real links to the Tamil Tigers.
Crucially, our own asylum tribunals are beginning to recognise that returnees have been tortured and have granted asylum to a number of people who were forcibly kicked out of Britain only to escape again.
The tragedy is that most of these people have had to be horrifically abused a second time before we finally believed them.
It's simply not good enough for the British government to continue pushing this completely contradictory policy whereby our Foreign Office recognises people are tortured while our Home Office ignores it.
Of course people will abuse the asylum system and Britain must do everything it can to make sure it only grants sanctuary to those who need it. But given how many torture cases are coming out of Sri Lanka it is unconscionable to continue deporting predominantly Tamil asylum seekers back to Colombo until there is a change of government there or a significant shift in policy.
To understand why Tamils are so vulnerable you have to understand the mind set of the current administration running Sri Lanka. For the last 30 years the Sri Lankan government – dominated by the island's Sinhalese majority – have fought a civil war against Tamil nationalists in the north of their country. After three decades of conflict Sri Lanka's increasingly autocratic president Mahinda Rajapaksa (and his defence chief brother Gotabhaya) decided to carry out a final offensive against the Tigers.
With the international press banned from the front lines they were able to carry out their war with little public scrutiny. Allegations of mass killings, rapes and the deliberate bombing of civilians in the final stages of the war have been documented whilst Colombo have refused any attempt to allow the international community in to fully verify these allegations.
There is little doubt, meanwhile, that the Liberation Tigers of Tamil Eelam were an unscrupulously vicious opponent. They mercilessly crushed more moderate, democratic Tamil nationalist groups, they pioneered suicide bombings against military and civilians targets and they often recruited child soldiers to fight their battles. During the final stages of the war there are credible reports that they deliberately used civilians as human shields.
But over the decades they also ran a relatively popular, functioning civilian government across vast swathes of the north and north east of Sri Lanka which many felt addressed the well-placed grievances that Tamils had against their Sinhalese neighbours. That meant that when the Sri Lankan army steam rolled through the Tamil areas virtually any adult male (or female given the gender equality promoted by the Tigers' military) were potential LTTE sympathisers.
Over the decades the Tigers also clearly enjoyed both financial and moral  support from its diaspora especially in London and Toronto which both boast large Tamil communities. With the LTTE militarily obliterated at home, the Sri Lankans are understandably determined not to allow anyone overseas to create an alternative.
That means any Tamil who spends time in London is regarded as a potential Tiger sympathiser, activist or fundraiser. The Sri Lankan government is very black and white about this. When I wrote a piece earlier this summer detailing how new video footage had emerged showing Sri Lankan soldiers gloating over the naked corpses of slain Tamils, Bandula Jayaseketra – President Rajapaksa's spokesman – genuinely accused me of being on the LTTE's pay roll. The accusation was as comical as it was defamatory but in nonetheless provided an insight into how Colombo equates any criticism of their policies with unbending support for a proscribed group. There is no middle ground.
London is viewed with deep suspicion in Colombo. Those who have been tortured have reported how their interrogators are often more interested with what they get up to over here than at home. A number of survivors, including one woman I interviewed last week, have detailed how pictures and video footage of them attending anti-Sri Lankan government rallies in London have been used in their interrogations as proof of support for the LTTE.
All of this feeds into a heady mix that means – in the eyes of the Sri Lankan government – anyone who claims asylum must have some sort of connection to the Tamil Tigers which needs to be rooted out on their return.
So spare a thought for 32-year-old Muralitharan Chinasamy, one of those on board today's deportation flight who spoke to me via telephone from the Tinsley House deportation centre.
"It's almost like a funeral here," he told me "Everybody is crying, moaning and I am determined not to go back."
Muralitharan [not his real name] knows the government will be after him because he used to work in the propaganda and financial wings of the LTTE. "I'm pretty sure not just me, many of us will be stopped at the airport or arrested soon afterwards. I beg the government to reconsider their decision and look into our cases again."
Register for free to continue reading
Registration is a free and easy way to support our truly independent journalism
By registering, you will also enjoy limited access to Premium articles, exclusive newsletters, commenting, and virtual events with our leading journalists
Already have an account? sign in
Join our new commenting forum
Join thought-provoking conversations, follow other Independent readers and see their replies