Cops today, country tomorrow: Theresa May is on the rise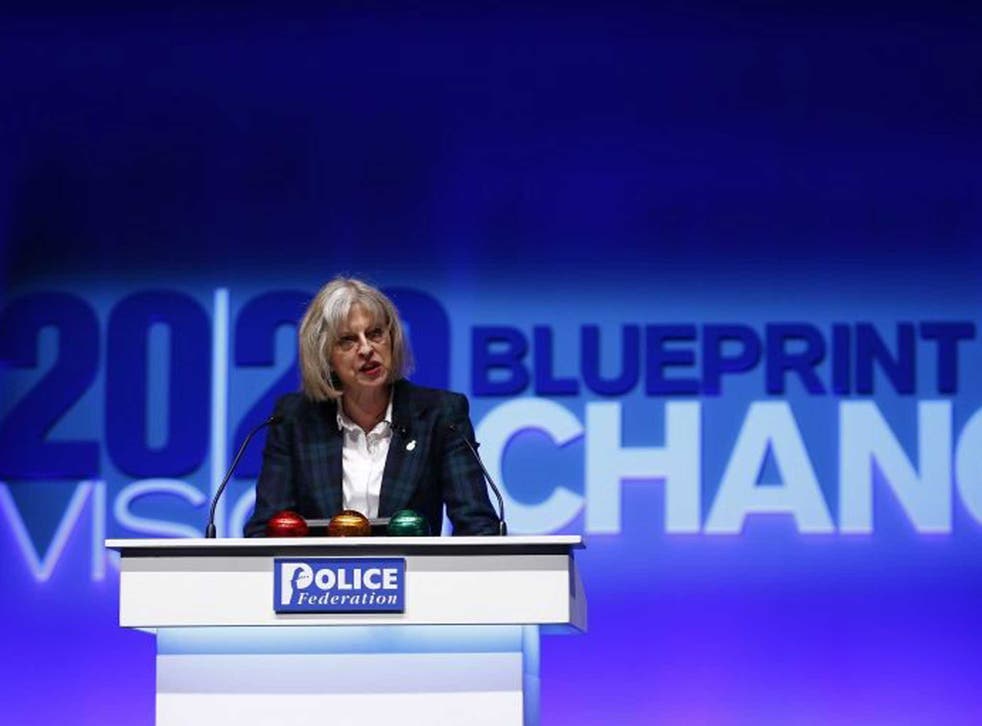 I have two cod theories about politicians which I love trying out. The first is the optical illusion of power, in which people appear taller when in high office. I swear Tony Blair seems much shorter now than he did when prime minister; whereas I once bumped into a newly sacked member of the Shadow Cabinet who looked like he'd lost a few inches (as well as some pride). The second I'll call the ambition/fun ratio inversion, where the duller politicians are over lunch, the more powerful they are or are likely to become. I'm thinking of the gossipy back-bench Tory who never refuses wine, in contrast to the serious rising star who can be perfectly pleasant over the rabbit ragu but somehow keeps an invisible pane of glass between me and him or her. You still have to take them out, but they are hard work (political journalism is a tough life).
Theresa May falls into this latter category. MPs and journalists alike complain that she is not clubbable, doesn't engage in tea-room gossip, and takes time to warm up over lunch. With her, it's invisible double-glazing. Yet she is the bookmakers' favourite to succeed David Cameron as Tory leader, and there is no doubt she wants the job, when the time comes. And after her blistering, eviscerating speech to the Police Federation last week, I am more convinced than ever that she is capable of becoming the next leader of the Conservative Party and prime minister.
This depends, of course, on two issues: 1. Would MPs, the voters who matter most in a leadership election, choose her? And 2. Could she win a general election? The answer to 1. is no, possibly – because her aloofness has left her with fewer supportive MPs than George Osborne or Michael Gove. But I believe the answer to 2. is almost certainly yes, and for several reasons. Let us imagine that the general election forecasts this weekend are accurate, and Labour ends up the largest party in a hung parliament. After a decade in the job, Cameron would probably have to resign as Tory leader, having twice failed to win an outright majority. His party would be foolish to elect another ex-member of the Bullingdon Club, even if George Osborne had turned the economy round or Boris Johnson could point to his record in London. May, with her comprehensive education and proper job (at the Bank of England) before Parliament, has broad, electable appeal. An early Tory moderniser who stood up to her "nasty party" in 2002, May as home secretary has gone for both the right-wing populism, with her successful extradition of Abu Hamza, and the progressive, introducing legislation against modern slavery. Her standing up to the police is extraordinary for a Conservative politician and therefore far braver than the Education Secretary, who cannot bring himself to speak to the teachers he so loathes. The one problem is her handling of immigration, but so far she has managed to escape criticism for Ukip's electoral gains.
If only Tory MPs could see that the answer to question number 2 is yes, then the answer to question number 1 would also be yes. By the way, it may be sexist to obsess, as we journalists do, about her kitten heels – yet May uses them as part of her brand as Margaret Thatcher used her handbag. In 20 years' time there could be West End plays entitled Kitten Heels about the second woman to lead the Conservative Party. Not only does May have the optical illusion of power, the shoes give her added height in reality. She has it all.
As if one Bojo isn't enough
At the Chelsea Flower Show last week I came face to face with Boris Johnson – or, rather, the frightening cream, crocheted, gorilla version of him, by artist Shauna Richardson, called Bojo. It was the eyes – matching perfectly with the Mayor of London's – that were the eeriest thing about this creature. Unfortunately, Johnson himself did not get the hairy eyeball from Bojo because he stayed away from the RHS show this year. Could this be because, in the same week as the local and European elections, it wouldn't look good for him to be seen at the high-society event?
Farage the secret vinophile
Least surprising election moment was when Nigel Farage celebrated Ukip's arrival in the Westminster "hen-house", as he put it, by pulling pints in a pub in Basildon, where his party gained 11 seats from the Tories. Yet I'm told that the Ukip leader's favourite drink is not a pint of blokey ale but a glass of fine wine and, later, brandy. Farage, who said on Friday that the "political elite … all went to the same schools" while not reminding everyone that he was educated at Dulwich College, is not afraid of a bit of pretending.
Abbott's masterclass in crass
If you think Ed Miliband has had a difficult week – struggling first over the cost of his family's weekly shop and then over a bacon butty – it hasn't been as bad as Australian Prime Minister Tony Abbott's. His wink at a radio host as he took a call from a distressed and ill 67-year-old grandmother who had to resort to working for a sex phone line to make ends meet was surely the crassest thing a political leader has ever done. I understand that his strong, right-wing views have even taken aback British Tories, with Cameron telling a member of his circle after meeting him, "Oof, he really is a Conservative."
Picking holes in Piketty
The unlikely blockbuster about wealth inequality by French economist Thomas Piketty, Capital in the Twenty-First Century, has hit trouble. Chris Giles, the economics editor of the Financial Times, has found basic transcription errors from original sources in Piketty's spreadsheets, and "cherry-picking" of other figures. Piketty has responded by saying that, although his data "can be improved and will be improved in the future", he stands by his "substantive conclusion about the long-run evolution of wealth distributions". It is true it doesn't take a rocket scientist, or even a top economist, to point out that the rich are getting richer. But the publishing sensation has been undermined, leaving the prospect of people referring to bad maths as "doing a Piketty".
Register for free to continue reading
Registration is a free and easy way to support our truly independent journalism
By registering, you will also enjoy limited access to Premium articles, exclusive newsletters, commenting, and virtual events with our leading journalists
Already have an account? sign in
Join our new commenting forum
Join thought-provoking conversations, follow other Independent readers and see their replies