Daily catch-up: can Ed Miliband reverse the polarity of the neutron flow?
Politics updates, lists and questions to which the answer is No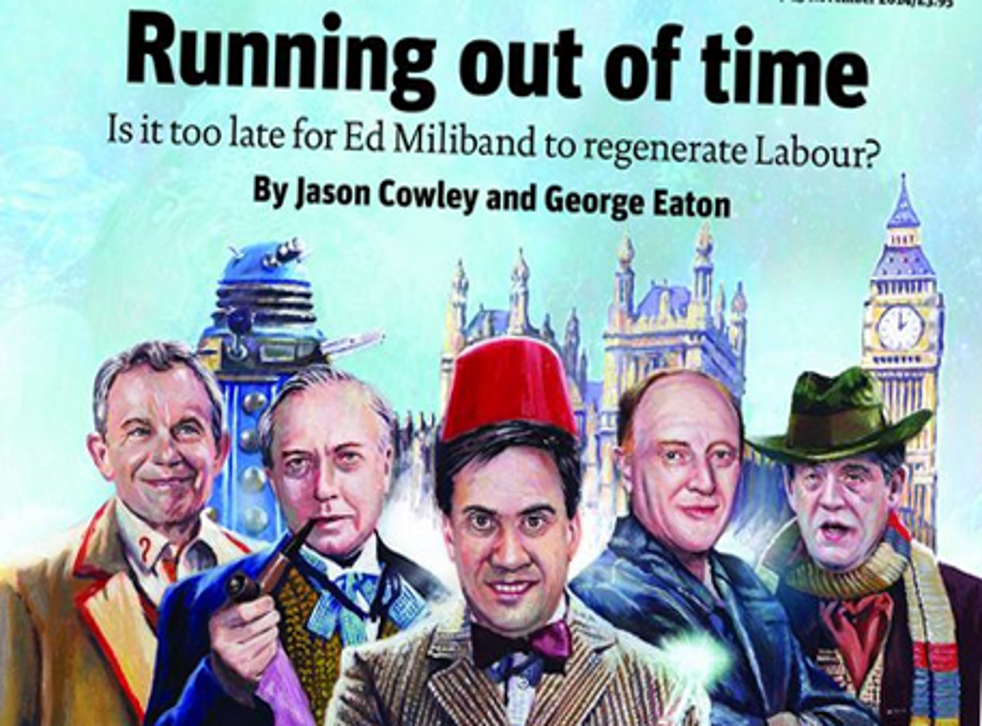 1. The big question of the day: which Doctor is really which Labour leader? The cover of this week's New Statesman features a clever illustration of Blair, Wilson, Miliband, Kinnock and Brown as Doctors Who Colin Baker, William Hartnell, Matt Smith, Christopher Ecclestone and Tom Baker.
Of course, Blair should really be Jon Pertwee (flamboyant, posh), Tom Baker (longest lasting) or Ecclestone (revived moribund franchise).
2. A secondary feature of this edition of the New Statesman was its turning on Ed Miliband (Sylvester McCoy?), whom it supported for the leadership four years ago. "Morale has never been lower," an anonymous shadow cabinet minister told George Eaton, the magazine's political editor. It was true when he or she said it, but it is lower now.
Jason Cowley, the New Statesman's editor, has written an article in which he observes:
"Miliband is very much an old-style Hampstead socialist. He doesn't really understand the lower middle class or material aspiration. He doesn't understand Essex Man or Woman. Politics for him must seem at times like an extended PPE seminar: elevated talk about political economy and the good society. ...
"Miliband is losing the support of the left (to the SNP, to the Greens) without having formed a broader coalition of a kind that defined the early Blair-Brown years. Most damaging, I think, is that he seldom seems optimistic about the country he wishes to lead. Miliband speaks too often of struggle and failure, of people as victims – and it's true that life is difficult for many. But a nation also wants to feel good about itself and to know in which direction it is moving."
It is a bit late now, especially when Cowley fails to suggest an alternative. It is not too late – in fact, now would be a good time to do it – to get Yvette Cooper in as leader.
Paradoxically, I thought Ed Miliband "won" Prime Minister's Questions yesterday, although David Cameron's position is stronger on the fundamentals.
At Tuesday's National Executive Committee, Labour's ruling body "discussed the meaning of 'ordinary'", as in "ordinary people" according to a source who spoke to Sam Coates of The Times. Coates's source was in despair, but this is quite an important question. "Ordinary" is patronising. I always substitute "normal" and see if that works.
3. The useful May 2015 election website has brought together and mapped Lord Ashcroft's 88 polls of individual constituencies.
4. Thanks to Tom Startup, I am trying to compile a Top 10 Synonyms That Sound Like Opposites. He started me off with "flammable" and "inflammable", which appear to be opposites but mean the same.
Generally Right offered slim chance and fat chance. Jon Baines: "Press" and "depress", "bone" and "debone". "Valuable" and "invaluable" (almost). Tom Doran: Surely "adjudged" should mean the opposite of judged?
Any more?
My book of Top 10s, Listellany, is out now. The Kindle edition is a mere £3.49.
5. Peter Scott Reid has spotted a QTWTAIN – Question To Which The Answer Is No, another book of mine – "Is Satan Real?" A bible leaflet stand outside Edinburgh High Court: David Hume, sceptic, looks on.
_______
6. And finally, thanks to Chris Heaton-Harris for this:
"After an autopsy revealed Scrabble tiles A, E, I, O, and U in the victim's stomach, police suspect vowel play."
Register for free to continue reading
Registration is a free and easy way to support our truly independent journalism
By registering, you will also enjoy limited access to Premium articles, exclusive newsletters, commenting, and virtual events with our leading journalists
Already have an account? sign in
Join our new commenting forum
Join thought-provoking conversations, follow other Independent readers and see their replies