David Cameron and the impossibility of modern politics
The ambushing of the PM on television put him in a position where there was no right answer. Even so, he emerged with some credit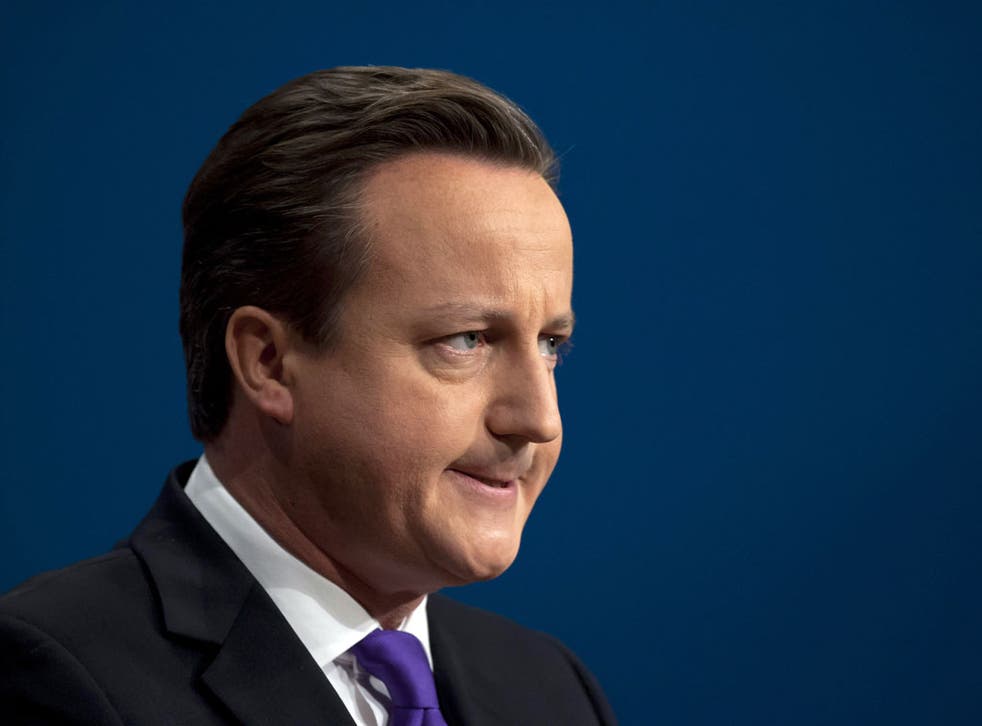 The American journalist and novelist Joe Klein once said that the modern politician has to be as hyper-alert as a shark, with "great peripheral vision". When ambushed by Phillip Schofield on live TV last week, David Cameron realised instantly what was happening. I disagree with Janet Street-Porter: I thought he responded well.
He could see that wild and baseless allegations were being waved around. He may even have seen some of the names, taken from the internet, on the list that Schofield handed to him, and recognised people who are gay or who have often been said to be. So he said he was "worried" that speculation about unproven allegations of paedophilia could lead to a "witch-hunt, particularly against people who are gay". Rightly so. And he gave Schofield the death stare. Rightly so.
Even as he said it, though, I could see that Cameron was concerned about how his words would be interpreted. He needn't have worried: they would be used against him, regardless. He is a politician, after all. Peter Tatchell and others accused him of conflating homosexuality and paedophilia, whereas he was explicitly making the opposite point. He was saying that the retailing of internet gossip would allow homophobes to suggest that people identified as gay were responsible for sexual assaults on children.
I was only dimly aware of Phillip Schofield before. Now I can even spell him. For the wrong reasons. He made a mistake, just as Andrew Marr did when he asked Gordon Brown three years ago if he took pills to help him "get through", a question based on no more than internet rumour.
Cameron was also criticised for seeming to be more worried about the witch-hunt than the abuse of children. This, too, is only the latest example of a common fallacy, that politicians cannot hold two opinions about a subject at the same time. Cameron obviously thinks it is important that claims of sexual assaults on children have been disbelieved or downplayed in the recent past, which is why he has ordered so many inquiries. He sternly told Schofield that if people had evidence they should go to the police. But there is also an obvious danger that a mob mentality will lead to the paint-daubing of paediatricians' doors.
Thus the Prime Minister finds himself attacked from both sides: for setting up too many inquiries, thus feeding the beast of media prurience and popular witch-burning, and for not setting up enough. Last week, Yvette Cooper, the shadow Home Secretary, demanded that the Government set up a "single over-arching inquiry" to draw together the 13 different investigations of different child sex abuse cases. I am sceptical of people who want an over-arching anything. Usually they want an over-arching narrative, which is harmless enough, but when it is something as complicated and sensitive as this, we should fear the worst. We might as well have an over-arching investigation into whether the 1970s should have happened at all.
Such is the power of irrationality that Cameron cannot call such opposition for opposition's sake what it is. Asked about Cooper's proposal, a source told me: "We haven't totally ruled it out."
Least importantly in Cameron's zugzwang – a position in chess in which any move is bad – he found himself criticised for going on breakfast TV in the first place. It was his fault, declared a barmy Daily Telegraph leading article. "There is something faintly patronising about politicians choosing these supposedly easy-touch programmes," it said. "If he has come unstuck, he has only himself – and his advisers – to blame."
There you have it: the impossibility of politics today. Warn against homophobia and be accused of homophobia. Or let it pass and be accused of homophobia. Warn against witch-hunts, and be accused of not caring about crimes against children. Or announce another inquiry, and feed the madness. Or don't, and be accused of cover-up.
Privately, Cameron is furious at the self-advertising irresponsibility of people such as Schofield and Tom Watson, the Labour MP who made lurid but weirdly unspecific allegations in the Commons about "a powerful paedophile network linked to Parliament and No 10". But the Prime Minister cannot say so, or he will be held complicit.
These are, as my colleague Alan Watkins used to say, deep waters. David Aaronovitch had written in The Times on the morning of Cameron's appearance on the ITV This Morning sofa: "One fairly persistent modern meme in conspiracy theories is the idea of the paedophile network of powerful men." He has written the book on conspiracy theories, so he understands the psychology behind them better than most.
These are not waters that politicians should go near if they can help it. Cameron responded to his ambush about as well as he could. He showed the shark-like qualities that Klein identified. His feel for the dangers was completely vindicated by the collapse of the BBC and its leadership yesterday.
When it comes to paedophilia and pitchforks, even the most adept can only count themselves lucky if they emerge alive.
Register for free to continue reading
Registration is a free and easy way to support our truly independent journalism
By registering, you will also enjoy limited access to Premium articles, exclusive newsletters, commenting, and virtual events with our leading journalists
Already have an account? sign in
Join our new commenting forum
Join thought-provoking conversations, follow other Independent readers and see their replies