The decency of David Miliband
His legacy is the modern Labour Party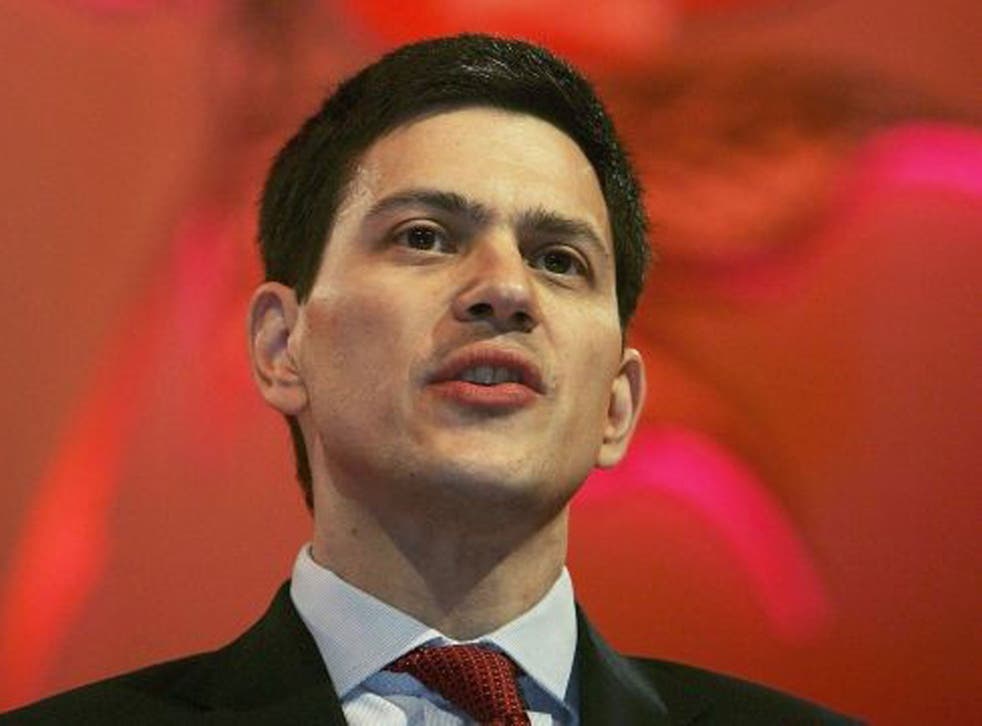 David Miliband and I first met on the Isle of Mull in 1988. Neither of us knew Tony Blair or Gordon Brown. It was years before anyone mentioned the phrase "New Labour". A political lifetime later, David is departing from Parliament as he, Louise and the boys begin a new chapter of their lives.
My friendship with David has been forged over the years through politics – but it now transcends it too. In government, and out of it, David and I have witnessed bad times for Labour alongside good.
After John Smith's conference speeches, we would walk along windy seafronts sharing our youthful and impatient critiques of how Labour had to change.
My first sight of Tony Blair's first conference speech as leader was in my law office in Edinburgh, as David sent through pages of fax paper asking for comments. We became colleagues in Parliament and in Cabinet and, amid periodic outbursts between Tony and Gordon, our conversations were a welcome oasis of civility when that commodity was all too rare.
Today, we have adjacent offices in the Commons, and he remains one of my closest friends in politics and life. We share a politics that is fiscally responsible, economically radical, socially liberal and globally aware. We share this because it's the only way for the centre left not only to win but to govern.
But the years and this friendship have taught me something else. Decency matters in politics, as well as in life. Politics is about ideas and ideals – David has both. But it also involves negotiation and compromise. So how you do your politics matters, as well as why you do it. On the first day of Labour's leadership contest, he said: "Our campaign in culture and conduct must anticipate the way we want to lead the party." He added: "And if anyone briefs against my brother, we'll fire them."
That decency was evident on the day he lost, when generosity marked his response to a painful defeat. A contest between brothers was unique. The campaign, the result, and the two years since presented challenges for David and Ed and, on a different scale, for those of us who count them both as friends.
To my mind, politics should not be a spectacle or a platform for individual celebrity. At its best, it's a shared endeavour drawing on shared ideals. But in politics, this endeavour never takes place alone. Politics is a team sport, and working with others relies on having the right temperament.
Tone and temperament matter even more in today's politics when people are anxious and fearful about what our future holds. As an MP for a decade and a half, I've learnt that politicians' moral outrage on its own is little comfort to anyone. I've learned that decency is not simply about manners, but a deeper respect for the electorate and yes, even your political opponents. They are just that, opponents. Not enemies.
Too often today's politics seems too small for the huge challenges we face as a country. The country cries out for a politics not just of anger, but of answers. Competence together with compassion. Principles and passion certainly, but also practical problem solving. That is the work Ed is driving forward.
But as he departs Westminster, David can know that, with others, he has helped shape the modern Labour Party and its politics. It is a politics that must develop and evolve if we are to meet the challenges our generation now faces. We can't drive a car looking only through the rear-view mirror. Our shared task, with Ed as leader, is forging a new politics for new times.
Douglas Alexander, Labour MP for Paisley and Renfrewshire South, is Shadow Foreign Secretary
Join our new commenting forum
Join thought-provoking conversations, follow other Independent readers and see their replies