Douglas Carswell and Mark Reckless are heroes – and I'm lining up more of them
Why I handled the announcement of these defections to Ukip the way I did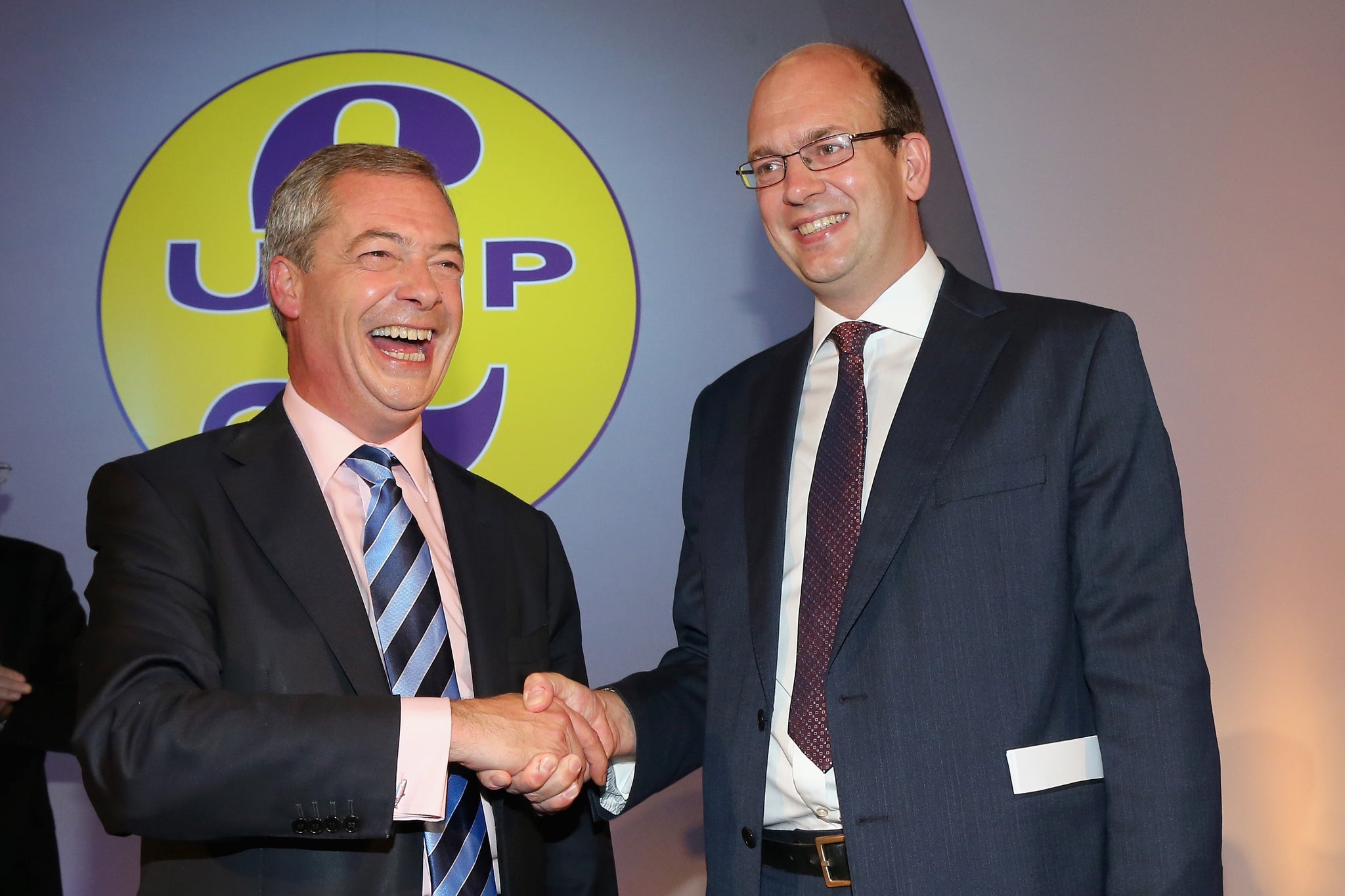 Politics is lacking in so many genuine surprises - with speeches being given to favoured journalists before they are delivered, and everything so stage managed - that it's virtually impossible to keep things a secret.
But I like surprises. That's why with the defections of Douglas Carswell and Mark Reckless I made sure that they both really were a surprise. For the whole of Conservative Party Conference I did not give in to nagging and pleading from journalists wanting a tip-off about what the next piece of news would be.
I took the decision that I would handle all the defections as quietly and as privately as I could, which even meant keeping the news from staff and colleagues.
I have known both Douglas and Mark for a couple of years and watched and admired their work in Westminster where they hold their values and their promises to constituents above any attempts to climb the greasy pole.
Indeed, Ukip did not field candidates in Clacton nor Rochester and Strood in 2010 because the party took the view that these men would be excellent MPs and speak out on the kinds of issues that Ukip hold dear.
When Douglas Carswell told me he had made his mind up, that he definitely wanted to join Ukip, I was utterly delighted. But I was also gobsmacked that he had courage to insist on a by-election - thus making these attacks by senior Tories that he has "betrayed" them sound like the words of a spoiled child. I don't recall Mr Shapps, or indeed any other Tories, complaining bitterly that Sajjad Karim and David Bannerman had let down the Lib Dem and Ukip voters who got them elected when they crossed the floor to the Conservatives.
On a personal level, I thoroughly enjoyed both announcements. Being the first, Douglas's announcement was a huge event and completely unexpected. When I walked into the room, followed by the popular and well known MP, it was like opening a huge jack in the box, such was the impact.
In pictures: The rise of Ukip
Show all 8
The timing of Mark Reckless's announcement was gleeful. I had done my speech at conference the day before, so my Saturday speech was supposed to be a round-up of the party's successes and policy announcements, as well as a positive message to leave delegates knowing that the next time we meet for annual conference, there will have been a General Election.
Well, I think everyone left with a positive feeling!
I told the team to bring Mark round to a side door, and I went on stage not knowing if everything was going to plan. As it turned out, he was standing behind a curtain at the side of the stage for nearly 10 minutes while I kept trying to get hints from backstage as to whether everything was ready to go, not knowing he was there!
Watching him walk on stage and seeing the delight of the delegates - who for years have been told by the establishment and the media that we just split the vote and we'd never get MPs - was such an exciting moment for me.
And once again we had an MP who insisted he would stand down and fight a by-election to get the nod of approval from his voters. Mr Reckless has only been an MP since 2010 and has not had the same length of time to build up a personal profile and reputation Douglas Carswell has. So his actions show terrific courage and integrity.
And I think this view is reflected by the people in both by-election constituencies who have come up and told me, "Isn't it wonderful that these politicians actually trust us to make a decision".
The attacks from the Tories were inevitable. I think it's fair to say that the level of political discourse has declined considerably since the great orators such as Churchill, Bevan and Foot.
Boris Johnson's crude, sexual references about party members weren't even funny, and the description of Ukip as "tired disappointed old men" was made by Ken Clarke with no sense of irony at all.
But the prize for the week goes to William Hague whose reactive put-down of Arron Banks ended up putting an extra zero at the end of his donation to Ukip.
I'm sure there will continue to be talk of more defections, and it's true, I have made no secret that I have been talking to politicians from both the Tories and the Labour Party. But I think that anyone considering making the leap will wait for the results of the three by-elections before they decide to do so.
It's the final weekend before voting in Clacton and in Heywood and Middleton, and I am confident that we can achieve a result worthy of history books in the Essex constituency. As I write this from our campaign office in Heywood, I also know that we have the Labour party worried up in the north-west and that our candidate John Bickley has their candidate on the ropes. Who knows - next week might mark the start of British politics changing for good.
Join our commenting forum
Join thought-provoking conversations, follow other Independent readers and see their replies