Embrace the e-book, Stephen King. It is not for an author to tell his readers how to read
The blockbuster author has announced his publishers will only be allowed to issue his latest novel in paper form; I wonder what he would have made of the first paperback?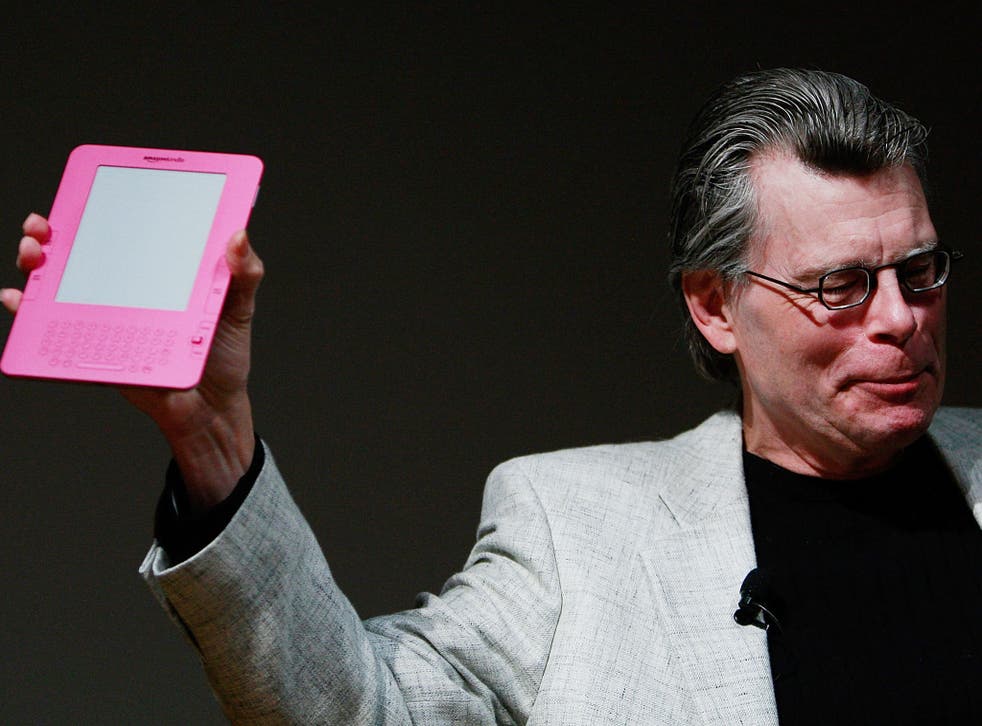 On Tuesday night in New York, Khaled Hosseini launched his new novel And the Mountains Echoed at Barnes & Noble in Union Square. As my colleague and I left the event, we encountered a great serpentine queue of people sitting and standing in the corridors of the bookshop, determined to get their books signed – to get their brief moment with the author they loved. They caught sight of our UK edition of the book and couldn't believe their eyes. With its exotic plumage of blues and purples, it looked so very different from its more sober American counter part.
I've been pondering this scene in the light of the announcement by Stephen King that his publishers can issue his new novel only in paper form. They are not allowed to publish an ebook.
What I witnessed in New York showed the power of the book as physical object, yet I have to ask – is it now for an author to tell his publishers, but more importantly his readers, how they are allowed to read his peerless prose? Perhaps Mr King will require that they read in hardback only, in an edition bound in vellum with uncut pages?
Perhaps he imagines that this bold, retrograde move will single-handedly rescue the book trade from its current parlous state? That new bookshops will spring up full of cheery customers rushing to buy books? The fact is that Amazon will still be king for Mr King, whether his books are published in hardback, paperback or on an electronic cloud.
At Bloomsbury, we publish as many books as we can in all English language markets. Many of our ebooks have been unavailable in print for years, but are now accessible to readers once again. Because surely it matters not one bit how people read. A tomato is still a tomato, whichever way you pronounce it.
In America, people buy hardbacks in quantity. In Australia, they don't want hardbacks at all. Would Stephen King want his Australian audience to read hardbacks when they plainly don't want them? In China, books are read in huge quantities on mobile phones. So this is to be forbidden? Surely what's really important is that people do read.
For all that I love and adore the actual, beautiful physical thing of a book, I can only applaud anything that makes reading easier, more democratic. It would be as if Stephen King, had he written in the 1940s, were to tell Allen Lane that his invention of the paperback was not to be tolerated. On that hot New York night, the only thing that mattered was that there were hundreds of people of all ages, races and classes waiting to see a writer who had touched their hearts and their souls. Who had spoken to them, and of them. That is what it is all about, Mr King.
Alexandra Pringle is Editorial Director of Bloomsbury
Register for free to continue reading
Registration is a free and easy way to support our truly independent journalism
By registering, you will also enjoy limited access to Premium articles, exclusive newsletters, commenting, and virtual events with our leading journalists
Already have an account? sign in
Register for free to continue reading
Registration is a free and easy way to support our truly independent journalism
By registering, you will also enjoy limited access to Premium articles, exclusive newsletters, commenting, and virtual events with our leading journalists
Already have an account? sign in
Join our new commenting forum
Join thought-provoking conversations, follow other Independent readers and see their replies