Excrement in the Turner Prize? And I'm supposed to be surprised?
This year's Turner Prize includes excrement in an orgy and a bearded lady from a nudist colony.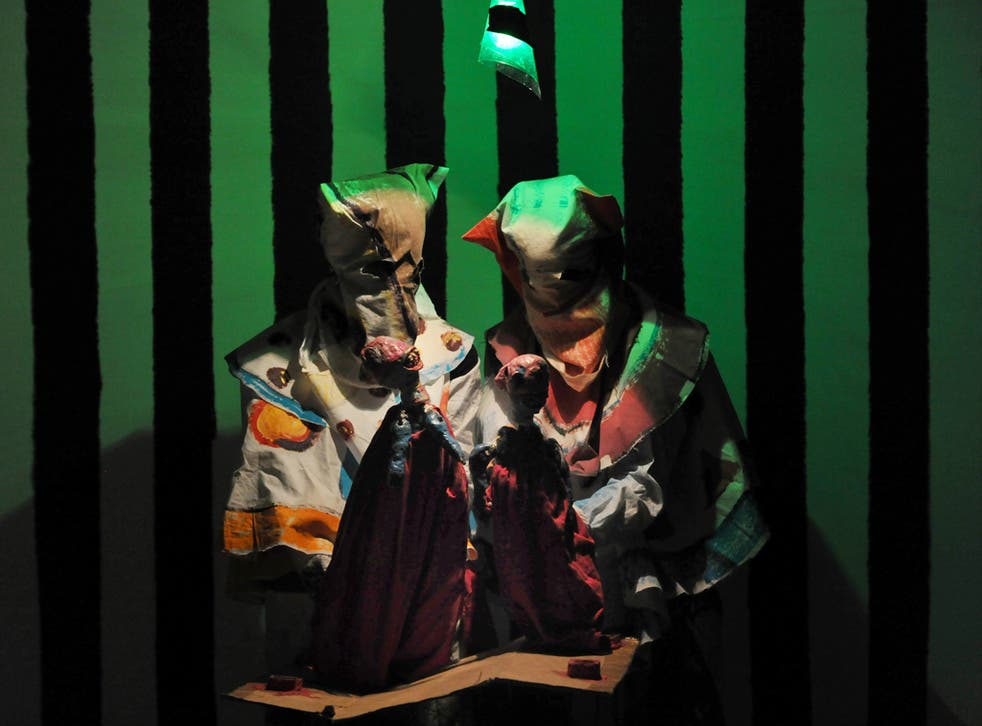 Apparently, the critics are content with this year's Turner Prize. They're happy because all the shows shortlisted – by Spartacus Chetwynd, Luke Fowler, Paul Noble and Elizabeth Price – are intricate, complicated and technically skilled. No one can say: "Er, my five-year-old could do that."
I'm happy that the critics are happy. I'm sure they know what they're talking about. But if you were composing an art world version of The Thick of It, you just couldn't make it up.
There's a film about a fire in the Manchester branch of Woolworths. That turns out to be the relatively sane bit, because there's also a bearded, nudist lady who changed her name in tribute to a Roman gladiator. And there are drawings in which excrement joins with other excrement in an orgy. I cannot explain it any better than that because that is what it is.
Fun-loving excrement. Well, it's one way to counter the downbeat recessionary mood. And I'd rather people paid to see that than bought Fifty Shades of Grey, which covers similar themes. At least no women's rights were harmed in the depiction of this bacchanal of waste matter.
As the curator, Sofia Karamani, says of the bit involving the sexually liberated excreta by Paul Noble: "There are motifs throughout his work. Poo is just one of them." Except in the Turner Prize, poo never is just one of the motifs, is it? It is the singular, unifying motif year after year.
This year is considered a vintage year simply because the ultimate contemporary artistic act has happened. The poo is actually having sex with itself. Throw in a bearded lady from a nudist colony and it would be perfect. Oh.
Indeed, if the Turner Prize had to be represented by an object, that object would have to be a turd. Because that is what the Turner Prize always celebrates. Here's The Sun's report: "Judges hail drawings of turds as 'compelling life project'." This is no way to turn the public on to contemporary culture during a recession where arts funding is being brutally slashed.
Every year, we are supposed to be surprised and confounded by the amazing discoveries from the art world. Every year, there are the usual shock tactics involving poo and sex. Every year, it all becomes more of a cliche and a turn-off.
Bring back Danny Boyle and the Olympics' Opening Ceremony. That was performance art everyone could understand. That was real. And no poo or sex. Or at least I don't think so. I haven't talked to the corgis.
Down but not out, Duncan
Wishes for a swift recovery go to Dragons' Den star and smooth-voiced Sean Connery impersonator, Duncan Bannatyne. The 63-year-old Scottish multi-millionaire fell ill with chest pains on Monday and was taken to hospital.
I have quite a soft spot for Bannatyne. Not only because of his attractively gruff tones. But also due to his impressively diverse biography. He did time in a military detention centre, got his first bank account at 30, and started out in business with a £450 ice-cream van.
When a Dragon is wounded in battle (Bannatyne was at the headquarters of his health club chain at the time), who does he turn to? A fellow beast, of course. Theo Paphitis breathed fire, I mean, tweeted: "He is well. Undergoing tests. Does not think heart attack." Which it wasn't in the end.
But I sure do not envy the hospital staff who had to strap Bannatyne to a bed whilst he thundered, nostrils flaring, tail lashing: "I am absolutely fine. I am not having a heart attack. Let me back into the boardroom."
No one's saying you're out, Duncan. We know you're in. Now go and have a lie down.
Twitter: @VivGroskop
Join our new commenting forum
Join thought-provoking conversations, follow other Independent readers and see their replies