The Fairlife 'Coke Milk' adverts: Do we really need pin-up girls to sell us drinks?
The 'racy' advertisment is patronising for their female and male audiences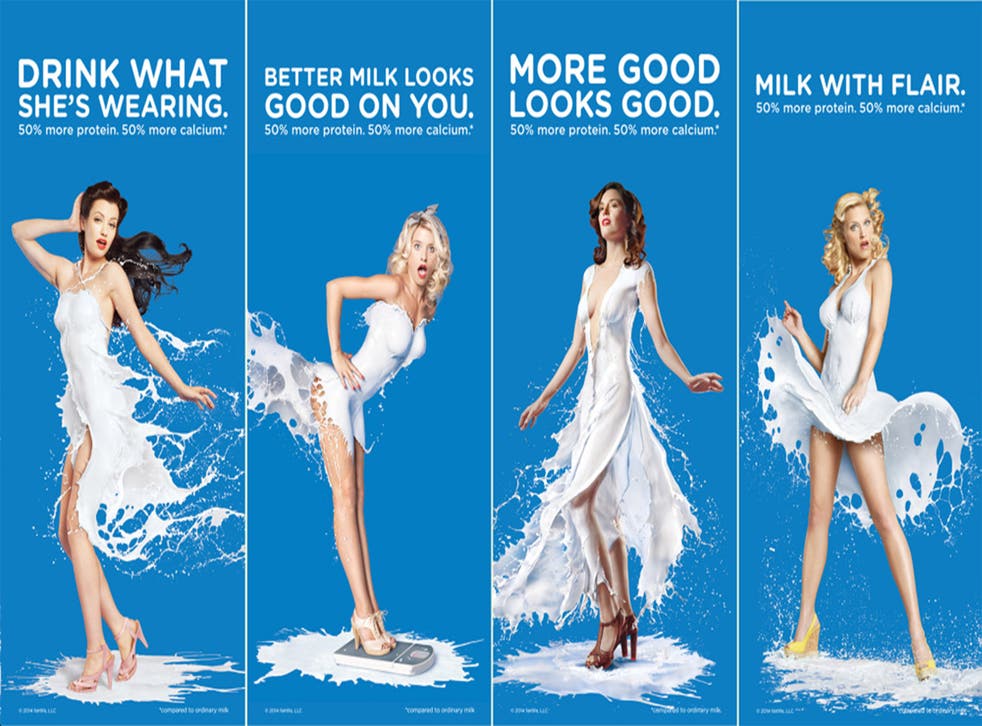 Coca-Cola are investing in a new processed milk drink, developed by Fairlife, which claims to contain 50 per cent more protein and half the sugar of normal milk, with naturally enhanced Calcium levels. According to Coke, this new high protein drink will make it "rain money" for the soft drinks company. Health and nutrition claims aside, with the drink selling at twice the price of normal milk, this seems likely.
Nevertheless, that's not the most disconcerting aspect about the drink, which has already been branded "Milka-Cola". What worries me is the accompanying advertisement campaign for this "good-for-you milk". A series of mainly white, young women with wide open mouths and long flowing hair, wearing high heels and skimpy white 'milky' dresses are portrayed as pin-up girls. Even if this is an ironic joke (which sadly, it seems not to be) the female stereotyping is almost too obvious.
Similar to previous gendered advertisements of every day products, used to sell everything from beer to soap, Fairlife milk is being marketed with an undertone of wholesomeness and cleanliness. While the woman in the classic Lux soap ad became edible through her clean skin, the Fairlife woman becomes drinkable through her thin waist.
In one of the images a blond girl is pictured standing on a scale, slightly bent over revealing to reveal her a sliver of bottom. The caption reads: "better milk looks good on you". Another image shows a brunette woman posing in a milk-splashed dress, which barely covers her crotch, with the words "drink what she's wearing". As if the images themselves weren't insulting enough, these captions enhance the sexist undertones of a message supposedly intended to focus on health and nutrition.
The Most Controversial Fashion Adverts

Show all 9
Previous attempts to promote cow's milk in America include the long standing Got Milk? campaign, which among other things featured animated cows and athletes. In the UK, the "Make Mine Milk" campaign in 2010 targeted teenagers using a variety of celebrities of different ages, backgrounds and gender. Overall, pretty mainstream, but effective.
At what point did milk, a humble drink traditionally marketed for children and teenagers, become associated with pin-up girls? Unlike "Make Mine Milk", Coke's new campaign does not seem to be about awareness, but promotion for a product with the sole purpose of profit. But, Fairlife's 'racy' advertisment is patronising for their female and male audiences. Have the creators of this campaign thought this through at all? After all, it is now 2014, not 1940.
"Classics never go out of style" Fairlife states on their website. Sadly, objectifying representations of women have become 'classics', and this campaign is yet another example of the ways in which sexism operates: through the repetition of language and image, whereby degrading depictions of women gradually become normalised and made invisible. These problems will not be solved over night, but taking these ads off the market is a good start.
Join our new commenting forum
Join thought-provoking conversations, follow other Independent readers and see their replies