Fashion Weeks are exhausting because everyone is so busy supressing giggles
Grace Dent lacks fash-pack mettle because her reflex emotion on the front-row is laughter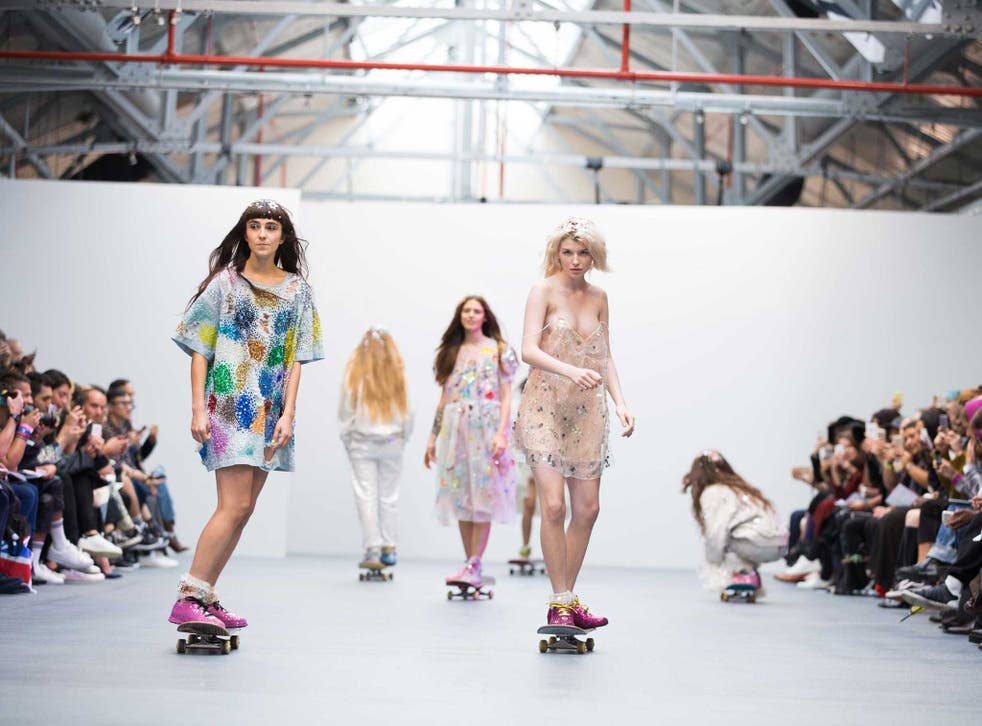 The fashion folk in my life are on the last leg of their arduous bi-annual schlep. New York, then London, then Milan and then, finally – just when I'd be so deranged with tiredness that only a full blood transfusion would do – Paris. And the fashion circuit definitely is exhausting (before you leap upon me with blunt objects shrieking, "Try working in a call centre, you silly moo!").
It's not just the show schedule and the compulsory late-night schmoozing, but also the grooming, bluffing, blagging, showing face, sharp-elbowing, sucking up, and the simulating of enthusiasm. Often all at once, with your career trajectory, reputation and, in the case of my friends, the financial outlook of the British fashion world resting upon it. Oh and bare legs, which this year are compulsory even with autumn coats, when all a woman wants is 80 denier knit with figure-skimming Lycra and a lovely pie.
The mere mortal is not cut out for this world. A friend recently showed me a British designer's show which featured models in stooped-shoulder poses, with greasy lank hair and thousand-yard cult-member stares. They were dressed in the sort of see-through nighties that housewives in 1970s Carry On films wore to open the door to blushing milkmen. Except in neon. "It's so playful, so challenging," my friend cooed. "I adore this domesticity-gone-wrong vibe."
This is where I lack fash-pack mettle. My reflex emotion is laughter. I was the same 20 years ago when I entered this world via glossy magazines, often getting into disputes with customs officials as I tried to ship suitcases of fashion-shoot bikinis to Burkina Faso or Bolivia. It was a silly world which required strong levels of ostensible seriousness and I wasn't fit for purpose.
London Fashion Week spring/summer 2016

Show all 4
Supressing giggles is the key reason why Fashion Weeks must be exhausting. Imagine, if you will, f-rowing (that's front-rowing) at your close personal chum designer's show. You're both doing so well out of this alliance. In return for patronage, he or she is sending you invites to sit up front beside FKA Twigs, Benny Cumbersnatch and that Delevingne girl with the eyebrows. Heaven.
Your image, perched alongside these people – or alongside Florence, or one of those Hadid sisters, or Donatella, or supermodel Irina Shayk – will instantly clutter 10,000 fashion Instagram accounts with captions like, "Wow. So much Frow Realness". Inside, obviously, you're 100 per cent dying to grab Bendy Cumberband's face by both cheeks and scream how much you love him as the funny pilot in Radio 4's Cabin Pressure.But you do not grab BC because in fashion poise is everything.
Instead you sit, ignoring each other, maintaining a precise expression of honed aloofness, mixed with earnest anticipation of the designer's genius. The curtains open, the music starts. It's a terrible din involving experimental timpani and you wish dearly you'd packed a box of Migraleve in your Burberry Prorsum Horse Check Clutch. Then the models appear. The first one lollops down the runway in a large crepe-effect sack in sludge and bottle-green tones. She resembles a furious larva, or a magic lantern that's been released into the air and has then crashed into a crow.
The second model's dress is a variation on the larva smock, but wider and longer so her ankles and nose are covered. Her silhouette is less a woman's and more that of a Portaloo. She has an orange glitter swoosh around her left eyebrow, which may end up trickling down to mainstream fashion within 24 months, but right now it looks like she's head-butted sherbet.
At this point the mere mortal, non-fashion devotee wants to have a little chuckle. It's in you, this chuckle – rumbling and multiplying in a fart-at-a-funeral kind of way, demanding its inappropriate release. Holding back is growing ever more unfeasible because you can't stop imagining Larva Woman clomping through the Concourse Shopping Centre in Skelmersdale with gangs of children following behind, throwing bits of a Greggs Yum Yum doughnut at the back of her frock.
But real fashion people have vision. They can see exactly what this whole big mess is actually about. They can decipher how the larvae and the sherbet will morph into something a million British girls will ransack the ASOS warehouse for via iPhone apps and then wear in a zillion Instagram posts. And more than this, real fashion people can spot the designer in the post-show melee and tell them, "You are so clever!", and maybe even slip in "And it was all so incredibly wearable!". Real fashion people won't say, as the everyday civilian would, "Mate, are you all right? I was expecting some women in dresses. Some berk sent out the cast of James and The Giant Peach."
My fashionable friends, I salute you. You help make the world a more wonderful, rich, and ridiculous place. And before anyone writes you off, they should try walking a mile in your Erdem lace insert brogues.
Join our new commenting forum
Join thought-provoking conversations, follow other Independent readers and see their replies