The freedom of Hong Kong is in Britain's hands, and Cameron can only stay silent for so long
The freest market on earth is in clear and present danger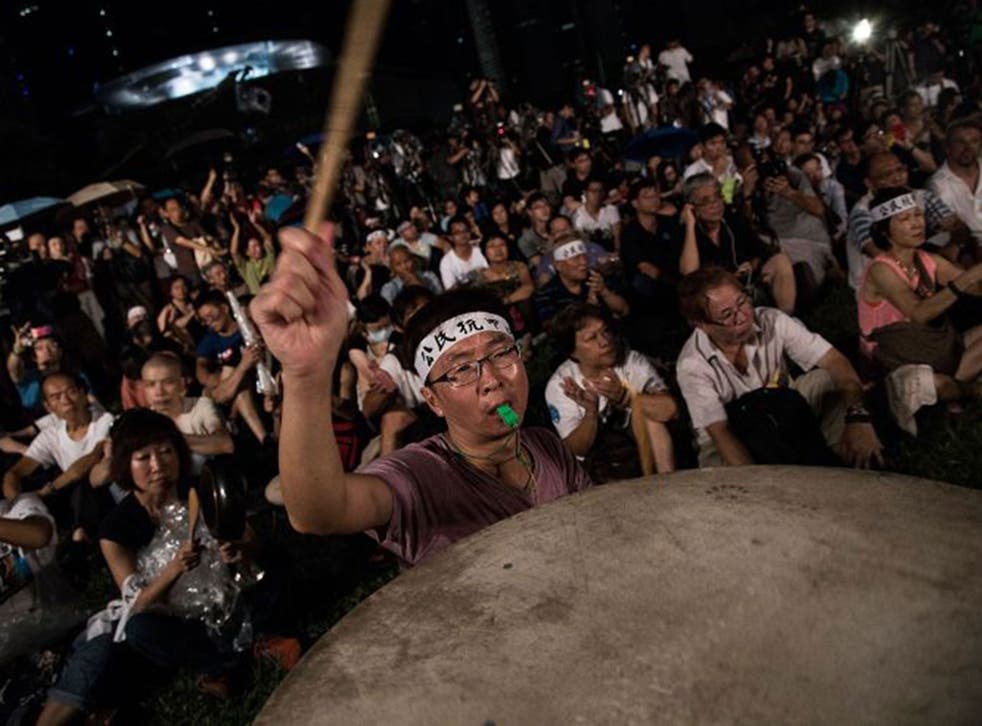 After 17 years of hunger for democracy, the bureaucrats in Beijing yesterday agreed to 'one person, one vote' for the seven million former British subjects in Hong Kong.
That is, of course, if you overlook the small print. While all registered voters will enjoy the right to vote for their leader in 2017, all candidates will be screened by a 1200-strong 'nomination committee', which will allow at most two to three candidates to compete. Furthermore, as the official press release stated, the elected candidate must be 'a person who loves the country and loves Hong Kong.'
In July, I criticised China's assault on 'One Country, Two Systems' with its June White Paper, and suggested Britain has a moral responsibility for Hong Kong. Since then, the Deputy Prime Minister has promised to 'mobilise the international community' to hold China to account. Encouraging though it is, even this response now appears inadequate.
Human Rights Watch last week expressed its concern about Hong Kong citizens' right to protest, as the police tighten its grip on the blossoming civil society. Still more alarmingly, People Liberation Army (PLA) armoured vehicles publically manoeuvred on busy streets, in stark contrast to the military's conventional quiet existence. Attuned to the memory of the Tiananmen Square Massacre of 1989, China has long been cautious with its military presence in Hong Kong. This is therefore a significant chain of events that signals a policy amendment towards Hong Kong, the timing of which is both tantalising and threatening.
We would be mistaken if we consider this as 'just another' human rights issue where we agree to disagree with China. The orchestrated attack on Hong Kong's autonomy is part of a package of what the Wall Street Journal called 'Putinist politics'. The capital rich Communist Party is committed to its flirtation with Hong Kong's oligarchs, whose loyalty is guaranteed via business opportunity. In fact, these cronies will sit on the 'nomination committee' that will reject any candidate who Beijing does not favour. The freest market on earth is in clear and present danger of being galvanised into China's authoritarian system if the current trajectory of political affairs continues uninterrupted.
Given his supposedly pro-enterprise and pro-democracy stance, David Cameron should be Beijing's most vocal critique. As Nick Clegg correctly pointed out, it was Margaret Thatcher who signed the Declaration and two other Tories – John Major and Chris Patten – who vowed to honour that pledge. In fact, there is something Conservative running in the blood of Hong Kongers: the emphasis on law and order, the obsession with small government, and the love of capitalism. That is why Hong Kong looked to Cameron with a hopeful heart, and became bitterly disappointed when he opted for salesmanship rather than statesmanship in his dealings with China.
In pictures: Hong Kong's 1 July demonstration 2014

Show all 8
With Islamist terrorist threat coming closer to home, and Vladimir Putin antagonising the West over Ukraine, the Prime Minister may be excused for temporarily drawing Hong Kong onto the periphery of his diary. But the inconvenient truth for Cameron is that he can only stay silent for so long. Unlike its democratic counterparts, Britain, as the co-signatory of the Joint Declaration, is legally bounded to express its views on Hong Kong's democratic reforms. The Parliament at Westminster regularly publishes reports on the former colony's democratic progress, and the Foreign Affairs Committee is currently in the process of gathering written evidence for an enquiry marking 30 anniversary of the Joint Declaration, which as Newsnight's Laura Kuenssberg has learnt, Beijing has categorised as "interference in China's internal affairs," warning MPs to "bear in mind the larger picture of China-UK relations."
There is no way the British government can approve of Beijing's erroneous definition of democracy without appearing shamelessly hypocritical and in abandonment of the very values it holds dear.
With the Chinese military flexing its muscle on the one hand, and civil disobedience movements gathering momentum on the other, confrontation can only escalate in the coming months. The bureaucrats in Beijing will not be moved one iota by civilian casualties, as the world discovered in 1989. Hong Kong's only chance for genuine democracy lies with the international community, which Britain must mobilise.
The freedom of Hong Kong is at Britain's mercy. Let's see if Britain will stand on the right side of history.
Join our new commenting forum
Join thought-provoking conversations, follow other Independent readers and see their replies