From the 'India gang rape' shoot to American Apparel's 'School Days' collection, it's been a low week for fashion
It's the worst kind of glossy, brainless sensationalism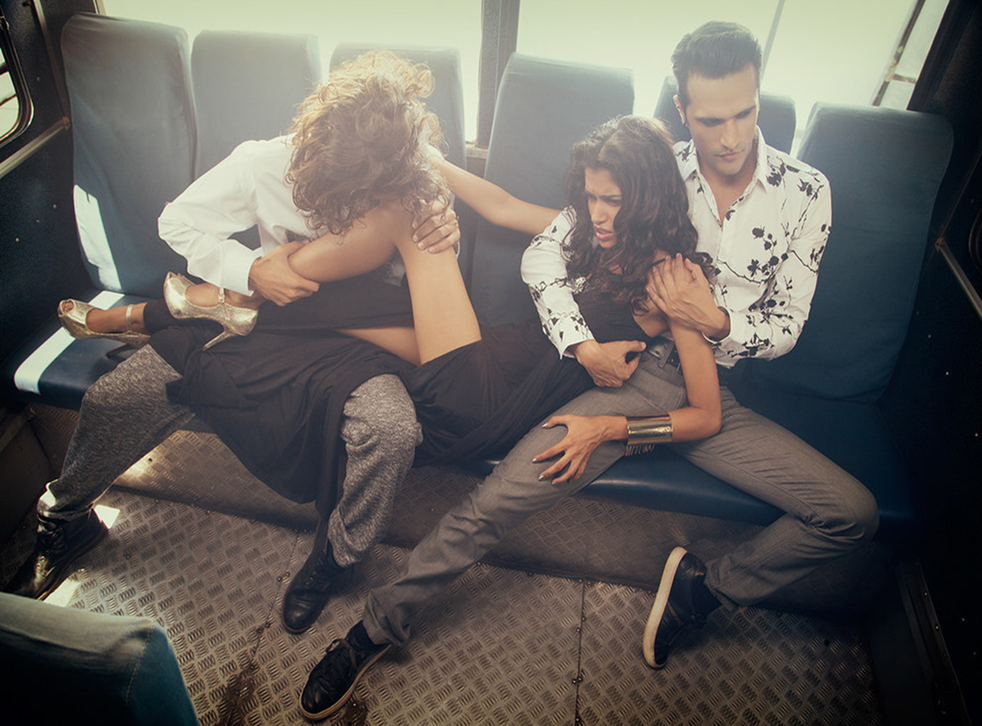 It's a really pretty dress - the thigh split is To. Die. For. But what I really need for this party is a gown that will get me gang-raped on a bus. You know the sort of thing. Size 8, not too pricey, preferably in black, attracts violent criminality - anything in the new collection that might fit the bill?
No woman has ever gone into a shop and said these words. The very idea is horrifying. But that hasn't stopped one fashion photographer imagining that they might and letting his taste-free creative impulses run free with the concept. Raj Shetye, who is based in Mumbai, published his photo story "The Wrong Turn" online this week. In a series of shiny images, he depicts a beautiful Indian woman in a range of expensive-looking dresses, jewellery and shoes, being harrassed and groped on a bus. The results are such that even the most liberal soul might wonder if some people should be made to acquire a licence before they can wield a camera for cash.
In one image, the woman is pinned to the back seat by two men - one clutching her by the shoulder and breasts, the other gripping her ankle and slavering over her exposed knee. In another, she walks down the aisle in a sage-green, bejewelled silk dress, holding her head in distress as three men grab at her from their seats. In another, she has been knocked to the corrugated floor, almost naked but for spangles and stilettoes, as a pair of hairy male legs in heavy boots and nothing more stands astride her.
The images are grotesque, the worst kind of glossy, brainless sensationalism that fashion seems to do so very well. They are even more disturbing when one makes the - presumably intended - short mental leap to the 2012 Delhi bus rape. Then, as is well documented, a 23-year old woman, known now as Nirbhaya ("fearless one"), was attacked by five passengers and the bus driver, who raped her and abused her with a rusty iron wheeljack so horrifically that she died of her injuries 13 days later. This, then, is rape as set-dressing to sell pretty clothes.
Elsewhere this week, American Apparel unveiled its latest range. Titled "School Days", it features pictures of young models in miniskirts and crop-tops posing sultrily next to lockers and baseball bleachers. One image, posted then deleted from the shop's Instagram account, shows a model in a tiny kilt, bending over a car, the better to reveal her underwear and buttocks. The range also features a t-shirt, by the name of "Lolita". This, then, is underage sex as subtext for selling pretty clothes.
American Apparel is a shop which has dubious sexual imagery sewn into its very fabric. Its advertising campaigns frequently employ the visual language of pornography - young women shot in close-up, wearing only knee-high socks; or shot from behind wearing a jumper and no knickers; or shot from above, sprawled atop a shirtless man. Its CEO, Dov Charney, having been repeatedly accused of sexual harrassment and admitted to calling employees 'sluts' was finally sacked in June after years of scandal, only to have been rehired now, reportedly, as "strategic consultant." If this was any other company, it would have closed down years ago - out of embarrassment, if nothing else.
In pictures: American Apparel

Show all 22
But this is fashion. And fashion lives by its own, frequently inexplicable, rules. Not that trouser length, this one; do that button up, but for god's sake leave that one; fur is fine, as long as it's designer, and you're rich enough. Poor-taste photography runs in its blood - from Benetton's Imam-snogging Pope advert to Vice's fashion shoot inspired by the suicide methods of famous writers, to any number of glossy Vogue spreads based on, to take two recent examples, Hurricane Sandy and the Deepwater Horizon oil spill. This is an industry that repeatedly mines indigenous traditions and distressing historical episodes in the quest to look nice, which is how we end up with articles praising the return of the "slave earring", or the rise of the feather head-dress. Looked at in this taste-free context, fashion's embrace of Nirbhaya and Lolita as muses is hardly surprising.
Why get angry? It's only clothes, after all. We all wear them, though, and fashion is a multi-billion pound industry. Images like Shetye's and American Apparel's are powerful, pervasive and influential. If they use the imagery of rape or underage sex to sell garments, there is every chance that some will see it as glamorising, or normalising, those crimes, rather than dismissing it for the amoral, airheaded attention-grabbing it is.
Register for free to continue reading
Registration is a free and easy way to support our truly independent journalism
By registering, you will also enjoy limited access to Premium articles, exclusive newsletters, commenting, and virtual events with our leading journalists
Already have an account? sign in
Join our new commenting forum
Join thought-provoking conversations, follow other Independent readers and see their replies