Harvey Proctor: A gay sex ring in Westminster? I don't believe it
The police say that I am not a suspect in the historic sexual abuse inquiry, yet they destroy my reputation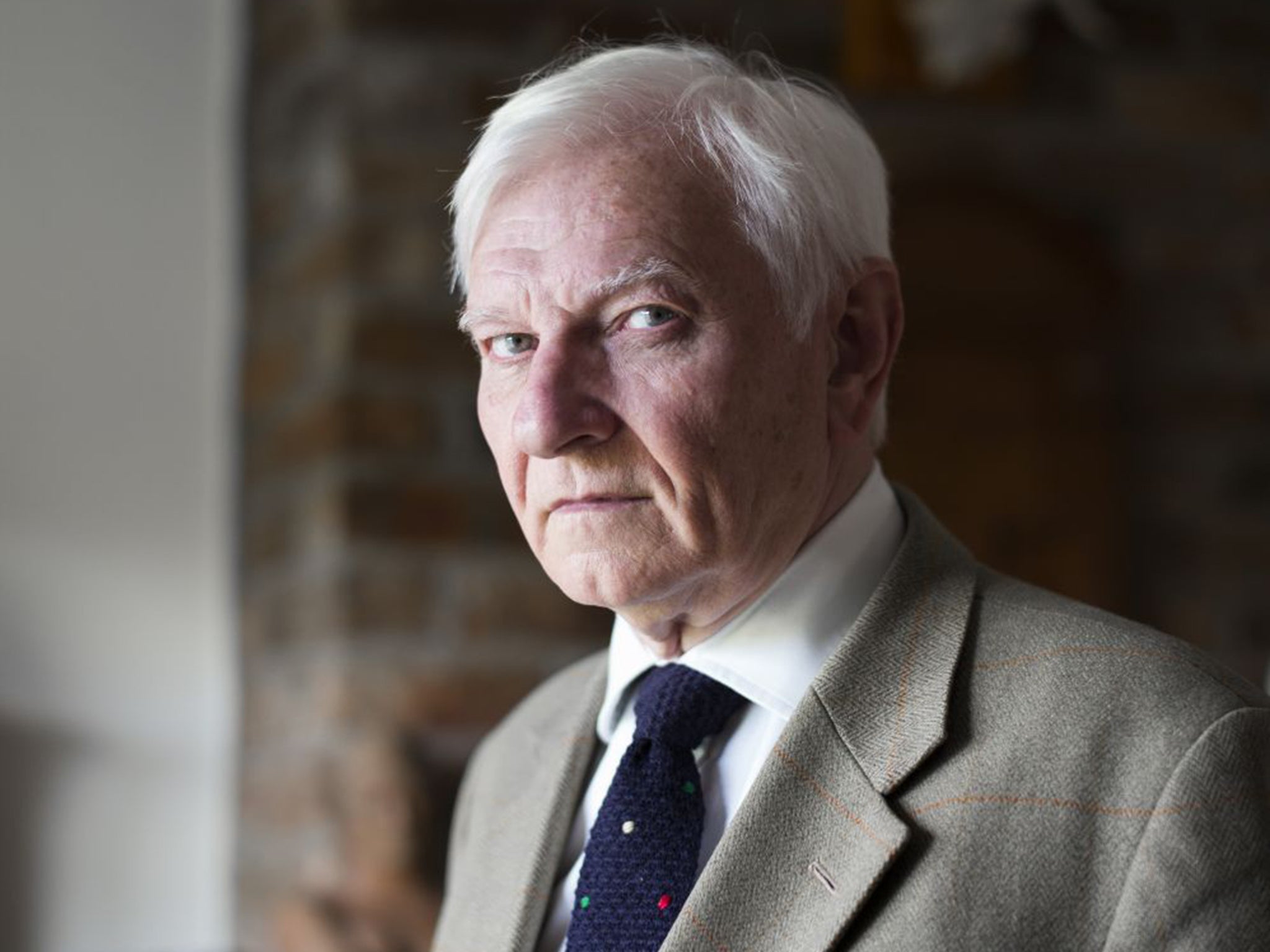 In the context of recent speculation and allegations on the internet, I write this to say that I am innocent of the allegations against me and I will maintain this stance until my dying breath.
On Wednesday 4 March 2015, the Metropolitan Police's Operation Midland Team raided my home and, under a warrant investigating historical child sexual abuse, searched my house for 15 hours. I was told at 11pm that no statement would be issued to the press and my identity would not come out. That was not the case.
If not before, then within eight hours of the police leaving my home, details of the raid were leaked to the national media. ExaroNews – an odd internet news agency – was tipped off before the police left my home. Mark Conrad, a journalist for the agency, was phoning and emailing my office at 9.34pm – at least 90 minutes before the police left my house.
During and immediately after the search, I volunteered to be interviewed by the Metropolitan Police concerning Operation Midland's investigations relating to allegations from the 1970s and Eighties.
My solicitors – Messrs Sakhi and Gatrad of Sakhi Solicitors, Leicester – arranged for me to be interviewed on Monday 23 March 2015. The police initially confirmed that it was convenient and then cancelled the interview at short notice, due to "circumstances beyond [the officer's] control". The appointment was rearranged for Tuesday 14 April 2015. It was through no fault of my own that on Thursday 9 April 2015 the police again cancelled the interview, scheduled for 14 April 2015.
They have not contacted my solicitors since then.
In an email to my solicitors, they referred to themselves as the "organisation".
So the "organisation" – strange term for the Metropolitan Police's Murder Squad – has raided my house, searched it for 15 hours, removed my communications and computer equipment and many boxes of historic documents and other irrelevant material from the 1970s and Eighties, prompted me to retire from my job of 13 years and to leave my home. They have ruined 28 years of my life's rehabilitation after 1987 and they are not prepared to meet me and interview me. They have said to my solicitors, but not to the media, that I am not a suspect and they merely wish for me to assist the police with their inquiries.
In 1987, Detective Chief Superintendent Drummond Marvin of Scotland Yard's Serious Crime Squad was the officer in charge of my prosecution. I pleaded guilty to four charges of gross indecency. Offences which, because of the changes in the law regarding the homosexual age of consent, are no longer offences.
Chief Superintendent Marvin subsequently wrote a book and sold his story to The Sun newspaper. He wrote about three of his cases: Lord Lucan, Russell Harty and myself. In the article about me he stated for the first time, as far as I am aware, the felonious notion that there was a rent-boy ring at Westminster. If there was one, I was not aware of it, it was news to me and I was not part of it. Marvin's article was wrong on this and on other matters.
I have always tried to protect my privacy – not because I thought I was breaking the law, but because I consider sexual matters to be private, except where they are illegal. Not just for me but for everyone. I refuse to comment on these matters now save to say anything and everything I have done has been consensual. But with alarming frequency, when I was visited by the police in 1987, journalists from the Sunday People were outside my flat.
I have not flaunted my sexuality. It is the press and the police who have time and time again invaded my privacy. In 1987, the press wired a witness for sound and was sent into my apartment. The police trawled the gay bars of London, showing my photograph to all and sundry, asking: "Have you slept with this man?" Today the modern-day equivalent is for senior police officers to go on the airways enticing so called "victims" to come out of the woodwork, telling them, without even speaking to them, that they would be believed.
Now, the guide to misinformation and the oracle of disinformation is the internet. It is a totally impossible media with which to engage, as hundreds of thousands of comments appear daily, with no chance of rebuttal.
At the behest of a weird assortment of alleged victims, ex-police officers, bishops, social workers, attention seekers and "nutters", former, respected politicians have had their reputations trashed without a shred of evidence – Sir Leon Brittan, Sir Keith Joseph, Dr Rhodes Boyson and Enoch Powell to name but a few. They are dead; they cannot defend themselves. I am alive; I can and I will.
Enough is enough. Someone has to stand up and say the Emperor is wearing no clothes.
So let me be straight with you the media, and through you, the police:
* I have not murdered anyone.
* I have not been involved with the sexual or other abuse of children or anyone else.
* I have not visited the Elm Guest House in Rocks Lane, Barnes, London. I was not aware of its existence.
* I have not attended sex parties at Dolphin Square, London.
* I have not attended sex parties with other MPs or ministers.
* I have not visited a so-called dungeon in Pimlico.
* I have not abused anyone.
* I have not attended sex parties during Conservative Party Conferences at Brighton or Blackpool and I am sure none took place.
* I was not part of a Westminster rent-boy ring in the 1970s and Eighties. I cannot believe such a ring existed.
* I have witnessed the growing paranoia among various police "organisations" with disbelief and disgust.
I wish to place on record my admiration for the work the uniformed bobby does and has done, and which I have seen at first hand in my old constituencies of Basildon and Billericay, in the London borough of Richmond upon Thames during my work with the Chamber of Commerce, and at Belvoir Castle.
The higher up the police command chain, however, the less I see to admire. For example, I find it incredible that a senior police officer has said on the media that a "victim's" evidence is "credible" before an investigation has been completed or a prosecution launched. It would not be acceptable in any other police investigation and is outright prejudicial from the very outset to any impending investigation.
So I know now the risk I am about to take. The risk of the "organisation" seeking out trivia and revenge to undermine me in response to what I am about to say to you; but here goes.
It's time – with the spending on these enquiries approaching £100m – to say to the police and the Director of Public Prosecutions:
* Put up or shut up.
* Arrest me; charge me; try me.
* If you have evidence against me, bring it on!
* To the Metropolitan Police commissioner and other chief police officers, I say: get a grip. Direct your "organisation's" scarce resources to conquering current crime and address current law and order issues. Redirect some of these scarce resources, for example, to the Missing People charity in East Sheen if you really care for missing people.
* To the media I say: use your investigative powers to analyse what you are told about historic sexual child abuse fairly and properly.
* Finally, to the politicians, who are currently culling favour with the electorate: what are you doing to redress the balance between the alleged victims who can keep their anonymity and the alleged abusers who cannot? When will innocent before being found guilty be more than just a totem of a supposedly liberal society? Who are the guardians of our liberty now?
And, in the end, why is all this happening ?
Well, the only people deemed more unpopular than the media, journalists, police and politicians with the general public are paedophiles. So they are all pursuing this issue to try to get on the good side of the people of this country and rehabilitate themselves from their past lapses.
I do not wish anyone to think I am just saying these things now. I made my position clear – and with prescience – in an article I wrote for the London Evening Standard in December 1987.
In conclusion, I would like to thank my family, friends, colleagues and people I do not know and whom I have not met who have supported me in these difficult days.
To reiterate, I am innocent and deny any wrongdoing. I am a law-abiding citizen.
Harvey Proctor was a Member of Parliament for Basildon and for Billericay between 1979 and 1987
Join our commenting forum
Join thought-provoking conversations, follow other Independent readers and see their replies