I represented Abu Hamza in his extradition proceedings. Why is he being tried in America?
Outsourcing justice makes no sense at all. This long-running blot on our legal system was a blatant affront to the British justice system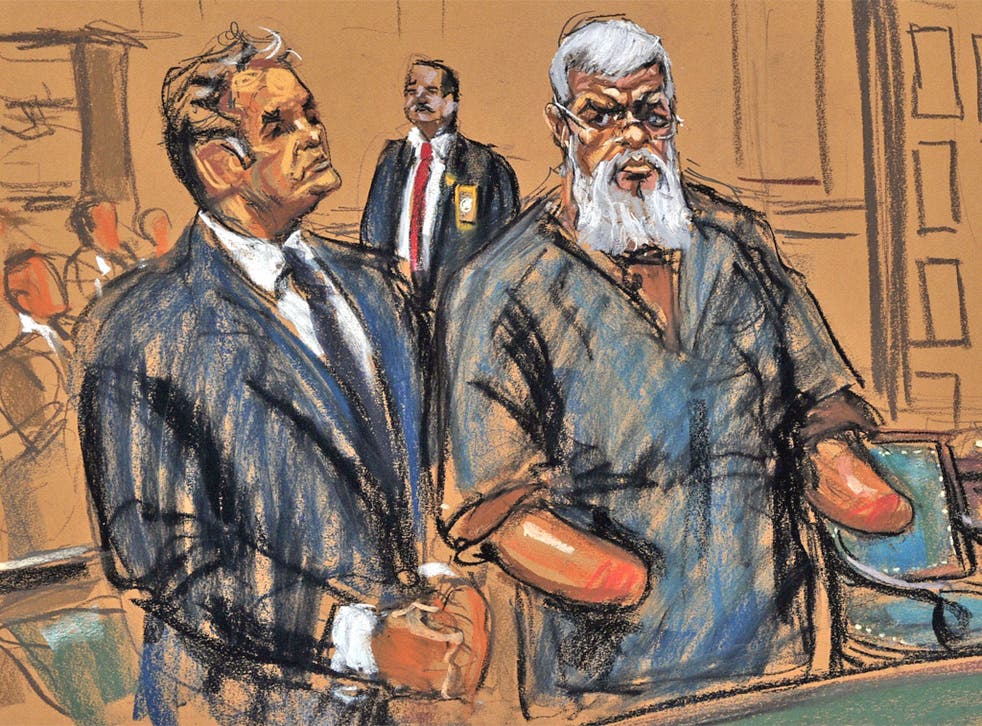 Why was Abu Hamza extradited to the US for crimes he is alleged to have committed in this country? He is accused on a single US indictment of three groups of crimes, committed while in London. By far the most serious is an allegation of directing, via satellite phone, the kidnap of Western hostages in Yemen in 1999. In a shoot-out, four of the hostages were killed, three of them Britons, one Australian. One American was wounded. The UK police conducted a detailed investigation.
The second group is a charge that Abu Hamza conspired to organise a terrorist training camp in Oregon preparatory to waging jihad in Afghanistan in 1999 to 2000. The third involved assistance in providing money and weapons to the Taliban in furtherance of terrorism in Afghanistan in 2000 and 2001.
Both the UK and US, and numerous other countries, have laws permitting them to prosecute terrorist and serious "international crimes" wherever committed. International conventions recognise an obligation to extradite or prosecute a person accused of such crimes if he is found in their territories. Surprisingly, there are no settled criteria for deciding when a state should try or extradite. Almost always, the decision is taken in private, and for undisclosed reasons.
On any objective analysis, the crimes alleged in this case, taken as a whole, have a greater connection with the UK than the US, even allowing for the Oregon case. If they had been tried in London, Abu Hamza would have been acquitted or convicted at the latest in 2006. The extradition proceedings were adjourned from 2004 to 2007 while Hamza was tried at the Old Bailey and served time for serious offences of threats to kill. Any English criminal or extradition lawyer would have advised in 2004 that the crimes for which extradition was requested would be tried many years earlier in London.
Effective, well-tried and flexible arrangements exist for moving evidence – whether live witnesses, documents or film – between the UK and US in criminal trials. There is not the slightest indication that any unusual practical difficulty existed in these circumstances, though undoubtedly a London judge at trial would have examined critically the source of much of the evidence against Abu Hamza, and in particular whether evidence had been obtained by torture. Many identifiable co-accused on this indictment appear to have been waterboarded, illegally rendered, or at the very least detained and interrogated at length in some outpost of the US detention system.
We asked, repeatedly, why no prosecution had been instituted in the UK, but were never given an answer. The position is plain. Our prosecutors say, if the Americans want to try someone, that's fine by us. When an extradition request comes, we just defer to it. So no difficult questions are left to resolve about whether evidence obtained from a "co-operating" witness arises from unacceptable treatment, or a cooperation agreement so draconian as to amount to duress. In extradition law, unless some abuse in the preparation of a case is obvious, the "presumption of good faith" – part of the theology of extradition law – prevents inquiry by our courts. Nearly five years ago, the US Attorney General, unusually, complained about the delay in Abu Hamza's case, indicating that the passage of time might fatally undermine the prosecution case. Whether the case is still triable, who knows?
How is the public interest served by all this? The Home Office reaction to the final attempts by Abu Hamza, and the others whose extradition was sought by the US, was to treat this long-running blot on our system as a test of political will, to be resolved in favour of the forces of international co-operation after a titanic struggle with the recalcitrant human-rights lobby.
Our approach should be less muscular. If persons are accused of committing serious international crimes in or from this country, we should normally try them here. That is what independent and robust criminal justice systems do. And delay will be avoided. We should not sub-contract their cases to more powerful states. The defence witnesses of Abu Hamza, and of Babar Ahmad and Talha Ahsan, accused of facilitating terrorism from their desks in London and in custody for six or seven years, live here. Their computers and documents are here. If guilty, they are a menace here. If not guilty, they should be exonerated here. Their families may never be granted visas to visit them in the US.
Any English criminal or extradition lawyer would have advised in 2004 that the crimes for which extradition was requested would be tried many years earlier in London.
The arguments for UK trials are the same as for Gary McKinnon, the NatWest Three and others whose cases, not involving terrorism, have given rise to public concern. Rumour has it that the Government may soon be susceptible to a change in the law to protect UK nationals such as Mr McKinnon. There is no reason to exclude those accused of terrorism.
Since 2004, Abu Hamza, a man with diabetes, high blood pressure, psoriasis, no hands and blind in one eye, has been detained in Belmarsh Prison as a Category A escape risk. He is entitled, nonetheless, to believe that these conditions are preferable to detention in the US. It was not disputed by the Home Office that he has suffered chronic sleep deprivation resulting from hourly night-time checks since 2004, such that he will, in the opinion of a consultant psychiatrist, be unable properly to deal with the details of his case.
It is said that a test of a civilised society is how it treats people it despises. But even those who wish Abu Hamza ill should be shocked at the attitude which permits extradition proceedings to cause the unnecessary delay of a trial of grave allegations for the best part of a decade.
Alun Jones QC represented Abu Hamza in the extradition proceedings
Register for free to continue reading
Registration is a free and easy way to support our truly independent journalism
By registering, you will also enjoy limited access to Premium articles, exclusive newsletters, commenting, and virtual events with our leading journalists
Already have an account? sign in
Join our new commenting forum
Join thought-provoking conversations, follow other Independent readers and see their replies