Porn protest: I organised today's mass face-sitting outside Parliament because I'm not willing to give up my sexual liberties
Draconian new pornography restrictions are an attack on our freedom, so it's time to sit down and be counted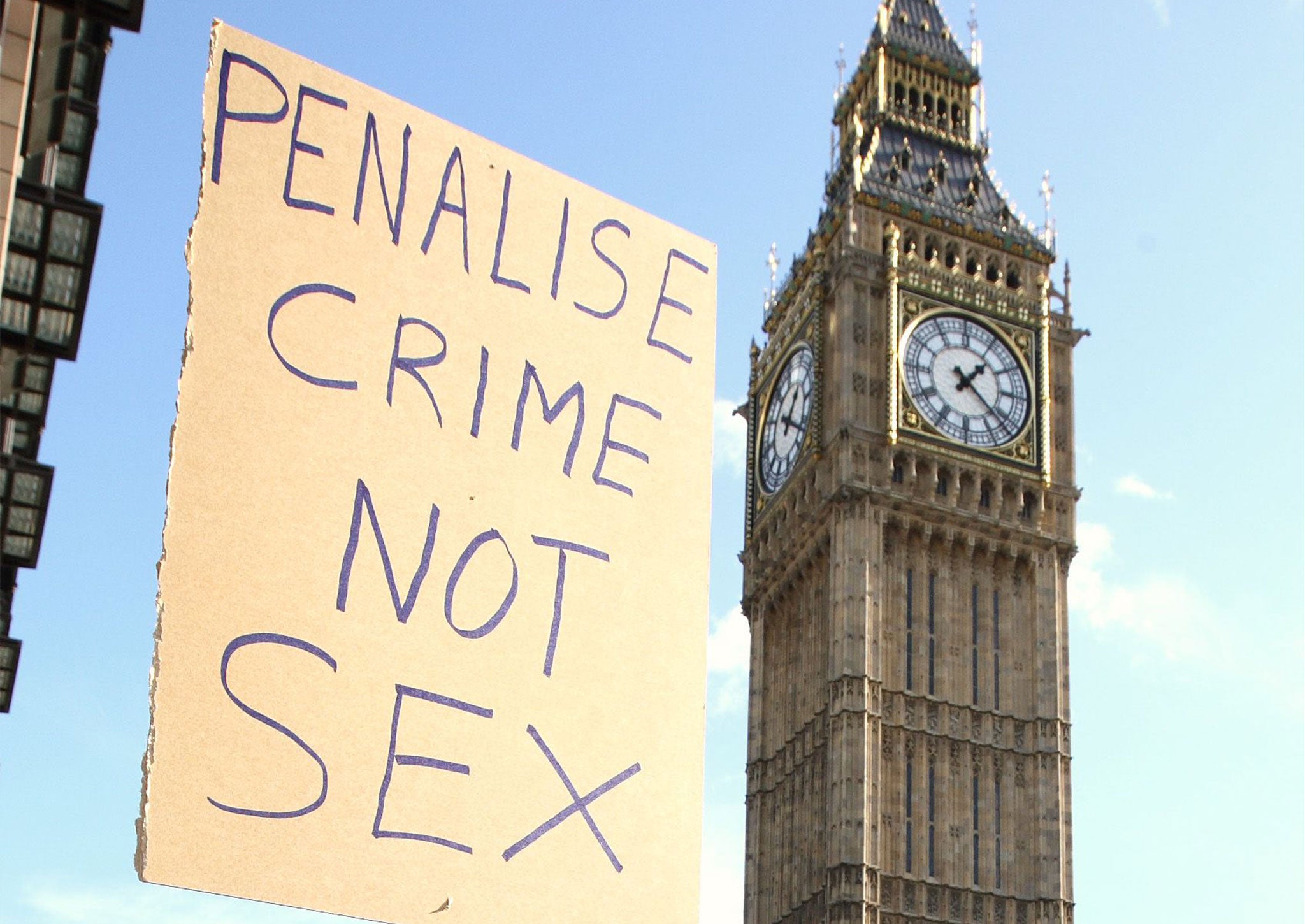 I can hear the laughter now. A mass face-sitting outside Britain's parliament: are they serious?
The answer, for anyone who dares think otherwise is: absolutely. Yes. For the new anti-porn regulations censor people without consent. Nobody has the right to take away peoples personal liberties or personal choice.
If we don't speak out now, more and more amendments are going to be added to existing laws taking our personal rights away.
In 2008 the Consenting Adult Action Network (CAAN) protested outside parliament on the latest "extreme pornography" law. This criminalised possession of images involving consenting adults, including staged acts, and screenshots from legal films.
The promise that the law would crack down on harmful imagery now rings exceedingly hollow, and revealed just how incompetent the authorities can be. In one case, an individual was prosecuted for possessing a video that featured a woman supposedly having sex with a tiger. The authorities, it turned out, could not distinguish between a man in a tiger suit and a real big cat. Still, they prosecuted, causing immense personal harm to the individual concerned. That case is now at the centre of a judicial review brought forward by Backlash and leading obscenity lawyer, Myles Jackman, on the grounds that the law breaches human rights.
Erotic images through the ages
Show all 11
Six years on they have banned viewing an even broader range of activities, including facesitting, watersports and female ejaculation. And even the wearing of gas masks in a sexual context. Because, yet again, even though these things are legal to do, they might encourage people to imitate and thereby come to "harm".
Somehow, many of the things that appear most dangerous to our self-selected censors are things that give pleasure to women. Or LGBTQ folk. Which certainly makes me wonder if this is all about white knight syndrome: blokes who don't understand anything other than straight, lights out missionary position sex, believing they're somehow doing the rest of us a favour by banning whatever grosses them out.
This is absurd. Providing it does no harm to a third person, what happens between consenting adults is their business and no one else's. And if someone wants to get permission to film this, and sell it to other adults, why should anyone stop them?
That's why I will be there with hundreds of others today to say loud and clear: "If we want your protection, we'll ask for it."
And that's not all we'll be saying. This is our personal liberty the government keeps violating. It is a fight for nothing less than our sexual freedom. The face-sitting world record is intended to show unity and passion towards sexual freedom: because if sexual freedom is the right of sexual expression, then this is expression at its best and most powerful.
I'm hoping this will create a chain of events for others, here and in other countries, to prove that we will not be censored or silenced; that the Government cannot take our personal liberty away.
Above all, it is an opportunity for those of all sexualities and tastes to stand – or sit - together, and to speak out with one voice. Because we believe that the Government has simply not been listening, and that this is the only way our voices will be heard.
And if that makes you laugh, we don't mind: just so long as you listen as well.
Join our commenting forum
Join thought-provoking conversations, follow other Independent readers and see their replies