IDS wants to liberate people with mental health conditions - but he doesn't understand their illness
The welfare minister says disability benefit reform is a field of ripe carrots for people with mental health difficulties. For most, it looks like a pile of sticks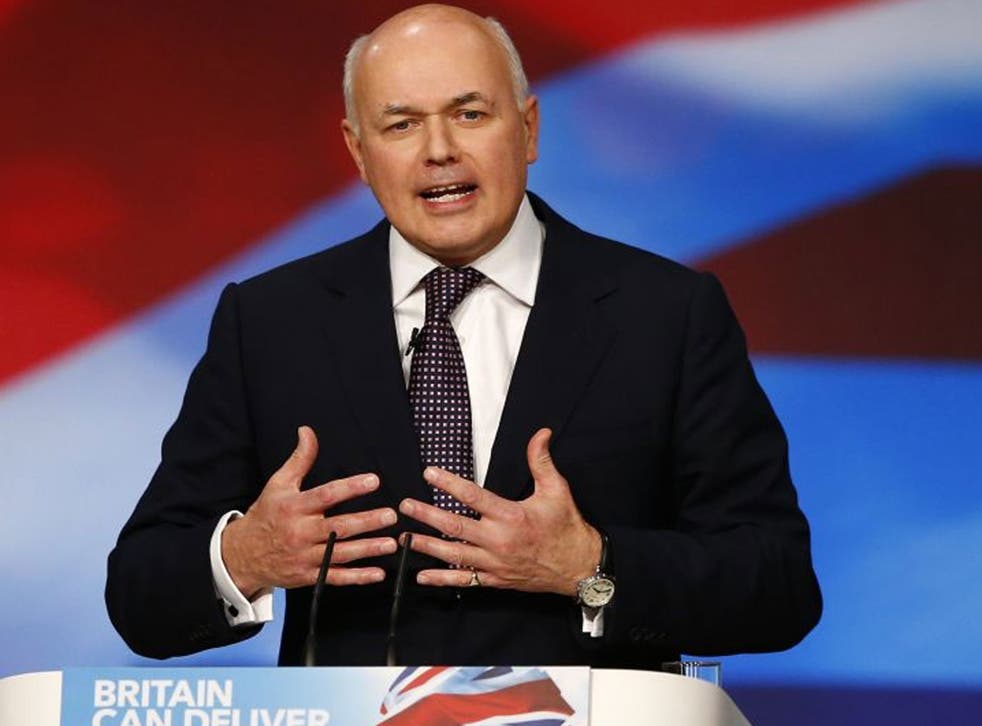 Iain Duncan Smith's speech on disability benefits yesterday was like a greatest hits compilation, delivered in a week where his record as a cabinet minister is taking some flak. The Quiet Man is back, but he's still not for turning.
This time he took special aim at the challenges faced by people with mental health difficulties in finding employment. He spoke of the increased psychological support benefit claimants would receive in finding work, an opportunity you may not be able to refuse if the Conservative manifesto promise is followed through.
While IDS may talk of his reforms as being a field of ripe carrots for people with mental health difficulties, for many people it looks like a pile of sticks. As a society, it seems, we sympathise with a worker who takes a cut on wages but we do not afford the same compassion to benefit claimants, judging their struggles as somehow less worthy of concern. But for people who are claiming, those benefits represent their income - an income that has been falling over time.
If you are claiming benefits for a mental health condition, the ground is shifting beneath you. You may have spent a long time trying to find treatment for your condition, which is assessed by how much you cannot do. Now you are to be reassessed: this time based what you might be able to do, by someone who you've never met; and then the amount of money you receive in benefits is reduced. Receiving the news that your income is going to drop significantly, despite nothing in your own situation having changed does not feel like winning.
According to The Institute for Fiscal Studies, spending on disability benefits reached a high point in 1995-96, during the last Conservative government. Successive generations of politicians have taken as read that rising disability benefit bills are a bad thing and that something must be done.
Over time, the cash value of disability benefits to the individual has fallen. If you received Invalidity Benefit in the late 1970s it amounted to around 25% of average earnings. Today's disability benefits at highest rate are equal to about 15% of the average wage (although high levels of rent paid by housing benefit may inflate the figure). Claims with mental health difficulty as the primary reason for claiming are rising too.
While being found 'fit for work' is the beginning of the process for the services providing support, it is the end of possibly years of struggle to keep your head above water. To stay with the programme, to maintain your benefits, you must find new resources and new energy from somewhere. While IDS may talk of the link between work and good health, for some the cure may be too much.
Mental health difficulty is not a fixed quality; what goes on inside your head influences situations and is influenced by the situations you find yourself in. In theory, you may be moving closer to the labour market if you are starting to do some work, but whether you are moving toward a situation where your material and mental comfort improves is another question. It is hard for many to trust that this activity is in their best interests. The relationship between stick and carrot seems tenuous at best.
As a military man, IDS should understand that if the use of force is not seen to be just it will never be seen as benevolent. It is little wonder his department had to fabricate support from from fictional people when justifying its actions to claimants. As a secretary of state, IDS is reminiscent of a first world war general: a man without an eye for detail, ignoring what we would now call collateral damage, failing to pay attention to the word from the field. He may see himself as a liberator but he has a long way to go to win the hearts and minds of those who he purports to be liberating.
Mark Brown is a mental health campaigner and the former editor of One in Four magazine
Join our new commenting forum
Join thought-provoking conversations, follow other Independent readers and see their replies