If David Cameron does any deal with the DUP to stay in power, he'll be spitting in the face of all of Northern Ireland's minorities
From mooing at women to calling Islam 'satanic' – name any prejudice, and the DUP are probably guilty of it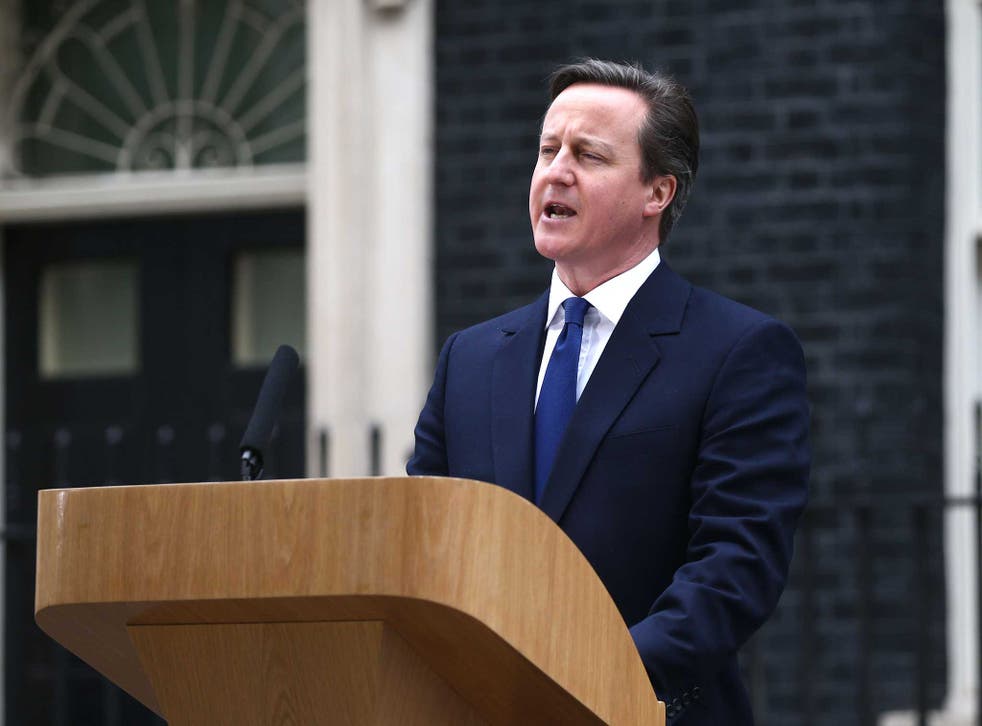 Coming from Northern Ireland and being represented by a DUP MP, I know first hand how suffocating it is to live under the far-right political party who hold as core values distrust and disgust of anyone who isn't a white, Northern Irish, Protestant male.
Yet in this new era of coalition agreements, British parties – and in particular, the Tories – are flirting with the idea of a DUP pact in exchange for the eight to ten Westminster seats they are projected to win. If this happens, English politicians will be using Northern Irish women, people of colour, religious minorities and members of the LGBT community as pawns to boost their political strength.
The DUP's complete moral deficit goes right to the top of the party. Its leader, Peter Robinson, was accused of Islamophobia last year when he spoke in support of a Protestant minister who described Islam as "satanic" and a "doctrine spawned in hell".
Mr Robinson explained to the press at the time, "I wouldn't trust Muslims to give me spiritual advice [and] I wouldn't trust Muslims who are following Sharia law to the letter." Then, making what he seemed to think was a generous concession to his country's Muslim population, he said "However, I would have no difficulty in trusting Muslims to go down to the shop for me, to give me the right change, to do a lot of other things."
The party has also faced accusations of sexism and misogyny. They are fielding 16 candidates for the current Westminster election, and every single one is a man. Their current MP Ian Paisley Jnr, famously and unapologetically shouted "moo moo" to drown out the voice of a female member of the region's Women's Coalition as she spoke during discussions on the peace process.
Portfolio: Marginal Streets

Show all 6
Similarly, another of their current MPs, Sammy Wilson, was accused of sexism when he said this about two female government ministers, "The other two Sinn Fein ministers are two women. I can't remember their names but their sister's called Cinderella."
The DUP has also done everything in its power to suppress the rights of Northern Ireland's LGBT community, who many members prefer to call "sodomites". The party opposed the decriminalisation of homosexuality for many years, calling their campaign "Save Ulster From Sodomy". It was finally decriminalised after the European Human Rights Court intervened in 1981. As recently as 2012, the DUP leader of a council called for homosexuality to be made illegal again.
Northern Ireland is the only part of the UK where same sex marriage is still illegal, because of the DUP's continued actions in blocking it in the local parliament. The DUP Health Minister has insisted on banning all gay and bisexual men from ever donating blood, despite acknowledging that there is no scientific evidence for such discrimination. The party most recently proposed what they call the "conscience clause" bill, which would allow people to be exempt from equality laws if they are religious and allow for LGBT people to be refused service in shops, restaurants and hotels.
Any party that is prepared to throw Northern Irish minorities under the coalition bus in order to boost their own power would be acting with selfish callousness and complete contempt for the struggle minorities face here in Northern Ireland. To do so would be to endorse and pander to a party who make it their mission to suppress minorities. Of course coalition politics are about compromise, but make no mistake about how profound and immoral compromise would mean in this case.
So my challenge to David Cameron is this: promise now that you will never go into coalition with the DUP.
Register for free to continue reading
Registration is a free and easy way to support our truly independent journalism
By registering, you will also enjoy limited access to Premium articles, exclusive newsletters, commenting, and virtual events with our leading journalists
Already have an account? sign in
Join our new commenting forum
Join thought-provoking conversations, follow other Independent readers and see their replies