Ignore the critics - TTIP is something the Left should fight for
Supporting jobs in industry is just one of the trade deal's significant potential gains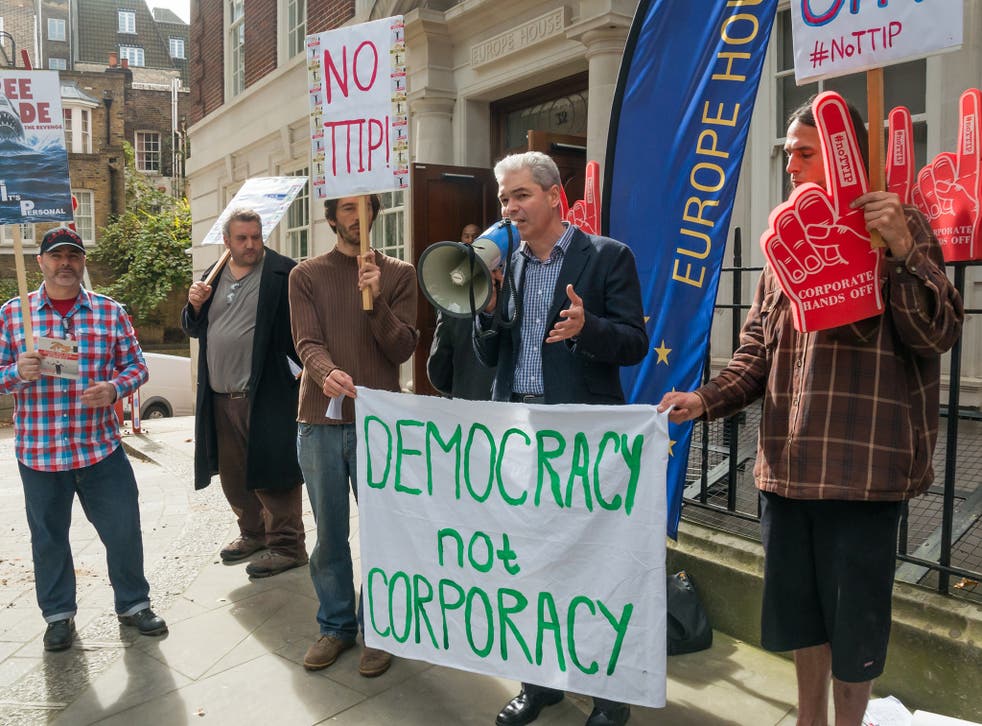 Last week, the European Commissioner-designate for Trade, a Swedish politician called Cecilia Malmström, was called for a pre-appointment hearing with MEPs. In previous years, it might have passed without controversy, but this time the would-be Commissioner faced a furious tumult of questions. The reason? TTIP – the transatlantic trade and investment partnership – the most talked-about trade deal in a generation.
Among some campaign groups and commentators, including on these pages, this EU-US trade deal is entirely without merit. But outright opposition to trade is no good at all – it ignores the reasons why the centre-left has historically fought for more and better trade, and it abdicates any role in holding the European Commission and our own UK government to account on those areas where there are real concerns.
As I've pointed out before, the left has a proud pro-trade tradition. It was Clement Attlee's post-war government which signed Britain up to liberalising tariffs under the General Agreement on Trade and Tariffs – the forerunner of the WTO. And it was Franklin Roosevelt's 'new deal' Democrats that overturned the protectionism and isolationism of Republican Herbert Hoover.
They knew that trade wasn't an end in itself - every trade deal has to be taken on its merits. But progressives following in their footsteps should be optimistic that this EU-US deal can be a force for good, not just because it is bigger than any previous bi-lateral deal but because it is being negotiated between economic equals, with the EU providing the collective clout to bargain with the US that no individual European country could match.
The potential gains are significant. Take the car industry - a British success story; supporting hundreds of thousands of good manufacturing jobs across the country. Eight out of ten cars made in the UK are sold abroad, but we currently sell far fewer than we could to the US because of different regulatory rules. This needn't mean standards are higher or lower. Just as we drive on the left and they on the right, some regulations are not better or worse, just different. An independent study has suggested that, combined with tariff reductions, ironing outs these differences could boost exports by up to 26%, creating thousands more jobs and higher wages for British workers.
In those parts of the EU-US deal where there is genuine concern, there are also good grounds for optimism. However, in two major areas - public services and 'ISDS' redress for foreign investors – the public and political pressure must be maintained on the Commission and UK government.
The system of investment arbitration known as ISDS has received widespread and justified criticism. While the number of cases brought under ISDS are relatively few, there is no case for it in an agreement between countries with some of the most advanced and stable domestic legal systems in the world. Campaigners have helped forced a pause and public consultation, and been promised a serious response.
On the NHS, while the UK government has sat on its hands, my direct discussions with the EU's chief negotiator have helped produce an EU promise to fully protect our health service including, as the chief negotiator says in a letter to me, so that: "any ISDS provisions in TTIP could have no impact on the UK's sovereign right to make changes to the NHS".
The campaign challenge now is to ensure these clear commitments are translated into TTIP. In doing so, we shouldn't let proper concerns descend into indiscriminate opposition. Instead progressives should keep campaigning, keep challenging those in power to secure a deal that will be good for British consumers and workers, as well as business, and, above all, keep hold of Attlee and Roosevelt's vision: of trade that is fair as well as free.
John Healey is Labour MP for Wentworth & Dearne in South Yorkshire. He chairs the All-Party Parliamentary Group on EU-US Trade & Investment
Register for free to continue reading
Registration is a free and easy way to support our truly independent journalism
By registering, you will also enjoy limited access to Premium articles, exclusive newsletters, commenting, and virtual events with our leading journalists
Already have an account? sign in
Register for free to continue reading
Registration is a free and easy way to support our truly independent journalism
By registering, you will also enjoy limited access to Premium articles, exclusive newsletters, commenting, and virtual events with our leading journalists
Already have an account? sign in
Join our new commenting forum
Join thought-provoking conversations, follow other Independent readers and see their replies