Israel and the US: Drawing up lines of allegiance
Jewish Americans are being asked whether they feel more loyal to the US or Israel –  it's hard to imagine the issue being raise at a more sensitive time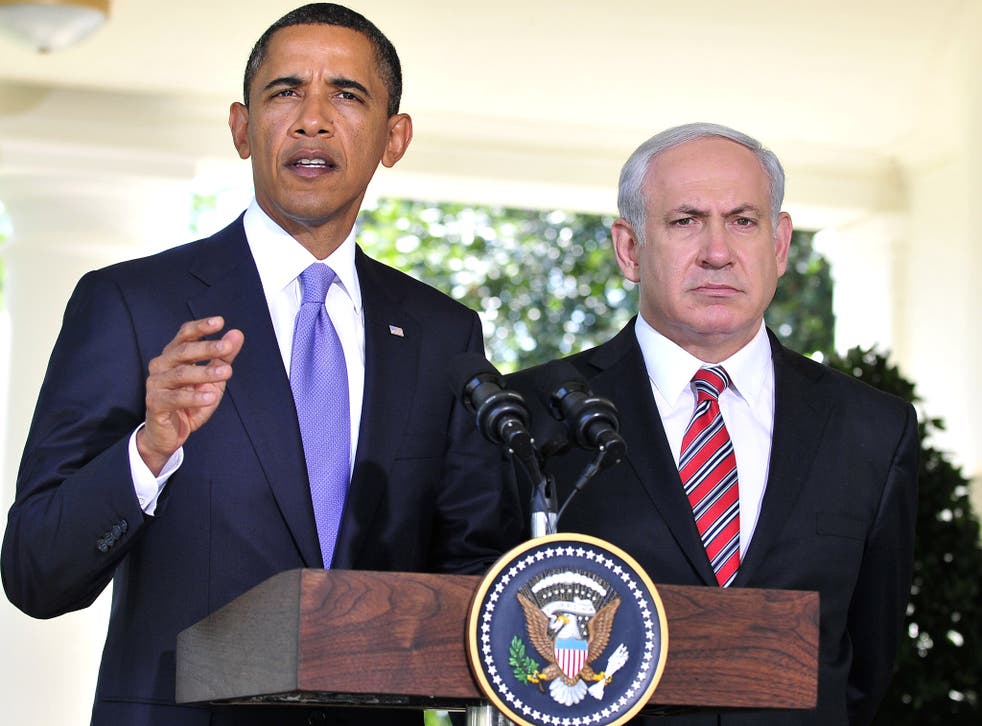 Ask British Jews whether they feel more loyal to this country or to Israel – and expect to be instantly labelled anti-Semitic and sent packing. The same, only more so, applies in the USA.
The issue has always been sensitive. Nowadays, with Israel being increasingly criticised for its harsh treatment of the Palestinians and asking to be allowed to bomb Iran, it is potentially explosive.
When Israeli positions conflict with British ones, nothing is more inflammatory than allegations of "dual allegiance", not to mention putting Israel first. The pro-Israel lobbyists do their work subtly, although in the US their activities, especially among politicians, attract more attention.
Which makes it even more peculiar that tens of thousands of leaflets have recently been distributed to Jewish Americans, as well as to Israelis living in the United States, asking them to indicate where their allegiance would lie in the case of a crisis between the two countries. Almost incredibly, the leaflet was originally endorsed by representatives of Israel's Foreign Ministry.
Within days, following the report of the story in the Israeli press, Prime Minister Benyamin Netanyahu hastily directed the ministry to stop backing the questionnaire, which was commissioned by the Israeli American Council, a private nonprofit group established in Los Angeles in 2007. In September, the IAC announced plans to expand by establishing new branches throughout the United States. The survey is seen as part of this process.
According to the IAC, this expansion is to be sponsored by Vegas casino billionaire Sheldon Adelson. Adelson, 80, is one of the biggest financial backers of both Netanyahu and Mitt Romney and is said to have spent as much as $100 million trying to help defeat Obama last year. According to a report (by Seth Hanlon, the director of fiscal reform at the Center for American Progress Action Fund), the canny Adelson could have turn that investment into a $2 billion tax cut had Romney been elected.
In Israel, Adelson established and pays for a free newspaper, Hayom, devoted to praising Netanyahu and his controversial wife on a daily basis with endless "scoops" about the First Family.
The 12th richest person in the world with an estimated net worth of $34.4 billion recently wrote in the Wall Street Journal that the one reason why he switched from Democrat to Republican was that Republicans were more supportive of Israel than Democrats. That certainly applied to Romney and Netanyahu, a pair who stayed very close after working together at the Boston Consulting Group in the 70s.
In October 2013 Adelson called upon the US to warn Iran it would use Nuclear missiles if necessary, initially aimed at the desert and subsequently threatening to hit Tehran if it did not halt its nuclear programme . This could have been – and possibly was – scripted by Netanyahu.
I wouldn't dare ask Sheldon Adelson, whose wife is Israeli, where his allegiances lie. But I would dearly love to hear his answer.
Register for free to continue reading
Registration is a free and easy way to support our truly independent journalism
By registering, you will also enjoy limited access to Premium articles, exclusive newsletters, commenting, and virtual events with our leading journalists
Already have an account? sign in
Join our new commenting forum
Join thought-provoking conversations, follow other Independent readers and see their replies