It's not the 'skipping' three who should be questioned, it's the wasteful supermarkets
In a world where nearly a billion people go hungry, this model cannot continue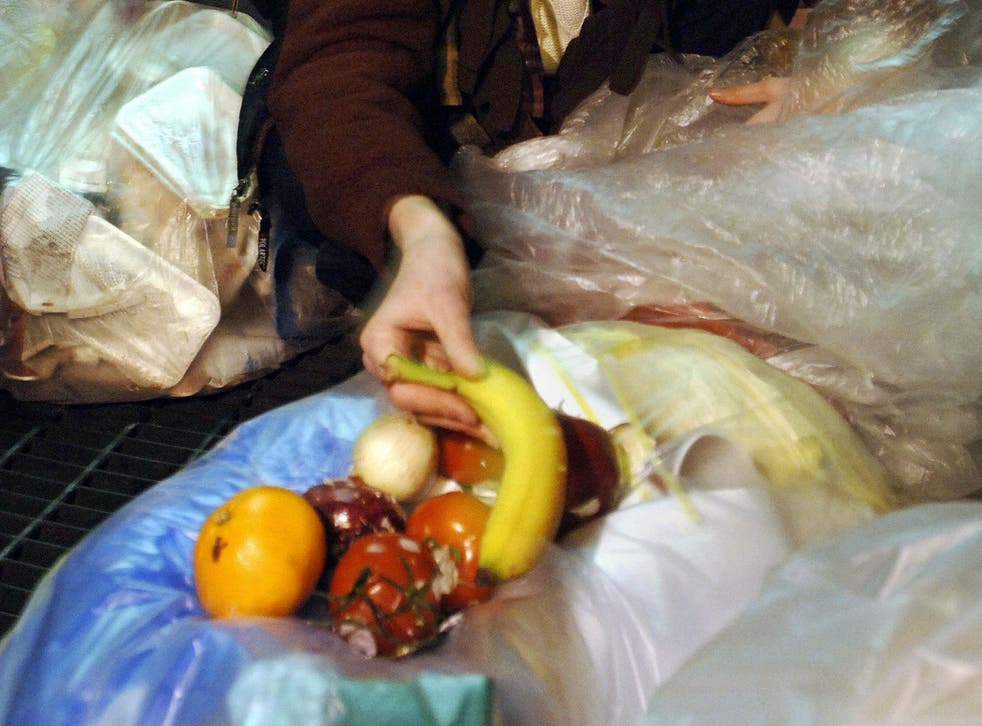 It was a commenter on my Facebook page who put the 'skipping' charges against three men who were taking discarded food from a bin at an Iceland store in North London in the best perspective I've seen – they said: if there's a crime here, it's only the (non-legal) one of wastefulness, in which case it's the supermarket that should be in the dock, not the dumpster divers.
Three men are being charged - the Crown Prosecution Service (CPS) has said it sees "significant public interest" in proceeding - accused of taking stealing tomatoes, mushrooms, cheese and Mr Kipling cakes from a supermarket's bins. Police say they retrieved and "returned" the items to the store. That is to say they ensured what was undoubtedly perfectly good food went into (at best) composting or anaerobic digestion, but quite likely into landfill.
You do have to wonder if there's a campaigner in the CPS who thinks it is time to put the entire supermarket model of food distribution on trial.
Recently, Tesco admitted that more than 30 per cent of bagged salad is wasted in store, and 40 per cent of apples. In total in the first six months of last year, 28,500 tonnes of food waste were generated in its stores and distribution centres. No doubt the other giant oligopolists that dominate our food chains are similar.
The fact that 'dumpster diving'/'skipping'/'bin raiding' is a new phenomenon is clear from the absence of a settled name - but it's clear that it the practice is spreading fast. That's a product of the rising desperation in our society that has seen foodbanks become one of our fastest growing industries, as I saw for myself last week on a visit to one in prosperous Winchester.
We hardly need a reminder of how wasteful the supermarket model is. It's based on the principle that every item will be in stock all of the time, and will be shipped back and forth across the country, or the globe, from grower to packager to warehouse to store. Inevitably, enormous quantities go to waste.
In a world where nearly a billion people regularly go hungry, with demand for food expected to rise significantly with no one really knowing where that food is going to come from, in which our carbon emissions (of which food production counts for a significant proportion) are critically excessive, this is not a model that can continue.
We've been trained to think there's no alternative, but of course there is, and it's a model I've seen first-hand in London: a relatively small, local shop, which relies primarily on relatively local suppliers bringing in as much of the stock as possible - in the right seasons, potatoes come from a farmer in Kent, tomatoes and peppers from a single grower in Essex. Sometimes food gets damaged and bruised in transit, sometimes it ripens faster than expected, sometimes it's mysteriously less popular than usual, and when that happens, the food is cooked on site for sale - as ready meals or preserves or as sandwich fillings.
This place is The People's Supermarket. It isn't a zero-waste model (we've got a long way to go to tackle disposable packaging, something that needs to be addressed on a much broader scale), but there's very little waste of food. No 'skipping' occurs there.
We've seen the seemingly inexorable rise of the supermarket giants over the past decade or so; their move from white elephant out-of-town stores to smaller stores at every bus stop and train station -where they often prove bad neighbours, with noisy overnight deliveries disturbing residential areas, regular blocking of parking and traffic with HGVs and the nuisance of trolleys all over the pavement.
But these look increasingly like the paroxysm of a dying giant – this is a 20th-century model of food distribution that isn't fit for today - too wasteful, too costly, and as we saw during the fuel blockade, too fragile, for an age in which food security, affordability and frugality will become new watchwords.
Register for free to continue reading
Registration is a free and easy way to support our truly independent journalism
By registering, you will also enjoy limited access to Premium articles, exclusive newsletters, commenting, and virtual events with our leading journalists
Already have an account? sign in
Join our new commenting forum
Join thought-provoking conversations, follow other Independent readers and see their replies