Marc Chagall tried many things, but ended up being true only to himself
Plus: Hammond Innes's thrillers whose pages don't turn themselves and falling asleep during Byzantium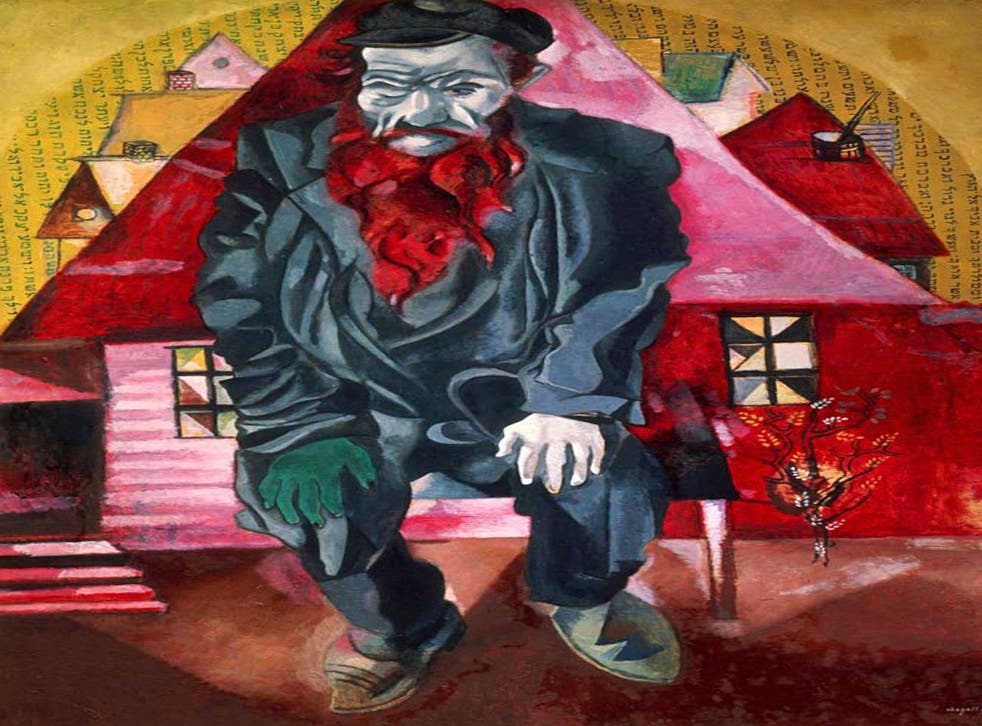 "He is not encumbered by any theory," said the French poet Apollinaire of his friend Marc Chagall – or Moishe Shagal – if you prefer the ungallicised version. Then again, an ungallicised version of Chagall is an intriguing counter-factual. What would Chagall have done if he'd stayed in Vitebsk all his life, exposed only to the experimental flares of Constructivism? What would his paintings have looked like? There is one small piece of evidence in Tate Liverpool's new exhibition on the artist, and one answer to that question would seem to be "very brown". The exhibition opens with what it's impossible not to look at as a "before and after" pairing – two paintings called Birth, both of them showing the immediate aftermath of a delivery in a humble room with wooden floors. In both the mother lies on a bed while the child is held up by an attendant figure. But while one is an assembly of murky tones the other is lit with a whiter, brighter light that falls on vivid colours. It's as if three centuries of yellowed varnish have been peeled away.
That's the essential storyline here – of a painter who goes to Paris to have his vision cleared by the effervescent experiments of pre-war French art. The point of the Apollinaire quote, of course, is that we're not to think of him as in any way co-opted or enlisted into movements to which he's arrived late. Which is not to say that Chagall didn't make enquiries about membership. One of the interesting features of the exhibition is how imitative some of Chagall's early Paris paintings are. He has a crack at Cubism, does a vaguely Renoir-ian plein-air nude, soaks up Fauvist tendencies and Delaunay geometry. Looking at The Poet with the Birds and its dabbed and patterned foliage I even found myself wondering whether he'd just come fresh from looking at Douanier Rousseau's paintings – and there's no wondering at all about the influence in The Yellow Room. The goat on the floor may be Chagall's but the atmosphere is all Van Gogh's.
Chagall never wholeheartedly signed up to any particular club. He seems tempted by an "ism" only to find that its initial liberation becomes too constraining. And, not to put too fine a point on it, Paris didn't then offer an "ism" that had much room for goats, or samovars, or Russian cupolas, which Chagall was loath to give up. It would get one quite soon – in Surrealism – and there's another counter-factual daydream in wondering what might have happened if Chagall had arrived in Paris eight or nine years later and rubbed shoulders with Breton and Ernst and Man Ray. But before the First World War there wasn't an existing template into which he could fit his search for what he called "the logic of illogic". In the end, and this is the point the show drives towards, he has to invent Chagallism – a one-man "ism" that finds its highest expression when he returns to Vitebsk.
Literally and metaphorically he comes home in these paintings. They are wonderfully touching – and not only, I think, because we project our own sense of the fragility of the world he depicts backwards in time. He seems to know this world is doomed too and paints is with a tenderness that is entirely unselfconscious. Chagallism enjoys its apogee. The clumsiness of some earlier appropriations disappears to be replaced by an unexpected delicacy in his brushwork.
There is a sad twist in the tale though. The final room displays much later paintings – the symbolism still identical decades on, the colours now far cruder. The journey from 1911 to 1916 is considerable. The journey from 1916 to 1966 detectable only in failing powers. It's art that remains unencumbered by theory, in Apollinaire's terms. But you can't help feeling it ends up heavily weighed down by Chagallism.
The details that lend lift to an uphill read
I confess to being a bit disappointed by the two Hammond Innes thrillers I read last week (four of his bestsellers have been reissued by Vintage). The pages didn't turn themselves. I had to do it, with a faint sense of obligation. But there were pleasures. The backgrounds become salient and fascinating – all the stuff that was necessary set-dressing resurrected, not as self-conscious period detail, but as recovered artefacts. Take the slittovia, mentioned at the start of The Lonely Skier. This, it turned out, was a primitive kind of ski-lift consisting of an unenclosed sled pulled by cable up the slope. Google it. It's still thrilling.
Fangs for the memories (or not)
Thank you to those who – politely and otherwise – pointed out that Byzantium actually explained every one of the vampire biology conundrums I was struggling with last week.
I'd like to confess that I fell asleep during the relevant sections, because that would be less worrying than the truth, which is that large sections of the film had simply evaporated from the memory. I cling to the hope that this is simply a self-preservation device in the face of excessive consumption of television, theatre, novels and films. I do try to keep my operating system updated but there's only so much narrative you can store on 256KB of RAM. Something has got to give.
Register for free to continue reading
Registration is a free and easy way to support our truly independent journalism
By registering, you will also enjoy limited access to Premium articles, exclusive newsletters, commenting, and virtual events with our leading journalists
Already have an account? sign in
Join our new commenting forum
Join thought-provoking conversations, follow other Independent readers and see their replies