Men buy sex for many reasons - as a sex worker, I can tell you they don't deserve to be criminalised
Labour MSP Rhoda Grant's wants to introduce 'the Swedish model' to Scotland. But criminalising the purchase of sex is not the way to help sex workers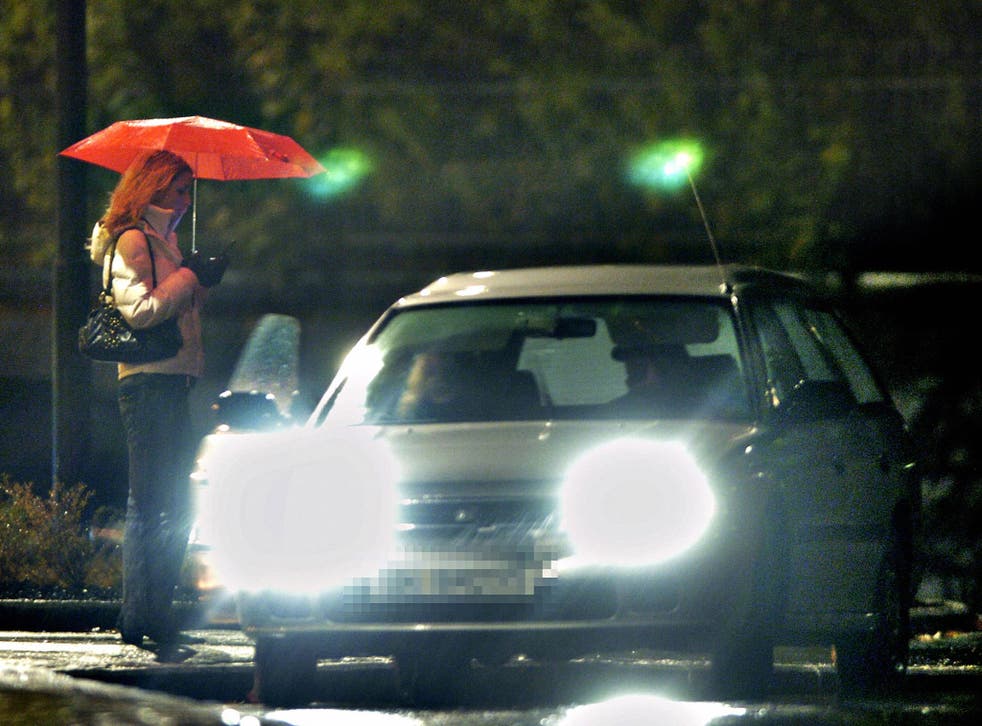 My name is Laura Lee and I am in independent escort based in Glasgow with twenty years experience in the sex industry. At present, our wellbeing as sex workers is being placed under threat by the proposed introduction of "the Swedish model", by Labour MSP Rhoda Grant. The Swedish model will effectively make it illegal for a man to pay for my services, although legal for me to advertise and work.
Grant is pushing forward this measure because she believes that prostitution is violence against women and inherently harmful and dangerous. I know from years of experience that for the vast majority of sex workers in Scotland, that simply isn't true. Like this writer, they made an informed choice to enter the industry and enjoy their work. I have visited a lot of the saunas in Edinburgh and spoken first hand to the women therein, and they are very angry that this proposal will deny them the choice to work of their own free will, and take away their independence not to mention their source of income.
One of the chief forms of evidence Grant is seeking to rely on is a paper written by Margaret Melrose which claims that 75 per cent of all women surveyed entered the industry whilst underage. On the face of it that is a horrifying statement to read, but the truth is that the survey was conducted on 47 street sex workers, ALL of whom were underage at date of entry, which gives us seriously skewed data, especially since we now know that on street prostitution represents between 5 and 20 per cent of the sex for sale industry in the UK. The other 80 per cent you rarely get to hear about because we are the woman beside you in the queue at Asda, that woman you see at the school gates every day, just ordinary women making a living and paying our bills. That image doesn't suit the agenda of abolitionists when they talk about 'coercion, trafficking or pimping'. For a more extensive repudiation of the questionable statistics used by proponents of the Swedish model, I refer you to the excellent response of Dr. Brooke Magnanti.
I won't deny for a moment that there are abuses within the industry, but there are abuses within every industry. Certainly, there are ancillary issues alongside (some) street sex workers such as drug addiction and poverty, however - the solution then is not to ban prostitution, but to address the base issues. If they want to get out of the industry and get clean, help them, if they want to continue to work on the street but do so in safety, help them. By criminalising the client, these already vulnerable street sex workers are placed in far graver danger, because they are pushed further back from the public eye, and have less of an opportunity to assess a client before climbing into a car.
So who are these men, who pay for companionship or simply sex ? Below I provide some client profiles –
1. He got married in his 20s, he's now in his 50s. He adores his wife, who's given him beautiful children and would do anything for her. They haven't had sex for five years now, because she's developed MS. For those five years, he has battled with his conscience. He can't have an affair because well, that involves feelings and people will get hurt, but he can't deny the physical needs he has.
2. As a young man, he left a job in the city to care for his father full time. He gets four hours reprieve a week when a carer paid for by the state comes in, and he uses this time to visit a local escort, where they open a bottle of wine and share a bubble bath together. It is this time which he treasures.
3. He got married young and it quickly became apparent that the marriage was wrong. There is violence in the marital home, she regularly assaults him, but because he has now become a public figure he can never report that, much less leave her. Provided he keeps her credit card topped up, she turns a blind eye when he books into a hotel one night a month and hires an escort.
4. As a teenager he was reckless and fell in with the wrong crowd. He began 'joy riding' which culminated in a horrific smash. Since then, he has been confined to a wheelchair and has no sensation from the waist down. He frequently sinks into long bouts of black depression, even contemplating ending his life. What keeps him going is the periodic visits he gets from a sex worker, when he enjoys a sensual massage.
5. As a young boy, he was repeatedly and savagely raped by a close family member. He has serious issues with body dysmorphia and self esteem as a result. He wants to learn to enjoy sex as an act of love and tenderness, so that he can disassociate it from violence and terror.
Is the solution to criminalise these men? No, it isn't. The solution is to target those who prey on the vulnerable and the weak within the sex industry and hit them hard, such as a charge of aggravated trafficking. We need to keep the lines of communication between sex workers and the police open, so that we can continue to report our suspicions as they arise and so that our clients can continue to do so too, and they do. A far cry then, from the quote from Rhoda Grant in today's Glasgow Evening Times - "People that use prostitutes are people who would rape and abuse." Not only is that statement false, it is also offensive in the extreme to every client I have ever met.
Ultimately, the solution to the protection of those in the sex industry is complete decriminalisation. World Health Organisation guidelines "recommend that countries move towards the decriminalisation of sex work and improve sex workers' access to health services".
In summary, any further criminalisation of the sex industry will cost lives.
Join our new commenting forum
Join thought-provoking conversations, follow other Independent readers and see their replies