Michael Brown: Thatcher changed Britain - and I was lucky enough to see her in action firsthand
Witnessing her speech as the first female PM in 1979 was a life-changing moment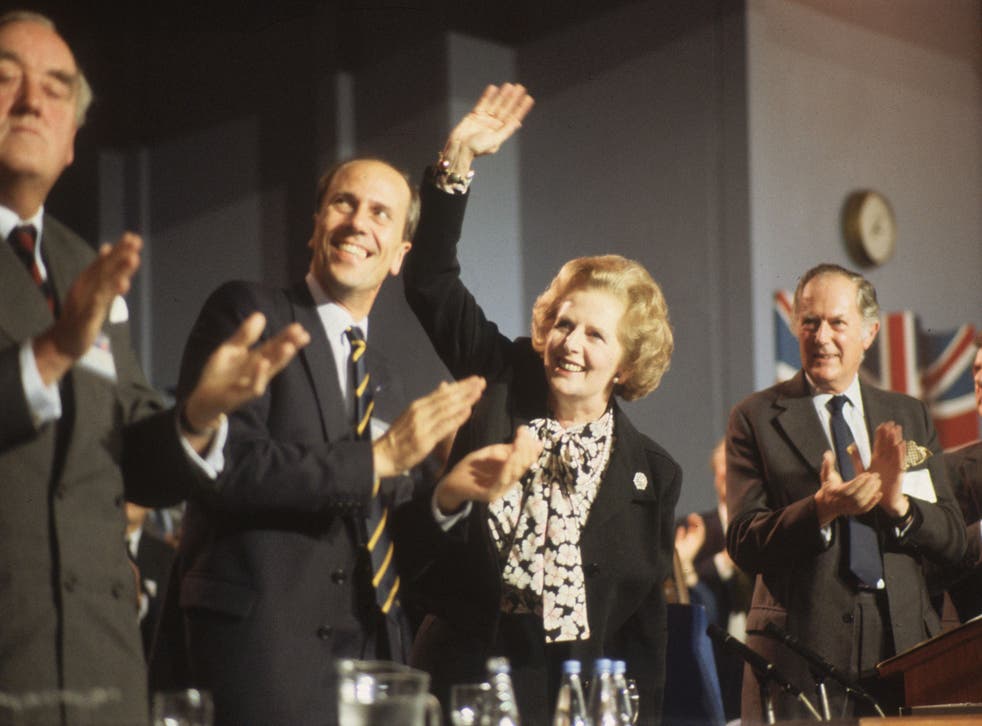 I first met Margaret Thatcher shortly before the 1979 general election when she made a flying visit to my Brigg and Scunthorpe constituency. It was a grim industrial area employing 20,000 steelworkers at the nationalised British Steel Corporation and had returned a Labour MP for decades. I was selected as the candidate, at the age of 24, for this safe Labour seat in 1976 – on the day Harold Wilson resigned as Prime Minister.
I was identified by Mrs Thatcher's minders as "one of us" and the constituency was rewarded with "critical seat" status. Mrs Thatcher's 20-minute tour was a whirlwind. I merely introduced her to Tory supporters as "our next Prime Minister" - having been told she did not like listening to other people's speeches. Although she asked me how the campaign was going she did not allow me to reply – a pattern I was to experience many times over the ensuing years during my encounters with her. Answering her own question she told me, "You've got to get the message out on the doorstep in 50 words and in less than a minute" - campaign advice I found invaluable. I was miffed at her brusqueness but the Scunthorpe Evening Telegraph headline and photo - Iron Lady in Steel Town - was a candidate's dream publicity.
The constituency count began on Friday morning 4 May. We already knew that Mrs Thatcher would be Prime Minister but it took three recounts before my election with a wafer-thin majority of 486 was confirmed after lunch.
I received a telegram (no mobile phones or e-mails in those days) from the Chief Whip. "Congratulations. House will meet 9 May. Your attendance essential" - underlined three times. The excitement of taking my seat that day - at 27, the youngest MP - and witnessing the first woman Prime Minister speaking at the dispatch box was probably the greatest moment of my life. It is hard to convey just what an extraordinary event the election of a woman as Prime Minister was to be. Years later, during a school visit, a 10-year-old asked me whether it was possible for men to rule in Buckingham Palace and Downing Street.
Shortly after the election I went to a victory reception at No.10. This was my first encounter with Denis. "Can I smoke?" I enquired as he puffed on untipped Senior Service. "Good God, boy, yes – and get a large g and t for us both off that waitress." Anxious to show off how well I had done in becoming the first Tory MP for Scunthorpe since Sir Berkeley Sheffield (Samantha Cameron's great grandfather) I wanted to impress Mrs Thatcher. She asked about the result. "I got 31,500 and a majority of 486". She glowered at me like an errant son. "No, Michael, I got 31,000 – you got 486."
The honeymoon was short-lived. First the new Chancellor doubled VAT in his June 1979 budget. By December steel-workers embarked on a futile three-month all out strike. This led to the government withdrawing the subsidy to the loss-making BSC and the devastation of the Scunthorpe steelworks. On one day 10,000 constituents were made redundant, and unemployment was to rise to 25 per cent. But I was certain "there was no alternative" and spoke vigorously in the Commons in support of the government's economic and industrial policies.
Years later, during a school visit, a 10-year-old asked me whether it was possible for men to rule in Buckingham Palace and Downing Street
Late one night, Ian Gow, the Prime Minister's parliamentary private secretary – with whom I shared a Commons office – sought me out. "The Prime Minister knows how busy you must be but wonders if you could spare a few minutes to give her some advice on the steel industry."
Mrs Thatcher was marvellous on these occasions (often about 12am in her Commons office during the regular pattern of late-night sittings when she was usually present) sitting with her shoes off and her feet on the sofa, tucking into a box of chocolates, and generous with the measures of whisky. But as to listening to anything I had to say, it was often a waste of time. Ian would ask me if there was anything on my mind the Prime Minister needed to know. She must have thought he was addressing his remarks to her as the midnight monologue would begin.
Occasionally, however, I would get a word in and something would stick. I complained about the government's slowness in making progress on trade union reform. I wanted the closed shop abolished and union ballots introduced. In return she expressed her own exasperation. "I can't understand why this government isn't doing enough." It was extraordinary to hear the Prime Minister frustrated at the lack of progress the administration, over which she presided, was making.
It was only then that I fully realised just what a battle Mrs Thatcher had in making her economic case inside the cabinet. For the first two years, until the 1981 ministerial re-shuffle, she had to plot and scheme, with the few cabinet allies she had, to defeat the "wets" led by Jim Prior, Peter Walker, Ian Gilmour and Norman St John Stevas. John Nott, the former trade secretary, details in his autobiography how he, Geoffrey Howe, Keith Joseph and John Biffen would meet most weeks with Mrs Thatcher in the Downing Street flat to plan how they would overcome cabinet opposition. His account suggests that Mrs Thatcher was the leader of the opposition to the majority against her inside the cabinet. She was, frankly, in a very precarious position.
My tiny majority and surprise win meant that I assumed, by the end of 1981, I would lose my seat and the Tories would probably lose the election. But the Falklands conflict changed all that. Only then did Mrs Thatcher become mistress of all she surveyed. With a little help from the Labour split, the newly formed SDP and Michael Foot, the golden age of Thatcherism was about to begin. And my own ringside seat was to outlast Mrs Thatcher until 1997.
Michael Brown was a Conservative MP from 1979 to 1997
Join our new commenting forum
Join thought-provoking conversations, follow other Independent readers and see their replies