One Direction split: All boybands must die – it's the only way their fans can grow up
Young girls want to believe that 1D are destined to stay together forever, because all strong friendships we make as young people last forever, don't they?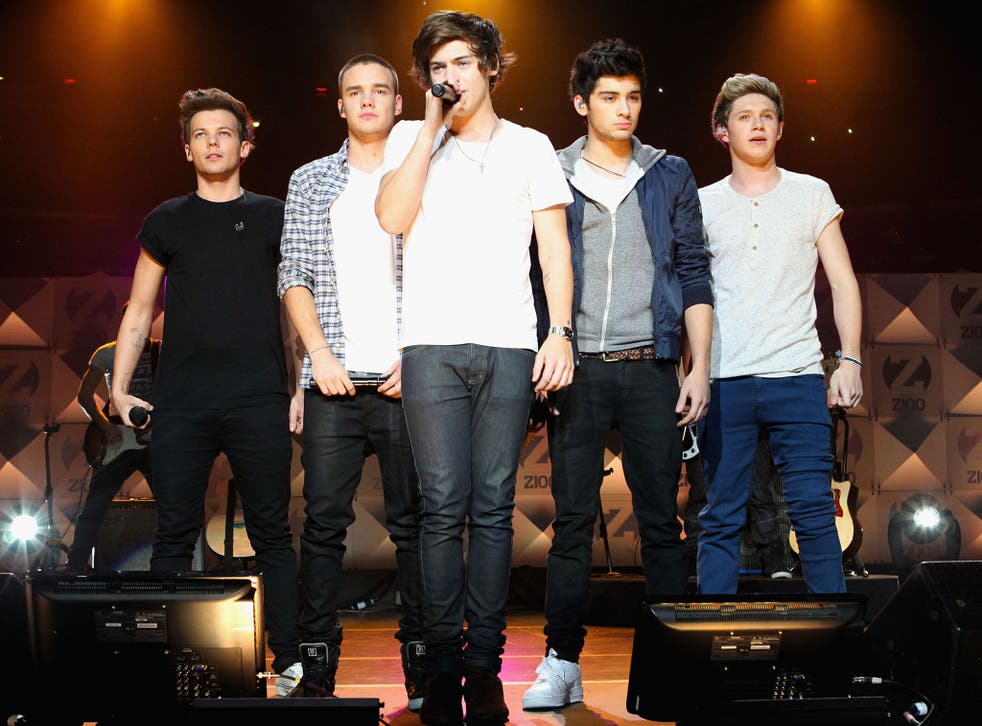 It's tempting to chuckle at One Direction's inconsolable fans throwing themselves on the pop pyre over news of the band's forthcoming "hiatus". Not an official split, I hasten to add. More a 12-month break with no plans to tour their next album, which to my ageing ears sounds like, "We are sick of the sight of each other. In fact, if we have to meet one more time at 5.45am in a Kuala Lumpur hotel lobby to do a breakfast-telly promo performance, someone might get strangled." Not a divorce, more of a "conscious ungrouping". Maybe forever, but more likely until someone can't pay their tax bill.
I have always thought being in One Direction must be like being contractually forced on to a tedious, never-ending coach tour, with people one had already started to suspect one might not gel with shortly before the first Forton Services toilet stop. But then I would say this, as I'm a cynical old adult, my eyes fully opened to the realities of life.
All boybands must die. They cannot survive in a vacuum-packed, dewy-skinned bubble. They must become bored, want solo careers and start looking a bit like they're being held hostage in videos. And with this expires something fresh and naive within their teen fan base.
Zayn Malik, first to quit, has morphed before our eyes from a twinkly-eyed sliver of boyhood into a surly, underslept twentysomething who can no longer keep a lid on his feelings that his colleague Liam is a bit of a prat. Liam has always seemed a bit of an old woman in his demeanour to me. His attempts to keep the band on course over the past weeks have been so stringent he could have been carrying a clipboard.
What Zayn must have realised – with some inevitability – is that pointing wildly and doing occasional leg kicks to flimsy pop songs in front of hysterical young women is a lucrative but unfulfilling pastime. After some public bickering and a pregnancy announcement, the band appears rudderless. Young fans will no doubt see this as disappointing and dark – for me, this is exactly how things should be.
Still, part of every boyband's schtick, and what makes them so utterly loveable, is this notion of brotherhood as an unbreakable bond. Young girls want to believe that Harry, Liam and Louis (or Robbie, Jason and Mark) are destined to stay together forever, because all strong friendships we make as young people last forever, don't they? We'll never change, grow old, splinter off or forget each other. We'd never let babies or bald ambition split us up. We're just going to be here, suspended in time, forever young and incessantly loyal... until that terrible moment when life's great alarm clock clangs and wakes us up.
1D: Crazy things Directioners say

Show all 20
I want to giggle at crying Directioners, but I empathise with some of their youthful woe. I remember saying goodbye to Duran Duran and Wham! through a veil of tears. There will be no more tour meet-ups and a winding down of the endless band tittle-tattle on Twitter. The posters on their bedroom walls will become ragged and grow vintage in look. And there will be a growing acceptance that this period in their life is on the retreat, thoroughly dwindling in relevance.
Yet there is so much about the boyband stage in a girl's life that's important. All these lovely boys in rows, singing almost exclusively about love. Love, at least, as one knows it aged 11, when it is nothing more complex than a funny, sick feeling in one's stomach followed by a lot of hanging around in shopping centres.
My heart would do star-jumps over Simon Le Bon singing "Save A Prayer", with its almost incomprehensible lyrics about powerful, unquenchable passion between lovers who can never quite be together. Boybands commodify and represent so many sweet, gentle tween notions. They give these kids a hook to hang their dreams on. No wonder it's tough when it all goes tits up.
Directioners must have been thoroughly confused when Zayn further underlined his post-boyband "change of life" this month by dumping his blonde-haired pop-princess fiancee, Perrie Edwards from Little Mix. Fans had followed this delightful pop soap-opera from its offing. Handsome boy meets delightful, largely silent girl. Pop songs are written and sung about their mutual adoration. Aged 12, I certainly thought that engagement rings and house purchases signified romantic solidity. What a hard lesson it is to learn that, so often, all is not as it seems. Obviously now I know that any declaration of love even after the age of 40 should be mutually reassessed daily and on a piecemeal basis.
Yes, Simon Cowell will currently be plotting another boyband to take their place. But the One Direction fan – now growing older themselves – may well look at this new set of fresh-faced boys and, gasp, consider the whole thing all a bit babyish. By the time Bros came along, the answer to so many of my contemporaries' wants and needs, I sniggered wildly at the silly girls putting Grolsch bottle-tops on their shoes. I wanted to be in the pub, drinking the beer itself.
The one solace Directioners can take is that in this day and age, it's unlikely the band will be able to stop themselves returning. It's just too lucrative. If Zayn does not return to the stage with the rest of One Direction on a We're Back tour by the year 2030, I will eat my own knickers.
At the O2 Arena last year I screamed along with umpteen thousand Boyzone fans. Yes, everyone onstage was a tiny bit saggier and most of the audience would be up the next day for the school run. But there was, at least, a sense that everyone had benefited from the "hiatus".
Join our new commenting forum
Join thought-provoking conversations, follow other Independent readers and see their replies