Panic buying, happy retailers, and whispers about the great storm of 1938... how Hurricane Sandy is terrifying the East Coast of America
In a brilliant dispatch from New York, our correspondent describes fear on the streets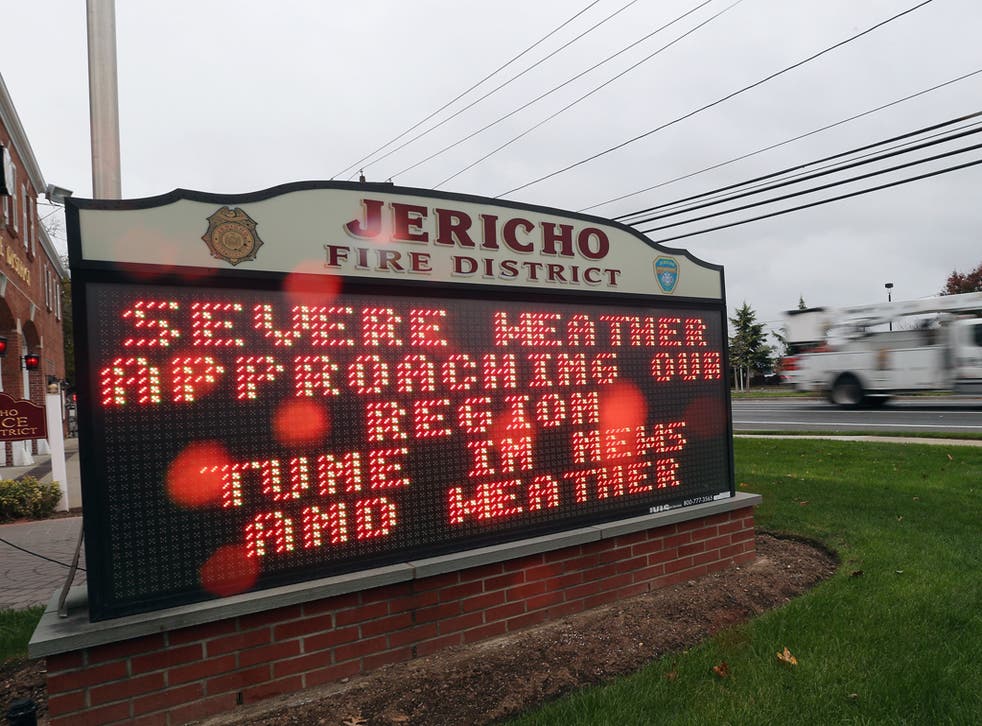 New York
If what the man on the television says is anything to go by, Hurricane Sandy is expected to smash into New York City by 8:00am this morning. All around the city, conversations turn not on which district of the five boroughs is the most desirable to live in, but what evacuation zone your apartment, loft, townhouse or duplex has been assigned.
The map of this city has been redrawn, with orange shading marking Evacuation Zone A, the low-lying areas of New York that require immediate evacuation. In these zones, police cars with speakers on the roofs cruised the emptying streets on Sunday afternoon informing residentsthat "there is a mandatory evacuation for this zone" and people streamed towards subway stations before the 7:00pm shutdown of the train system and 9:00pm bus shutdown.
On the box, New York City Mayor Michael R. Bloomberg ordered a mandatory evacuation of Zone A for "the safety of the approx 375,000 people who live in these areas" — and said residents wouldn't be forced to leave by the police, but were "selfish" if they did not do so. "There no reason to have extra risks, just because some people said oh I'll wait it out and then changed their mind," Bloomberg said. Weathermen predicted that winds of up to 39 miles an hour and an 11ft storm surge could batter New York from tomorrow onwards.
Alphabet City, where I live, is in Zone A, and my flat mates and I were soon packed up and ready to go after the Mayor made his announcement on television. We joined the throngs of people with suitcases and knapsacks, some carrying mattresses over their heads in a desperate scramble to escape before the 7:00pm cutoff.
Panic
And it seemed like everyone was panic buying. Throngs of people filled Russ and Daughters, a Manhattan delicatessen on the Lower East Side, where they stocked up on that New York classic — bagels with smoked salmon and cream cheese. Some whispered about the hurricane of 1938 that killed 700 people, but most were calm as they ordered their supplies. Still, Joshua Russ Tupper, the owner, said it was a pretty average Sunday in terms of what the shop had sold had sold — "If someone's going to buy loads of goods, it's not gonna be chopped liver," he explained.
Some people also said that they were confident that they would be able to weather the storm. One Alphabet City pair, Jonathan Israel and Zolaykha Sherzed said they were not too worried and they would spend time with their young children. "We did a lot for Irene — we bought sandbags and stuff," Israel said. "Now this year we're just playing it by ear." Graham Booth, 30, a shipbroker visiting from the UK added "I get the impression it's all a bit media hype-y — They literally are battening down the hatches". That said, he said he had spent the afternoon hauling sandbags and was evacuating to Brooklyn. At Ollie's Place, a nearby cat sanctuary, volunteer co-ordinator Kit Efraimson said she was planning to spend the night there in order to make sure the cats are safe. She said she will also be sandbagging the storefront because it has a downstairs entry.
But others were taking all necessary precautions. Bread bins were emptied at food shops and there queues in drug stores near Union Square moved at a snail's pace. Rashid Ali, who works at Ink, an Alphabet City newsagent said: "I went to [the supermarket] Key Foods and it took over an hour for the line." Sorys Olivares, walking West along 11th Street said she had stocked up on water, candles and matches, while Eduardo Ruiz said he had only bought dry food that won't spoil if this hurricane turns out to be as weak as last year's. That said, many were convinced that this storm would be more powerful. Lisa Shaver, who bought groceries on 14th Street said she thought the storm was "gonna be worse than Irene", which she lived through last year.
Some people even came in to Manhattan. Tyra Lindestrom and Molly Smith said they had come in to Union Square to buy supplies from the Whole Foods Market, but that it was shut because of the closure of the subways. They said they had already been to Target, a discount retail store, where they had bought "a lot of beer", nailpolish, "Jesus candles", flashlights and sheets — "It looked like a romantic evening was being planned.
Homeless
But what about retailers? Odds were they were very happy, especially if they specialised in emergency electronics. Behrooz Dariani, 52, was selling emergency crank flashlights that also functioned as sirens and phone chargers out of the back of car near Union Square an hour before the deadline. He said people had been "very receptive" to his products, and that he had sold 60-100 units of merchandise that day. Palash Dalgupta, a fruit seller on 14th Street said he was confident he would sell all his fruit by the end of the day.
The homeless, however, were more worried. Donna Harris, 49, who has been homeless for a year and a half said she was going to stay with a friend, and that she believed homeless people had all made adequate preparations. But, as we ducked into the Subway at Union Square — to yet more warnings of closure and storms over loudspeakers — we asked Stevo Plumey what he thought. His black hair was matted in dreadlocks and his feet were covered by a sleeping bag. He explained to us how some homeless people hadn't made preparations. He and his girlfriend had been invited to stay by a friend, but he said many homeless people would not be able to find shelter during the storm.
"There will be people on the streets," he said. "It sucks, but what can we do? We live in a capitalist society and not everything is provided to everyone."
Register for free to continue reading
Registration is a free and easy way to support our truly independent journalism
By registering, you will also enjoy limited access to Premium articles, exclusive newsletters, commenting, and virtual events with our leading journalists
Already have an account? sign in
Join our new commenting forum
Join thought-provoking conversations, follow other Independent readers and see their replies