Phillip Hughes: A sensational man, both on and off the pitch
We always hoped that he would one day return to play for Middlesex CCC. That dream, along with so many others, ended last night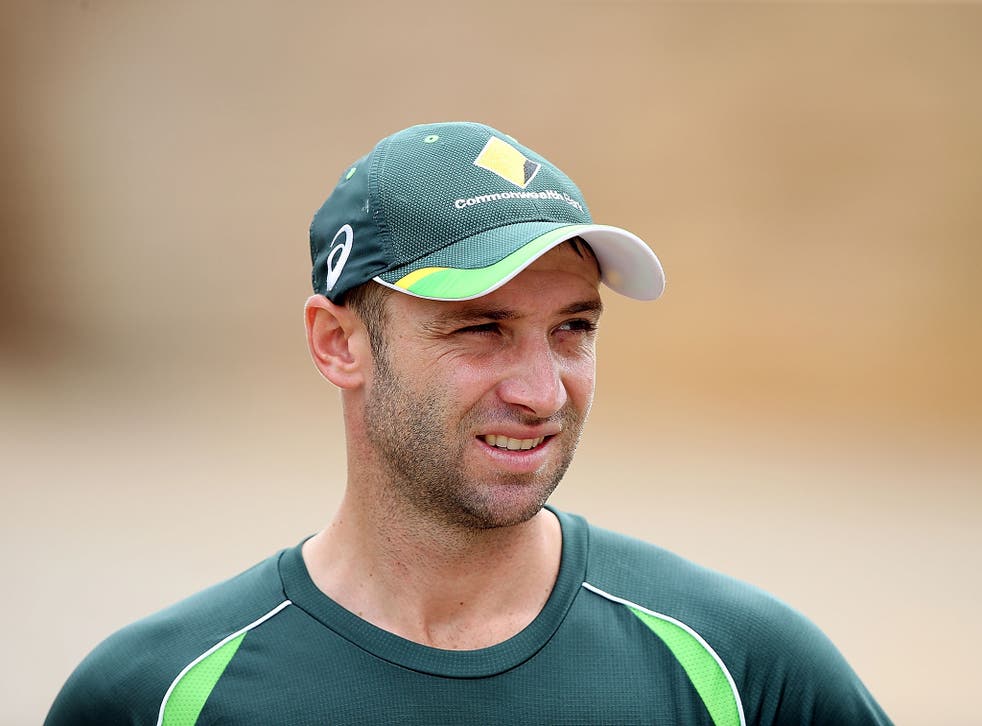 Lord's Cricket Ground was an extremely sombre place as light tried to break yesterday morning. The greyness of the day was apt as the staff of The Marylebone Cricket Club and Middlesex County Cricket Club arrived for work. We were all trying to come to terms with the tragic overnight news that Phillip Hughes had passed away. In respect to Phillip, his family and friends flags at the ground had been set at half-mast and as the day progressed floral tributes were laid at the Grace Gates.
Lord's knows who the good guys in cricket are and Phillip Hughes was one of them.
Phil was only with Middlesex CCC for a short period of time in 2009 but he made an impression that very few followers and staff of the Club will ever forget. He was sensational both on and off the field, and the relationships he formed with many of us have made this tragedy even harder to absorb.
Phil had been recommended to me by Neil D'Costa, his early mentor and manager. D'Costa and I had played Grade Cricket together for Western Suburbs in Sydney in 1994/95 and we had kept in contact. He thought playing county cricket, even if it was only for a month, would help his development. The contract was actually signed before Phil became the youngest player to score a hundred in each innings of a Test. He completed this remarkable achievement against a strong South African bowling attack in only his second Test.
Phillip Hughes: Career in pictures

Show all 10
As I sit here writing this article I can still hear D'Costa informing me of what an exceptional young man he was, before telling me that we must look after him. Phil was only 20 when I picked him up at Heathrow Airport on a cold April morning. As he confidently walked through customs with his green Australian kit bag dragging behind him he was smaller in stature than I imagined but, even then, you could see he had a presence about him.
He was not in any way overawed by the prospect of coming to London on his own to take on the responsibility of playing at the 'Home of Cricket' for one of the most prestigious club's in the country. And by scoring a hundred against Glamorgan in his first innings at Lord's he highlighted his skill and confidence.
Having spent much of his teenage life mixing with and playing against men in Macksville, a town 300 miles north of Sydney, he was immediately comfortable in my company and we chatted about life at Western Suburbs as we made our way along the M4 to Lord's. The Middlesex squad were practicing at the time and, after meeting his new team-mates, I dropped him off at his new home, our club flat in West Hampstead.
He quickly fitted into London life and became buddies with a few of our younger players. West Hampstead can be a lively spot and, in an attempt to support D'Costa's request, I'd regularly ask Phil how he was and what he'd been up to. With a glint in his eye and a smile on his face he'd always insist he was great, the flat was fine and that he had had a quiet night in. Like most Aussies he was 'low maintenance' and in the end we both just ended up laughing when I asked the question.
Even at 20 his attitude to cricket was a lesson to many Middlesex players who had been professionals for several years. He possessed a lovely carefree simple attitude to life but his character was underpinned by a strong work ethic and a fierce desire to score runs and to be the best he could be.
Phil may have been laid back and easy company off the pitch but on it he was a tremendous competitor. I will never forget him confronting the formidable former South African fast bowler Andre Nel during probably his best innings for Middlesex, the 195 he smashed against Surrey at The Oval.
Nel had taken exception to the hiding he was receiving and bowled a beamer at Hughes. Even now I still have this wonderful vision of the diminutive Hughes following the bear-like Nel down the pitch to inform the bowler he was: "weak, fucking weak, that is why you quit international cricket to play for Surrey". Nel did not turn round to take him on.
Judging by the amount of luggage Phil placed in the back of my car on his return to Sydney I got the feeling he enjoyed his time in London. The clothes shops in Oxford Street definitely took a bit of a hiding and I think he ended up paying more than £1,500 in excess luggage.
I am not a touchy-feely sort of person but I hugged him when I dropped him off at Terminal 3. It seemed the natural thing to do. We have spent several enjoyable hours in each other's company since and though his Test career stuttered he never once complained or felt sorry for himself. We always hoped that he would one day return to play for Middlesex CCC again. That, tragically, with many other dreams ended last night.
Register for free to continue reading
Registration is a free and easy way to support our truly independent journalism
By registering, you will also enjoy limited access to Premium articles, exclusive newsletters, commenting, and virtual events with our leading journalists
Already have an account? sign in
Join our new commenting forum
Join thought-provoking conversations, follow other Independent readers and see their replies