Pope Francis puts people first and dogma second. Is this really the new face of Catholicism?
'Gay' was not a word which would even pass the lips of his predecessor, Benedict XVI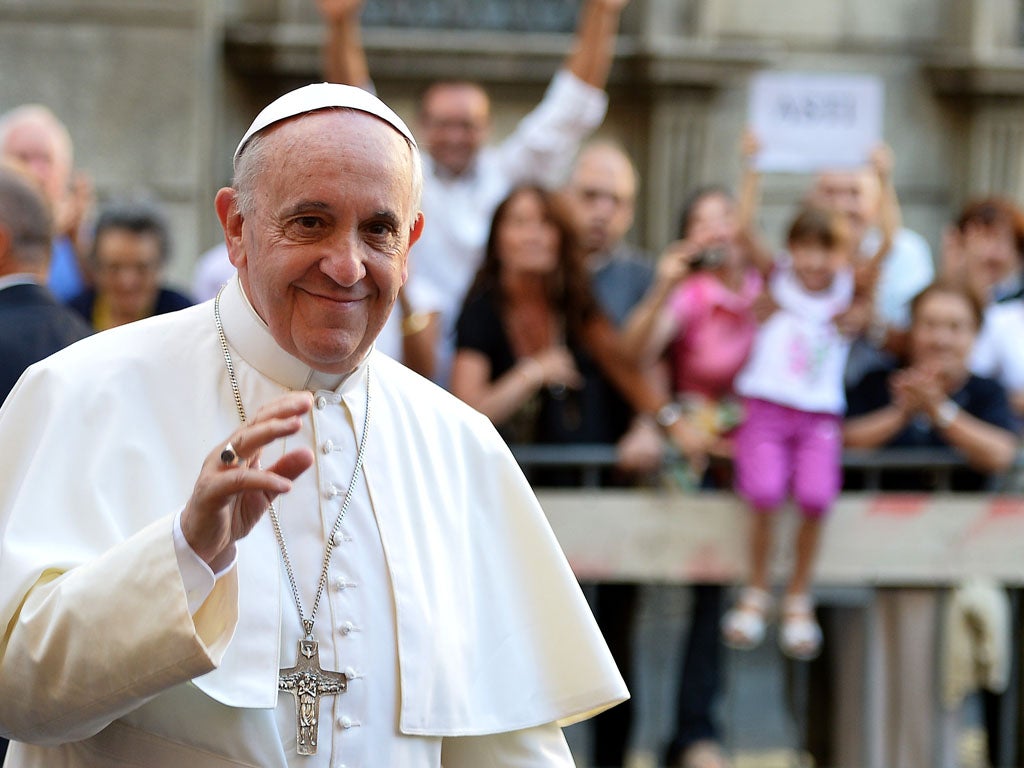 Marcelo Márquez had not been home long when the phone rang. He had been so indignant at the position the Catholic Church was taking over same-sex marriage that he had written to its leader – and delivered the letter by hand. This was 2010. The place was Argentina, where plans were afoot to make the country the first place in Latin America where gay marriage would be legal.
Márquez was not just a gay rights leader. He was a devout Catholic and a former seminary theology professor. Within an hour of pushing the critical letter through the door of the Archbishop of Buenos Aires, he was surprised to hear the phone ring and find on the other end of the line Cardinal Jorge Mario Bergoglio – the man who would become Pope Francis.
The two men met twice. "He listened to my views with a great deal of respect," said Márquez. It was not what he expected. The previous archbishop, Cardinal Antonio Quarracino, believed homosexuals should be "locked up in a ghetto". Bergoglio took a very different tone and insisted that "homosexuals need to have recognised rights, including civil unions". A political row broke out among Argentina's overwhelmingly right-wing bishops over their leader's stance.
Marcelo Márquez was one of the few people in the world, therefore, who was not surprised or even shocked when the Pope this week spoke positively about gay people on the plane back from his visit to Brazil. "Who am I to judge," he said, "if someone is gay and he searches for the Lord with goodwill?" Gay was not a word which would even pass the lips of his predecessor, Benedict XVI. The problem was not with homosexual orientation, Francis said, but with the corruption and intrigue of individuals within the Vatican who happened to be gay.
The Pope's attitude was no surprise to me either. I have spent the past four months in Buenos Aires, Rome and elsewhere researching the background of the new Pope for a new biography, Pope Francis – Untying the Knots.
For someone so celebrated for his simplicity, Jorge Mario Bergoglio turns out to be a man of considerable complexity. But amid all the detail, one common factor emerges. It is the insistence of the new Pontiff in putting people before dogma.
As an archbishop, his toughest criticisms were for conservative legalists who put church rules above everything else. He excoriated priests who refused to baptise the children of unmarried mothers, calling them hypocritical clericalists turning baptism into blackmail. Catholics obsessed with sexual ethics, he once scathingly said, wanted to "stick the whole world inside a condom".
By contrast, in a slum rife with crime, unemployment, drugs and poverty, when a mother apologised to him because her son had stopped going to church, he replied: "Is he a good kid? That's what matters." Elsewhere he said: "The most important thing is the person in front of you."
The Church is still coming to terms with this new Pope who – as one cardinal put it – "plays for the same team but kicks the ball in an entirely different direction". He has not changed church teaching but is more likely to talk about child trafficking and sex slavery than abortion – which he has not even mentioned in 120 days as pontiff. He rails more against the neglect of the elderly than euthanasia. His focus on the family is not on contraception but on upbraiding over-busy parents for not finding the time to play with their children.
What happened over gay marriage in Argentina is illuminating. Bergoglio's traditionalist position was condemned by President Cristina Kirchner as "medieval" but it was considerably more subtle. Initially angry, one close friend told me, at the shocking things religious conservatives were saying, linking homosexuality with paedophilia, he kept out of the debate. Behind the scenes he went to the Argentinian bishops' conference and suggested the church should offer to back same-sex civil unions in an attempt to get the gay marriage law ditched. He persuaded a prominent evangelical MP to make the same proposal in parliament.
What followed illustrated another unappreciated truth about the new Pope – his extreme political craftiness. (This had caused a bitter split in the Argentinian Jesuits when he was their leader, but that is a different part of the story.) Knowing that hard-line conservatives were complaining about him to Rome, he embarked upon a dangerous tactic. A month before the parliament was due to vote he wrote a letter about gay marriage, taking the orthodox line and using vivid language, to a closed order of Carmelite nuns, asking them to pray for the right outcome in the vote. He called the plan a plot by the devil.
One of his closest aides, Father Guillermo Marcó, told me that Bergoglio assumed that a closed order would not make the contents public, "but that he could send a copy of it to Rome to show he was doing what was required". The strategy backfired when the letter was published. Bergoglio then lost the vote among the bishops to back civil unions and parliament passed the gay marriage law. It was the only time in more than a decade that Bergoglio was unable to broker consensus.
Now that he is Pope he can act more directly, as this week's comments on the plane back to Rome reveal. The secular world should not expect too much. He will not change the line on gay marriage or adoption. (He sees the latter as a human rights issue, insisting that every child has the right to both a mother and a father.) But there will be none of the Vatican's previously ill-disguised distaste for homosexuals.
This is a man who as an archbishop washed and kissed the feet of homosexuals with Aids in Buenos Aires – a move as controversial then as washing the feet of Muslims and women after he became Pope. Francis is unlikely to make women priests but he seems set on giving them a more prominent role within the Church. He hinted on the plane that the ban that forbids divorced and remarried Catholics taking communion may be relaxed. This is a "change of epoch", he said, no less.
Catholic conservatives are disconcerted. Washing the feet of women, they lamented, set a "questionable example". The Pope does not break the rules," one Vatican bureaucrat responded. "He just remakes them."
"Four years of Bergoglio would be enough to change things," Cardinal Cormac Murphy O'Connor, and an old friend of Francis, told me. And he could be around for much longer than that.
Pope Francis – Untying the Knots by Paul Vallely is published by Bloomsbury at £12.99
Join our commenting forum
Join thought-provoking conversations, follow other Independent readers and see their replies