Refugees don't waste the financial aid we send them – so we need to stop worrying that they do
 Cash distribution is becoming a vital part of humanitarian work around the world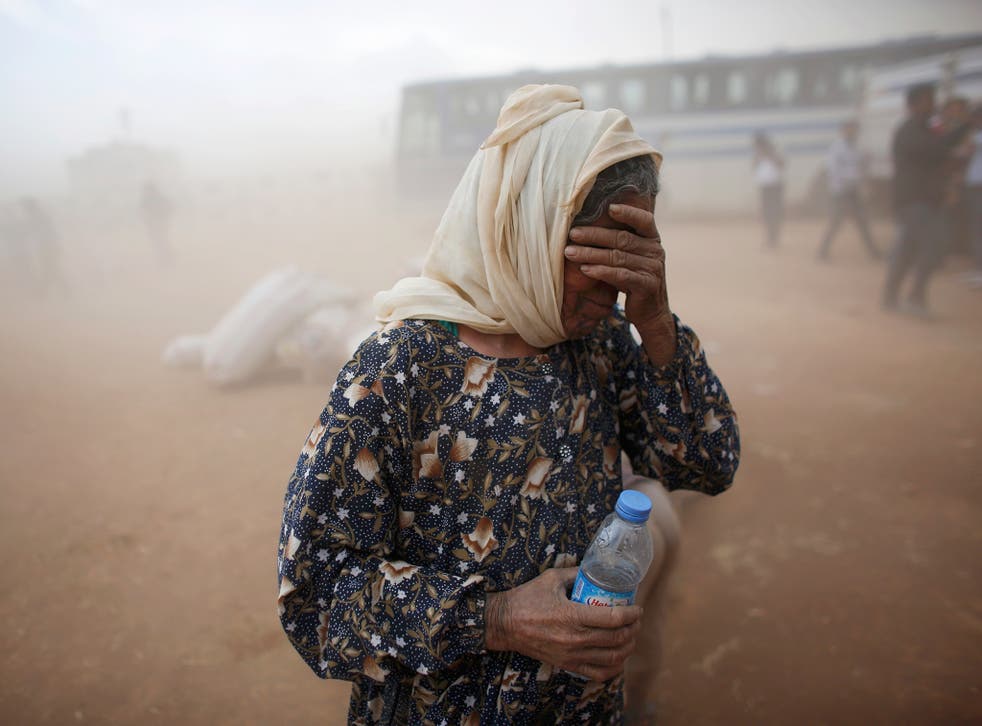 This article has been co-authored with Radha Rajkotia, senior director for economic programs at the International Rescue Committee.
From Iraq to Gaza, from South Sudan to the Ukraine, this has been a dramatic summer of human suffering. The humanitarian system is stretched by these multiple crises as never before, and questions about the humanitarian sector's impact, legitimacy and sustainability have rarely been more pointed.
So it is vital to understand research about an approach that does seem to work, and work well: distributing cash to those who need it most, and letting them determine how best to spend it.
There is already a debate about whether cash transfers – rather than service delivery – is a big new idea for the purposes of promoting development in relatively stable but poor countries. Two rigorous studies of economic development programmes in Kenya and Uganda revealed that giving people cash works. There is a similar debate in domestic policy – for example over whether the homeless are best helped by cash or services (or different combinations of the two).
This week the debate has moved on again. In the first scientifically rigorous evaluation of emergency cash for refugees, the International Rescue Committee unveiled striking findings based on research in partnership with Daniel Masterson of Yale University and Christian Lehmann of the University of Brasilia, focused on the Syria crisis, specifically looking at Lebanon.
The results are consistent with what we know about the impact of money distribution in more stable, albeit poor, settings: it does not create disincentives to work, it enables people to study and spend money on things that improve their lives; and it doesn't cause them to go out and squander it on drugs, alcohol or gambling. But we also learnt a lot more.
Last winter, 90,000 Syrian refugee families facing freezing conditions in the Lebanese mountains were given $100 a month through ATM cards by international aid agencies. Families living below 500 metres altitude were given e-vouchers for food, while those living in villages above 500 metres were also given e-vouchers for food, plus the cash to buy winter warmth materials, like blankets and sweaters, since they were thought to be in colder areas. So there was a good basis for comparison between similar households living just above and below.
Syrians flee to Turkey as Kurds storm Isis strongholds

Show all 15
The research confirmed that refugees receiving the cash spent everything on meeting very basic needs ahead of winter. Despite the cash initially being intended by aid agencies for use buying materials to keep warm, the money allowed the refugees to invest in what they knew they most needed – food and water. There was no evidence of spending on alcohol or tobacco.
Meals were more frequent and had bigger portions. And for each dollar of cash assistance spent, the model calculated $2.13 was created in local markets, boosting the Lebanese economy. Strikingly, we did not find an inflationary impact – instead, supply moved to meet demand.
As well as measuring the economic impact, we also were interested in social impacts. We found that households receiving cash assistance were half as likely to send their children out to work. Cash also increased access to education, and there is evidence of reduced tensions within the household and between the refugee and host community.
So it's not surprising that a majority (80 per cent) suggested that they would prefer to receive cash to other forms of assistance: "Let us decide."
This research does not mean there is a new humanitarian silver bullet; $100 a month does not remedy the trauma and loss of being driven from your country. There is also still work to be done about the circumstances in which cash distribution works best, how to reach people at speed and how to ensure the costs of bureaucracy are kept down.
But this research does suggest there is an additional opportunity to deliver better outcomes for people hit by emergencies, and provides a rejoinder to those who would dismiss the humanitarian sector as ineffective.
The truth is that the spate of man-made and natural disasters enveloping innocent civilians raises profound questions not just for international politics, but for NGOs and the humanitarian sector as well. If we keep doing "business as usual", the gap between need and provision will continue to grow. Cash distribution – alongside clear humanitarian "floor" targets in the revised Millennium Development Goals, more sustainable local partnerships and better use of evidence overall – could be part of a vital renewal of the humanitarian sector.
There will be a new disaster in the near future. And when the calls for donations go out, yes, let's spend some of it on cash, but let's also spend that fraction more evaluating it – the lessons are too expensive to miss.
David Miliband and Radha Rajkotia are the president and CEO, and the senior director of economic recovery and development, at the International Rescue Committee
Register for free to continue reading
Registration is a free and easy way to support our truly independent journalism
By registering, you will also enjoy limited access to Premium articles, exclusive newsletters, commenting, and virtual events with our leading journalists
Already have an account? sign in
Join our new commenting forum
Join thought-provoking conversations, follow other Independent readers and see their replies