Rio Ferdinand was right not to wear the Kick it Out shirt – and he'll pay for it
The footballer will learn that if you complain about racism, you will suffer the consequences.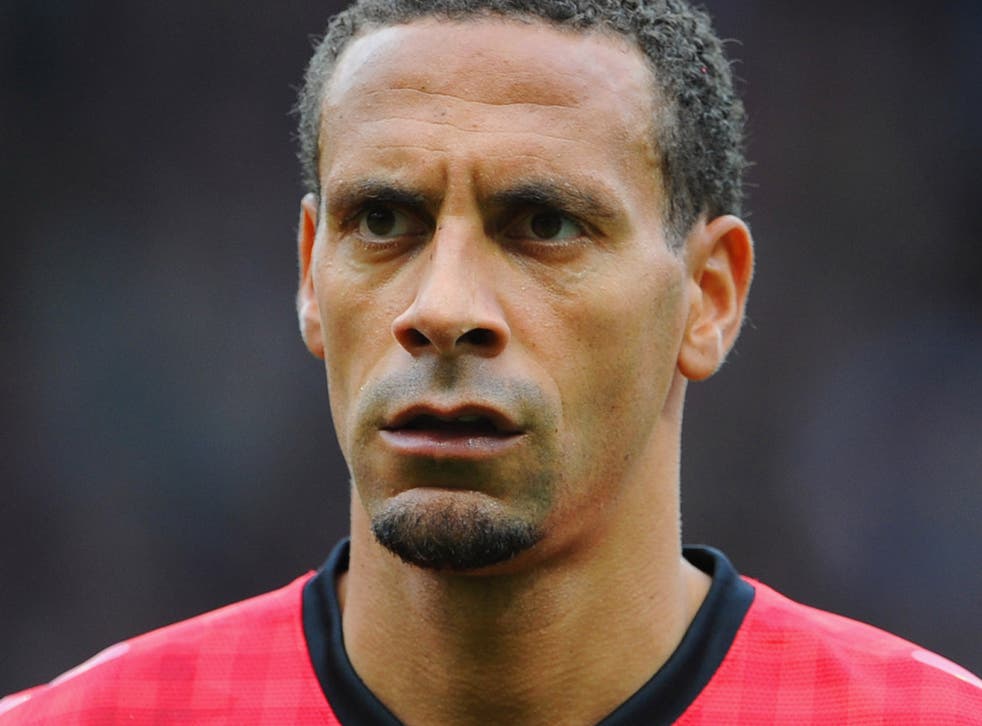 Four cheers for Rio Ferdinand.
The disagreeable Chelsea football captain, John Terry, called QPR player Anton Ferdinand a "f****** black c***" during a match last autumn and was fined £220,000 and banned for four games. That's all folks, some pocket money taken and a bit of time off to swig champagne for breakfast.
Anton's brother Rio, of Manchester United, took on Terry and broke an unwritten rule now firmly instituted in this country: complain about racism and suffer dire consequences. Sayeeda Warsi experienced it when she was deputy chairwoman of the Tory party and spoke out. They banished her to obscurity.
Rio Ferdinand was not picked to play for England suspiciously soon after standing up for his brother. Wounding internet missiles will have rained on his head since refusing to follow orders and don a Kick Racism Out of Football T-shirt to show how fair and fine the game in England is. (It is, only if compared with Serbia and Ukraine – which isn't impressive). Rio's protest was against "gesture anti-racism" and the abysmally lenient "punishment" meted out to Terry. Furious Alex Ferguson says Rio has embarrassed him and will be dealt with.
But The Kick it Out campaign has hit the rocks. Millwall fans and others too still behave like animals when they watch black players. [See letters, 24 October.) As Jason Roberts, Premier League player for Reading, tweeted: "People expect us 'to put up with it'. Those days are gone... We DEMAND to be treated with respect... we are not asking..."
Will the demands be heard? I don't expect so. We are living in times of remarkable complacency as well as rising new racism, the first negating the second with grim determination. Racism is now tolerated and explained away even by many on the left who seem to think "enough already", just as they do with women's rights. Britain is such a tolerant society, it even tolerates racism. Nick Griffin has never had it so good, though may lose popularity now that he has offended gays, by asking supporters to protest outside the home of the two men who won a case against a homophobic B&B owner.
"The joyous London Olympics proved ours is a multiracial, winning nation"
We have, undeniably, moved on from the bad old days. The joyous London Olympics proved ours is a multiracial, winning nation. However, people use the good news to go into denial about the continuing disadvantage and discrimination, or even worse, blame victims for not being thick-skinned, or smart enough to beat the odds, or for not shutting up for an easy life or bringing their pain on themselves. Racism is redefined in such extreme terms that it leaves out almost all common experiences of racism. No evidence moves sceptical eyes and ears. Research by Professor Yvonne Kelly, of the University of Essex, has found possible links between mothers experiencing racial abuse and the poor development of their children. Another study, last November, proved that courts are much harder on non-white offenders for similar crimes. Asian drug dealers, for example, are 41% more likely to go to prison than white dealers. There has been a decline in the number of reported racist incidents because fewer people are bothering to report the crimes in the present climate. Fewer discrimination cases are taken to tribunal too, I think, because the environment has become so terrifyingly hostile.
The police talk the talk, that's all. Gurpal Singh Virdi, an exemplary Met Detective Sergeant, won race cases against the force but when departing in May, said the culture was as toxic as ever. A 2012 survey by OnePoll of 2,000 people found one in three admitted to being racist. The Higher Education Statistics Agency confirms that qualified black graduates are much less likely to get jobs than white graduates. If they get jobs they are likely to earn less than their white counterparts.
Yet, we always have to be grateful to be given a chance and not expect equal pay on top. Migrants, asylum seekers and travellers face violent racism and are reproached for angering people by being here and claiming rights. More than 88,000 cases of racist bullying were recorded in British schools this year, an inevitable result of how adults are now behaving towards those they regard as inferior beings.
When the Home Secretary extradited Babar Ahmad, Talha Ahsan and Abu Hamza to America, the country sighed with relief. Abu Hamza is a proven villain but the other two were held for years without charge in a country which claims it honours the rule of law. Ahsan suffers from Asperger's syndrome, like Gary McKinnon, who, thank God, has been spared the American justice system. Theresa May spoke about McKinnon's human rights but, it seems, the Muslims have no such rights because they are not "human". To belong in Britain we must not question these double standards and iniquities.
Many will hate this column and come for me. Let them. When courageous black footballers speak out , the rest of us cannot remain cowed and silent.
y.alibhai-brown@independent.co.uk
Register for free to continue reading
Registration is a free and easy way to support our truly independent journalism
By registering, you will also enjoy limited access to Premium articles, exclusive newsletters, commenting, and virtual events with our leading journalists
Already have an account? sign in
Join our new commenting forum
Join thought-provoking conversations, follow other Independent readers and see their replies