Roll up for the ritual pantomine of politicians bashing the BBC
Worry not, the beeb is too battle-hardened to this thuggery to take much notice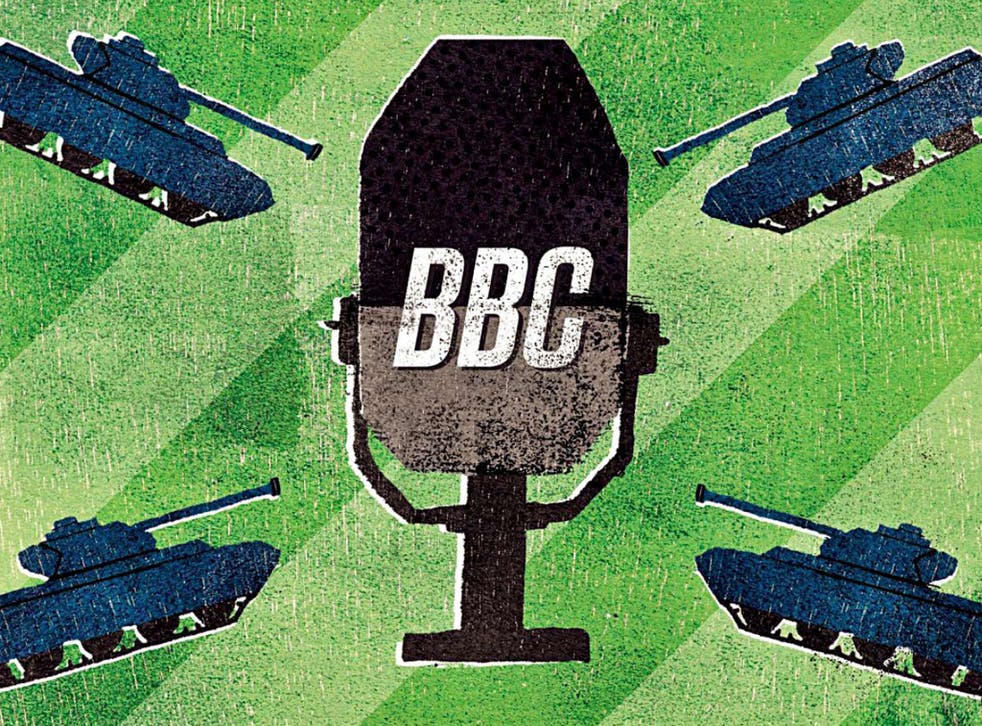 Eighteen months before we trudge to the polling stations, the traditional government sport of BBC Intimidation begins again. It is always so with a general election approaching, as the former Director-General Greg Dyke wearily stated on Sunday, though the Beeb may never have suffered as fearsome a double-pronged attack as the one unleashed by the Conservative chairman and the Work and Pensions Secretary. Indeed, national life has known no more intellectually potent a strike partnership since Danielle Lloyd, a model and professional WAG, tag teamed with the late Jade Goody to abuse Shilpa Shetty on racial grounds on Celebrity Big Brother.
And so, without further ado, ladies and gentleman, boys and girls, put your hands together for Grant Shapps and Iain Duncan Smith as they audition for a holiday season engagement by filling both ends of the BBC-bashing pantomime horse. Which would be cast to type as Tweedledumb and which as Tweedledumber is a matter of personal opinion, though some will feel that any race involving brain power must see Mr Duncan Smith trotting off to the starting stalls as rank outsider, whether the field included Joey Tribbiani from Friends, Dibley verger Alice Tinker and such other strong All Souls fellowship candidates as the one-time US vice-president and spelling bee champion, J Danforth "Dan" Qayle.
That is not my personal opinion, by the way. I have such high regard for his mental powers that nothing – certainly not the widely predicted chaos into which his universal credit is collapsing – could alter that. But it does appear to be the judgment of George Osborne, quoted in Matthew D'Ancona's book about the Coalition describing IDS as "not clever enough" for the reformation of the benefits system that is his modest charge. And of Sir John Major, who last week entertained political hacks by raising the outlandish prospect of universal credit going wrong "unless Iain Duncan Smith is very lucky, which he may not be, or a genius, which is unproven..."
While the jury remains out, IDS has been assailing the BBC for allegedly biased reporting of what he calls the "underoccupancy penalty", but everyone else knows as "the bedroom tax". In March, it has emerged, his rage at this styling sent him scurrying to whichever spare bedroom in his father-in-law's Buckinghamshire mansion – the one in which he so famously lives rent-free – has been converted into his personal library. There, he delved into a reference book to research the furious letter he sent seven months ago – beware the IDS of March – to the BBC's acting head of news. The term bedroom tax, he wrote, is "innately political and factually wrong... A tax, as the Oxford English Dictionary makes clear, is a 'compulsory contribution to state revenue, levied by the government on workers' income and business profits, or added to the cost of some goods, services and transactions'."
One so admires his courageous refusal to seek refuge in ninnyish pedantry that I can hardly be so pedantic myself as to mention that the OED further defines a tax as "a strain or heavy demand". It might be factually right that Martin Styles, a blind and deaf man who featured in a report in this paper on Monday, will find it a strain to lose 25 per cent of his housing benefit because he uses a bedroom to store Braille equipment and a specially adapted computer. Mr Styles might even find it a heavy demand if he, his wife and his 16-year-old son, who is also deaf, are forced move to a smaller home as a result. In that limited sense, IDS's masterstroke might be viewed as a tax on the Styles family. But no tiresome pedantry, as I said, here today.
Still more impressive is Iain's acute grasp of recent history. Mrs Thatcher was equally cross when the BBC and everyone else referred to her splendid community charge as "the poll tax". Had she meekly accepted this wicked misportrayal, rather than ranting and raving about it, there might have been riots, and the policy might have become so hated that her party ousted her for refusing to jettison it. Instead, she quelled the rebellion by bullying the Beeb, and survived as PM.
While IDS is busy with his dictionary, not to mention following Churchill's advice to read history, Grant Shapps turns his attentions to taxation. He too may be a genius, judging by the introduction to 10 Success Habits To Swell Your Bank Balance in 2006, one of the self-improvement e-books he recorded, with one Peter Twist, under the sobriquet Michael Green.
Peter: Well, we're here again is yet another year and this is Peter Twist here with Michael Green on the line. Hello, Michael.
Grant: Hey, Peter. How are you doing?
Peter: I'm fine, thanks. I can't believe a year has gone by since our last one of these.
Grant: It's incredible, isn't it? And I think this is now, I was trying to look it up, I think our fourth year straight that we've recorded one of these e-books.
Peter: Yeah, fantastic.
Michael: They're just so popular, it's a shame to not carry on."
Sadly, ministerial preferment meant he could not carry on as Michael Green. But the self-enrichment e-book's grievous loss proved democracy's great gain, and as Tory chairman Mr Shapps has issued the inevitable, barely veiled pre-election warning to the BBC. Although couched as criticism of various scandals (Savile, pay-offs and so on), what he was subtly hinting is that unless it behaves itself until May 2015, and shows due deference to the stellar likes of IDS, the BBC's income will be cut. "They are raising £3.6bn through the licence fee, which is a tax," he explains, (I assume he is correct, though we should wait for IDS to confirm it), "and the public wants to have sight of how the money is spent..." The BBC culture, added the transparency fan who, even as a serving MP, made money under a fake name, "is one of too much secrecy".
The BBC is too battle-hardened to this brand of ritualistic thuggery to take a blind bit of notice. It has endured the trumped-up charge of partisanship from Labour and Conservative governments alike. It has seen one Director-General, Alasdair Milne, forced out after years of brutal pressure from Mrs Thatcher; and another, Mr Dyke, removed over a fundamentally accurate report about the manipulation of intelligence by, or on behalf of, Mr Tony Blair. Thatcher and Blair may look like midgets next to the twin towers of cerebral might that fill the Duncan Smith-Shapps panto horse, but the BBC will continue to treat such intimidation with the disdain it deserves.
It will continue to cover politics with the obsessive, neurotic commitment to neutrality that has defined it all its life, and which explains why, for all its failings, it is slightly more trusted and valued than when Robin Day sent John Nott flouncing out of a BBC interview by describing him as a here today, gone tomorrow politician. Despite menaces from putative geniuses such as these, the BBC, unlike Martin Styles, will not be unduly taxed.
Register for free to continue reading
Registration is a free and easy way to support our truly independent journalism
By registering, you will also enjoy limited access to Premium articles, exclusive newsletters, commenting, and virtual events with our leading journalists
Already have an account? sign in
Join our new commenting forum
Join thought-provoking conversations, follow other Independent readers and see their replies