Salmond couldn't have picked a better shower of 11th-hour opponents
The First Minister has been blessed. Just watch them go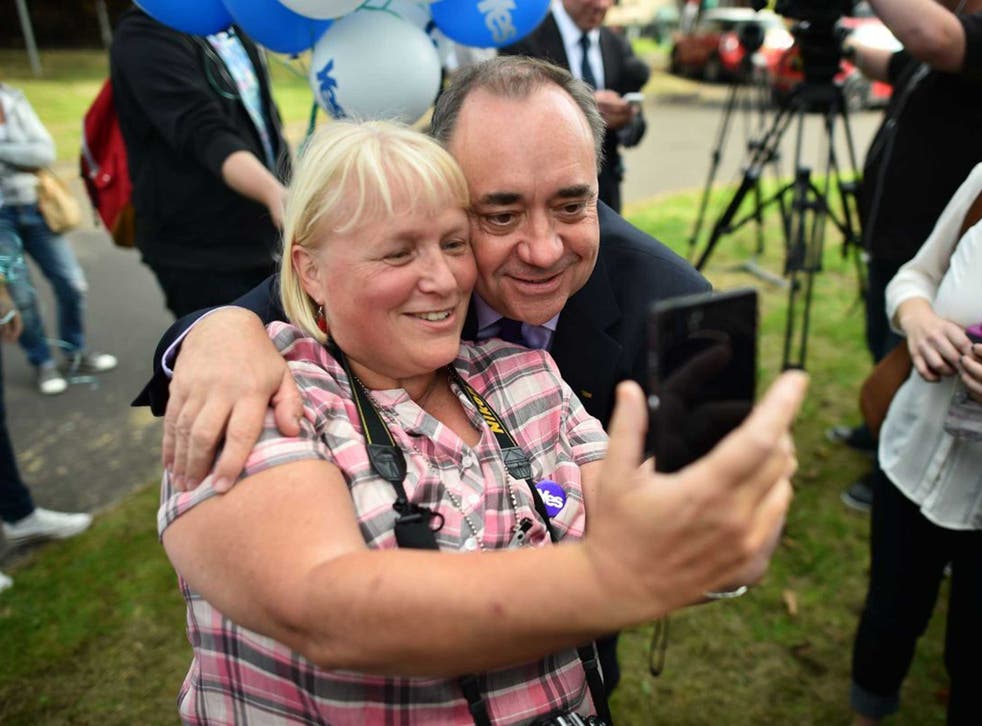 As the final furlong begins, a clutch of armchair jockeys swish their whips in the hope of flogging the half-dead horse of No to the line with its short-head lead intact. Which of these passionate Unionists is likeliest to provide a late boost to Alex Salmond is hard to call, though the smart money is on that smartest of money-makers, Mr Tony Blair.
Not for the first time since Wendi Deng admired his shapely butt, Mr T is at odds with Rupert Murdoch, who continued his flirtation with backing independence by tweeting full credit for the Enlightenment to the Scots (harsh on the French, you feel).
Mr Tony made his belated foray into the debate from a security conference in Ukraine, the latest port of call in his unending battle to sustain the charade of global relevance. Independence, he opined, would "not be sensible politically, economically or even emotionally".
Can emotion ever be sensible? Taking the UK to war in Iraq on an emotion – the feeling that it was the right thing to do - was not especially sensible, and the side-effect is that Mr Tony is so credible in Scotland that Alex Salmond could use that quote, above the line: "If this numpty says No, draw your own conclusions", for his closing Yes advertising poster.
Also chipping in their twopence worth, meanwhile, is a trio from the dwindled band of Blair's fellow neo-Cons.
In the Mail on Sunday, KFC heir "Colonel" Andrew Roberts, who moonlights as a historian, imagines Scotland's first 100 days after a Yes victory. He foresees the country collapsing so absolutely that Mr Salmond would be begging David Cameron to take Scotland back by Christmas. That'll scare 'em.
So will Niall Ferguson, who, in The Sunday Times, seems to style a Yes vote as a betrayal of a proud people's fighting spirit. He begins with a quote from The Proclaimers' "Letter from America"; also dipping into the folk duo's oeuvre is Michael Gove. In a deeply personal and emotional Daily Mail cri de coeur, Govey reveals that he weeps whenever he hears the twins' "Sunshine on Leith".
Whether Govey is aware that they contributed to the Yes coffers and wrote a pro-independence anthem is unclear, but the twins may be as irritated at being cited in defence of the Union as Bruce Springsteen was by Ronald Reagan's appropriation of "Born in the USA".
So there you have the line-up of 11th-hour interveners in the struggle against Scottish independence: one viciously despised warmonger, two empire-glorifying historians and the least-popular Tory minister of his generation. Whatever Thursday's referendum brings, Mr Salmond has been blessed in his opponents.
Which countries supported Scottish independence?

Show all 10
Huffington Post tells it like it is – or isn't really
The UK edition of the US online giant Huffington Post strives to tutor us in the unsensationalist American style of journalism. George Galloway's recent remark that, by destroying the Union, the political class might achieve what Hitler could not was translated to "George Galloway compares Britain's political class to Hitler".
More evidence of this disdain for clickbait came a few days ago, with "Stephen Hawking says 'God particle' scientists are on verge of destroying Universe".
But how long have we got? A little while, after all, so it seems.
"Thankfully, there is a glimmer of hope," the sixth paragraph reassured, "which is that Hawking reiterates that not only it is extremely unlikely ever to happen, but that 'a particle accelerator that reaches 100bn GeV [me neither] would be larger than Earth, and is unlikely" – you think? – "to be funded in the present economic climate'." A glimmer of hope, yes, but nothing more.
A Liddle quibble on Rod's Pistorius item
As one often rescued by editors correcting his howlers, my sympathies to a columnist who is less fortunate in his colleagues.
In The Sunday Times, Rod Liddle devotes his lead item to the murder rate in Johannesburg, wondering why wealthy white folk remain there, and fretting that London's "similarly multicultural mix …" will condemn it to a similar fate.
"Jo'burg caught my attention because of the Oscar Pistorius trial, of course," he writes. "Oscar shot his girlfriend dead in a fabulous house in a gated community in one of Jo'burg's most salubrious suburbs."
In fact, the killing took place in Pistorius's fabulous flat in Pretoria, some 33 miles away. On reflection, it would be unfair to ridicule the paper's hyper-professional editing chain for missing it. If the trial had not been so low profile and the facts of the case less obscure, someone would have noticed.
Register for free to continue reading
Registration is a free and easy way to support our truly independent journalism
By registering, you will also enjoy limited access to Premium articles, exclusive newsletters, commenting, and virtual events with our leading journalists
Already have an account? sign in
Join our new commenting forum
Join thought-provoking conversations, follow other Independent readers and see their replies