Six reasons the cuts to legal aid will ruin our justice system
Even the government's own lawyers are horrified by these reforms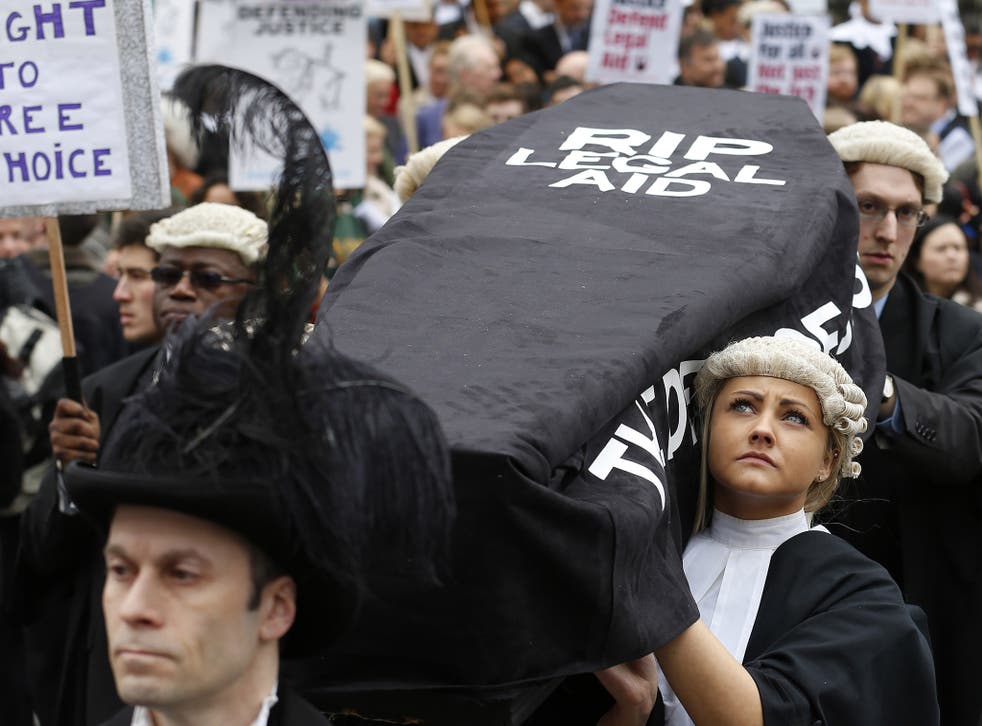 The Men from the Ministry are puzzled that their proposals to 'reform' legal aid have been so widely condemned. When opened for consultation, they received an unprecedented 13,000 responses. 99 per cent will, I'm sure, be negative. But instead of having a little think, they have recruited an A-Team of supporters and sent them out to court the media.
In the last few days Harry Mount and Bob Neil have utilised The Spectator and the Today Programme respectively to explain why all the fuss is unecessary.
Ministers, on the other hand, have been conspicuous by their unwillingness to publicly debate the proposals with anyone who works in the system, relying instead on undermining legal aid through innuendo – usually referring to the 6 barristers (out of 12,500) who have been paid hundreds of thousands of pounds in a year.
So, why are treasury counsel (those who do the government's own work), the Judges, the Equality and Diversity Forum, The Children's Society, the legal professions and the other 13,000 respondents to the consultation so concerned? Here are some reasons:
First, the proposals remove choice. Alleged criminals will be allocated a lawyer. According to Mr Grayling that's OK because alleged criminals are not connoisseurs of the legal profession. The allocation of clients to lawyers will be random (apparently this is 'fair') and will be regardless of the lawyers' own specialist skills, hard-acquired over years and reflecting particular qualities and a sense of vocation.
Second, because the proposals will kill off 75 per cent of the UK's high street firms there will be no emphasis on quality and no competition. The legal system really will be reduced to a state-run enterprise. This is supposed to be sorted out by the professions drafting a nebulous 'quality' scheme. Not only has the Bar Council refused to do so, but experience shows quality schemes are no substitute for market competition (think of the Private Finance Initiative) and Grayling is – apparently – a conservative.
Third, the proposals eat away at the heart of the system, of which the country is proud. Most lawyers doing publicly funded work – where the rewards are far lower than for private work – are motivated by a sense of vocation. They want to do well for their clients. They are not motivated by profit and they do not have to report to shareholders. Under reforms, it has been proposed that corporations will be now encouraged to bid for contracts – at a minimum of 17.5 per cent less than is currently paid. That means that justice becomes a commodity and has to be made to pay. Currently the system works because lawyers do a lot of work for free – in the sense that they are paid for an 8 hour day and regularly work for 10 hours or more. That isn't going to happen when the motivation is a salary and group profits.
Fourth, having understood the above problem, Grayling proposes to solve it by re-jigging the whole system so that clients who plead guilty fetch bigger fees than clients who insist on being tried. Nothing more inimical to the relationship of trust between clients and lawyers can be imagined. The Recorder of Leeds, in his response, has acknowledged that trust as helping to save public money. By the end of a trial, many lawyers will be paid £14 per day inclusive of food, travel, overheads and tax. They will be paying the Ministry to go to work.
Fifth, the proposals punish the innocent, as well as middle-income families. If your partner is charged, your income is taken into account in assessing whether they get legal aid. If your joint disposable income amounts to £37,500 legal aid is ruled out: your partner must face the court alone or pay privately. Of course, they are presumed innocent and they may be innocent: that's why people need lawyers. If the jury decides they are innocent the innocent person and their partner will get back the money they had to pay in legal fees as if they had been granted legal aid. They will have paid privately for a lawyer at a higher rate, and so there will be a non-recoverable element – inflicted on them by the state but not refunded by the state.
Sixth, legal aid for judicial review is to be cut. Judicial review is how people challenge the state's decisions. The proposal is that if you aren't granted permission, the work done on getting permission is unpaid. Lots of cases settle before permission is even sought. The upshot will be that challenges to the state are limited. The spectacle of a Tory government preventing people challenging the state is odd.
Standing back, the picture is immensely disturbing. Financial pressure is aimed at lawyers and individual citizens and that pressure is dedicated to ensuring that what the state says – whether as a public authority or a prosecutor – is not challenged. It will, literally, cost you to fight the state – if you can find a lawyer to do it. If you do fight, the system will be set up to ensure that being good at fighting the state brings the lawyer no reward whatsoever.
Those who proposed and drafted these measures ought to be shamed of themselves.
Simon Myerson QC practises from St Paul's Chambers, Leeds and Byrom Street Chambers
Join our new commenting forum
Join thought-provoking conversations, follow other Independent readers and see their replies