Smack is back in Liverpool - but at least the approach to treating drug addiction has evolved
The heroin trade, like any other business requires both supply and demand to thrive. The war in Afghanistan has boosted supply and demand is an ever-changing situation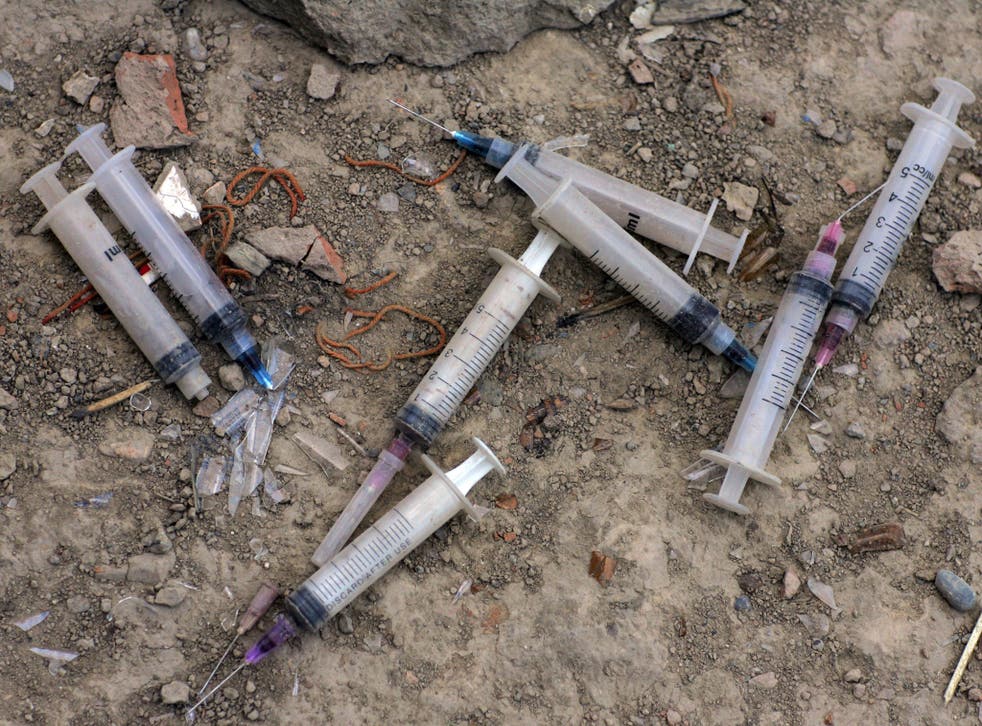 Thirty years ago, Liverpool became the first British city to suffer from a mass heroin epidemic that swept through the estates and laid them waste. This isn't journalistic hyperbole, the terrible consequences of this cruel trade are still visible on every city centre street. A whole generation who reached adulthood during the 1980s in urban Merseyside will probably have a family member who is still addicted, is in treatment or who is now in recovery.
Last week, members of the notorious Liverpool crime family, the Fitzgibbons (known locally as the 'Fitzys') were sentenced to over 40 years in jail for planning to import 57kg of 60 per cent pure heroin from Turkey. The trail connected Liverpool to Istanbul and ultimately to Afghanistan, where the head of Russia's Federal Drug Control Service estimates that opium production has increased 40 times since NATO began its 'War on Terror' in 2001. According to a presentation at UN's 56th session of the Commission on Narcotic Drugs in Vienna on March 11, opium growth has increased by 18 per cent from 131,000 hectares to 154,000.
The Fitzgibbon family's empire was built, not on the back of heroin, however, but ecstasy in the 1990s. MDMA and cocaine sustained the dealers for much of the 1990s and early 2000s as the heroin market dried up and became the preserve primarily of those who became addicts during the 1980s; people of my generation.
Like many working class kids who left school in the early 80s, I faced the longest dole queues in history and, as work was almost impossible to find, ended up on one of the much despised YTS (Youth Training Schemes), working full-time in a council warehouse for a measly £25 a week (of which I had to tip up a tenner to me ma for 'keep'). My dad, a docker of 30 years, was made redundant soon after. Money was too tight to mention and opportunity seldom knocked, especially on Merseyside, for so long dependent on the docks for its economic security.
I had no idea of what career I wanted to pursue and our local community centre became home for the new 'Unemployed Club' which basically entailed a load of lads playing endless games of pool whilst smoking copious amounts of weed, listening to Marley or Santana. Into this stasis came heroin, a drug that, initially, seemed rather exotic, exciting and verboten. Some of those lads became addicts and remain so thirty years later, others have died, more have simply disappeared without trace, including my own best friend.
I have worked for the past eight years with former addicts in a Merseyside-based creative arts based organisation, 'Art & Soul' (formerly The Spider Project). My colleague, Robby Myers was a heroin addict for almost 30 years. His story is typical of many on Merseyside:
"I left school in 1979 and because I was epileptic, employers would look at my medical record and not take me on, so I felt like a failure. By 1982, I was smoking and selling pot for a lad. He was getting his weed from Birkenhead at the time and one day came back with some skag, which is what we called it.
We didn't know it was heroin, we just thought it was another drug. The thing with the smack in those days was it was like 90 per cent pure so you were off your head for hours, not like now when you're rattling [withdrawing] half an hour later. I got nicked once on Jersey Close [a notorious dealing area in Bootle] with two five pound bags and they tested 97 per cent pure. You're lucky to get 20 per cent now, the average is around 12 to15 per cent.
I was an addict from 1982 to 2008. My CRB [Criminal Records Bureau form] runs to 10 pages, double sided and dates back to 1974. I served around 13 years in jail and took crack for the first time inside. This was about '95 and the rocks were massive and very pure. The dealing in jail only really started in the 90s, before that people would bring you stuff in for free, just to stop you rattling. If you got sent down, the screws weren't interested, they'd sling you in a strip cell and left you till you calmed down, which could be days. Then you'd get handed a couple of paracetamol and told to get on with it.
There are more dealers in jail now than out on the streets. You don't have to go to them, they come to you and there was a lot of gear coming in because there were a lot of people rattling."
The heroin trade, like any other business requires two major factors to thrive; supply and demand. On the supply side, despite ten years of all out war against the best armed and trained soldiers on earth, the Afghan economy and the livelihoods of many farmer is still dependent upon the heroin trade. As for demand, well, that's an ever-changing situation.
In the West, heroin has something of an image problem. 'Smack' is the drug of 'losers' the dead eyed denizens of chemist shops, GP surgeries and hospital wards. It wasn't always this way of course. 'Dope' was once the cool drug of choice for the be bop hepcat, the poet, the rock star and the well healed sensation-seeker. Opium, whether swallowed, sniffed, smoked or spiked was the ultimate decadent narcotic.
Smack only became a 'dirty' drug once the lower orders became addicted. In Liverpool, a handful of enterprising smugglers brought in huge shipments in the early 80s and 'marketed' it as a non-addictive, smokeable high. 'Chasing the dragon' became as commonplace on some estates as hiring out a video nasty. Whether those who became hooked really believed that what they were smoking wasn't 'real' heroin is neither here nor there. What is true, is that by 1985 Merseyside was in the grip of a full blown mass smack epidemic.
As Liverpool was the first UK city to suffer from a mass epidemic, it stands to reason that the burgeoning 'recovery' movement has found a welcoming home here. For decades, government drug strategy has been based around harm reduction and crime. If heroin addicts were placed onto synthetic opiate substitutes such as methadone, they would be less likely they are to purchase street drugs, hence the less likely they are to commit crime or sell their bodies in order to fund their habit. That was the flawed logic that successive governments followed, too scared of the tabloid media to address the real problems. Most addicts simply stored their meth, sold it on or swapped it to buy street heroin. The problem wasn't solved, it only got worse.
In an attempt to stave off the spread of AIDS and hepatitis through addicts sharing injecting equipment, the first needle exchange was introduced in Liverpool in 1986 from a modified toilet within the Mersey Drug Training and Information Centre, sited next door to the drug dependency unit. At the time this was seen a politically provocative solution by those who dismissed all drug users, especially heroin addicts as social deviants who deserved punishing not helping.
Yet after a decade or more of this strategy, many in the addiction field began to question the moral and social costs of merely containing the problem instead of treating the underlying issues. Wasn't it better to at least try to get addicts into treatment and escape the cycle of dependency upon both their substances and the state? The likes of The Alliance continue to campaign for the rights of those who want to continue using opiate substitute medication but there has also been a staggering rise in the number of different approaches to conquering addiction.
The rise of 'Fellowship' organisations based around the 12 Step model such as Narcotics Anonymous (NA) have been joined by non-spiritual alternatives like SMART (Self-Management And Recovery Training) and Intuitive Recovery. There are also others in the field such as the University Of Strathclyde's Professor John Davies, author of The Myth of Addiction who argues that 'addiction' as such is merely repeated behaviour patterns that has no basis in pharmacological dependency and certainly cannot be classified as a 'disease.'
Whatever the rationale and the underpinning psychological and sociological reasons for substance misuse, the past five years has witnessed a huge shift in both cultural and political attitudes towards treatment.
Carl Edwards sits on the board of Art & Soul. He opened Park View Project, a 12-step rehab in 2003. He said, "We've gone from 12 beds to 70 in eight years. NA meetings in Liverpool have gone from three to 35 during the same period. Sometimes I feel as though we have just lit touch paper and watched it go."
Robby Myers was also helped to overcome his addictions by both Park View and Art & Soul:
"I left Walton (HMP Liverpool) in January 2009 and went into Park View because I knew I needed to change my lifestyle. I knew I had to really address my addiction and make the change. I left Park View in the November (2009) and started at The Spider Project, where I did writing, drama, football and outdoor activities. That's what I needed to keep myself occupied and also learned that I was a decent writer and actor. I performed at The Bluecoat in 2010 as part of the Liverpool Biennial and had my poems published in Content [a Spider publication]. I did some volunteering at places like CRI (Crime Reduction Initiative) in Bootle and then started working at Spider in 2012. That was my first job. I'm 50 now and have never had a proper job before. I've got my own flat, I'm running a Peer Support Group and I'm four years drug free, so that's success to me."
The National Treatment Agency for Substance Misuse (NTA), set up in 2001, has now become a part of Public Health England, an executive agency of the Department of Health. At last, it seems, addiction is being treated as a health rather than a crime issue but as drug-taking supply and demand patterns evolve, so it become ever more difficult to predict which substances will cause the most damage. The rise of both legal, prescription drugs and new synthetic 'club' drugs produced in Far East laboratories (and Huyton) and sold via the internet, the increasing grip of eastern European gangsters upon supply, the rise in unemployment in western Europe and the failure of successive policies to either control or wipe out narcotic production and the cheap availability of alcohol continue to exert massive pressure upon societies across the globe.
Recovery from any substance is difficult but staying substance-free is the really hard bit. That's where organisations like my own come in. At Art & Soul we've played a leading role in helping those who've had addiction problems move on with their lives. Since the project began in 2002, we've produced films, theatre pieces, books of fiction and poetry, photographic exhibitions and showcase these in prestigious cultural venues such as FACT, the Bluecoat Gallery, The Philharmonic and The Unity Theatre.
We believe that every person has potential skills and that creativity is a vital tool in any form of recovery. Of course not everyone makes it. Some relapse for a variety of reasons, others return to jail or move away. Yet those who manage to overcome their problems often become the most passionate proselytisers for recovery, especially on Merseyside.
Maybe I'm being overly pessimistic, but I foresee another heroin boom on the horizon. Smack feeds off boredom and alienation. As more people return to the dole queues or leave school or university with few prospects of earning a decent wage to support themselves, so the conditions for heroin re-establish themselves. In Liverpool, an entire generation has grown up with an ingrained drug culture, a black economy that has sustained the city far more than any government or European Community initiative. Not that anyone will ever admit to it, of course.
In the Liverpool Echo of Saturday 15th June, apart from the report on the conviction of the Fitzgibbons, there was also a report of another Liverpool dealer, cage fighter, Paul Kelly who was sentenced to 14 years for running another heroin ring in the city and three other local men on trial for smuggling "huge amounts of heroin and cocaine" from Liverpool to Plymouth. Merseyside has become one of the main distribution points for heroin (and other drugs) and these arrests maybe point towards a worrying cycle.
As Liverpool's heroin-taking population grew older, so a new breed of drug taker, those for whom ecstasy and cocaine were the 'substances of choice' have entered the treatment system. Yet this trend too has peaked as fewer people can afford the luxury of regular coke consumption. Today's youth are most likely to favour skunk to smack, yet the cartels who send these 'packages' back to Merseyside deal in anything that makes them the most money and a desperate heroin addict is a more reliable earner than a weekend coke head.
The international narcotic networks created in the 80s by Liverpool gangsters have now established the city as one of the main centres for distribution, not only in the UK but internationally. I'm pretty certain that there are characters sat in bars on the Costa del Sol of The Clog (Amsterdam) sitting on vast quantities of 'brown' who are just biding their time, waiting for the right moment to launch a new phase of marketing their product. The war on drugs will never be won for as long as people want to take them, legally or illegally. As austerity begins to bite hard and resources become stretched, the treatment of drug users is hardly a coalition spending priority, yet in the long run, the good that places like Park View, Art & Soul and other services in Merseyside and elsewhere do, is incalculable. I would say that I suppose, but don't take my word for it, listen to the stories of some of the thousands treated by both services during the past decade and it will become clear just how much these treatment services are needed now and in the future.
Join our new commenting forum
Join thought-provoking conversations, follow other Independent readers and see their replies