Stop and search: Can transparency end this abuse of police powers?
A generation of black men has grown up aware they are more likely to be targeted by police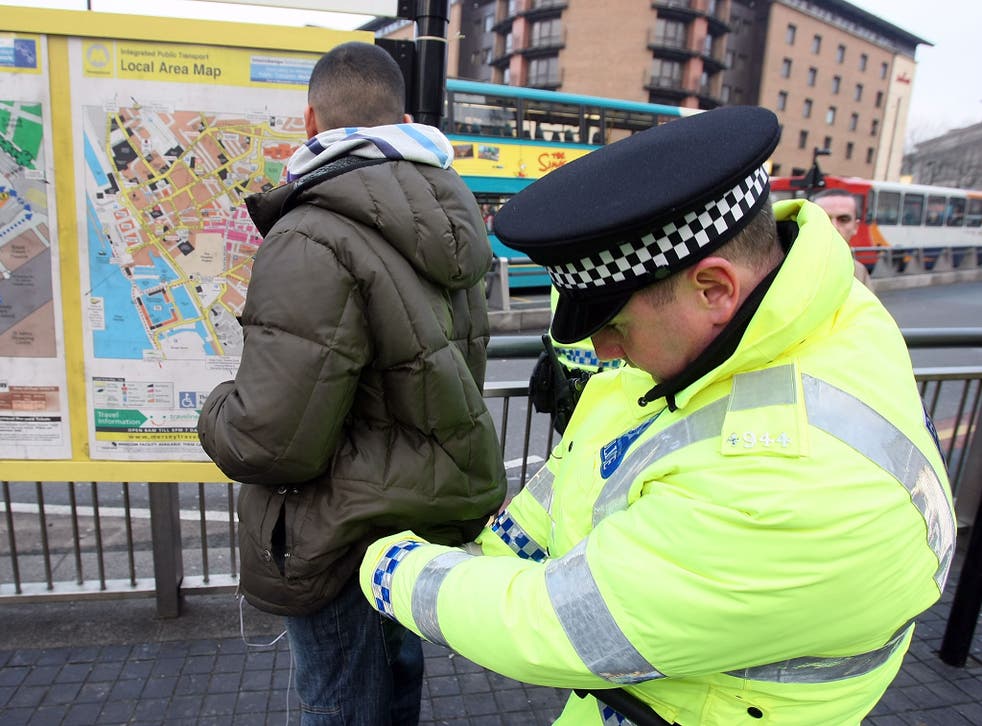 The excessive and discriminatory use of stop-and-search powers is among the sorriest episodes in the history of the police over the past 30 years.
Community relations have festered as a generation of black men has grown up acutely aware they were far more likely than their white fellow citizens to be targeted by police. In recent years barely 10 per cent of searches have resulted in an arrest, suggesting that officers have been far too willing to invoke their powers.
And HM Inspector of Constabulary recently warned that 27 per cent of stop and searches were unlawful because police failed to show they had reasonable grounds for the action.
Theresa May, who has proved more willing than many of her predecessors as Home Secretary to challenge established police practices, rapidly ran out of patience and decided last year the time had come for fresh curbs on stop-and-search powers.
But she was thwarted by Downing Street which feared the move would send the wrong signal over its high-profile pledge to tackle knife crime.
She compromised with the introduction of a voluntary code by forces on the use of the powers, including restrictions on police being able to search a passer-by even if they do not suspect a crime has been committed.
In addition, officers are required to record use of the powers in greater detail, including the age and ethnicity of every person searched as well as the result of the search.
Ms May's argument is that transparency, with easily accessible information about the use of the powers, is the best disinfectant for the previously murky way that stop and searches were often conducted.
The information will now be updated monthly, with the public able to see the headline figures for their force and the location of every stop and search in their area, down to the street corner or high street where it took place.
Some forces will argue there are local factors behind the new statistics suggesting black people are still being singled out, but the national picture is undeniable.
In all parts of the country, and in every type of community, black people continue to suffer from stop and search.
Improvements have been made in recent years over stops and searches, with the numbers conducted down by nearly one-third since 2009-10, while the proportion that results in arrest has crept up from 9 per cent to 12 per cent.
But the progress remains slow and the latest figures are unlikely to calm fears about the use of the powers.
Giving the annual criminal justice lecture to the Stephen Lawrence Charitable Trust in February, Ms May warned officers: "Stop and search is an important police tool in fighting crime, particularly in combating gangs, knife crime and drug offences.
"But when this power is misapplied, and innocent people are stopped and searched for no good reason, it is an enormous waste of police time. It is bad for public trust and confidence in the police and it is unfair, particularly to young, black men."
There is no sign yet that Ms May is preparing to revive her plans for legislation to control stop and search. But without dramatic improvements in the next couple of years, she might think again.
Register for free to continue reading
Registration is a free and easy way to support our truly independent journalism
By registering, you will also enjoy limited access to Premium articles, exclusive newsletters, commenting, and virtual events with our leading journalists
Already have an account? sign in
Register for free to continue reading
Registration is a free and easy way to support our truly independent journalism
By registering, you will also enjoy limited access to Premium articles, exclusive newsletters, commenting, and virtual events with our leading journalists
Already have an account? sign in
Join our new commenting forum
Join thought-provoking conversations, follow other Independent readers and see their replies