The backlash to the 'hipster' Cereal Killer Cafe is patronising - we should be applauding their entrepreneurship
Areas change, and so do the people living there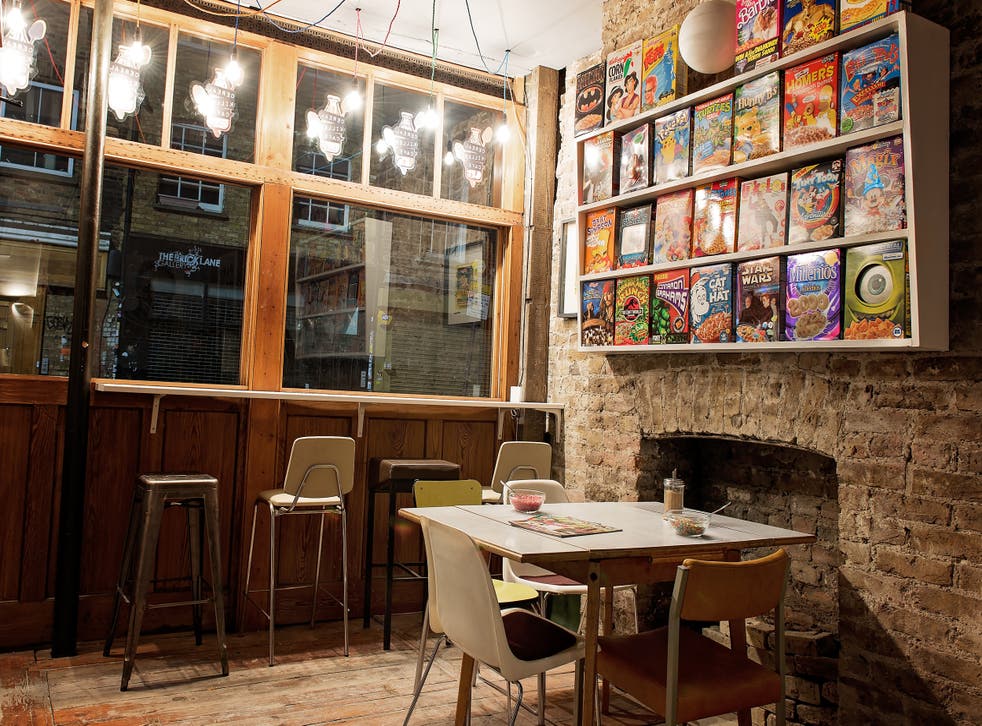 Spare a thought for breakfast cereals. Until this week they were plodding along in their world of concentrated sugar, largely untroubled by the British media.
But with a snap, crackle and pop that came to an abrupt halt when Baroness Jenkin suggested that the poor should save money by learning to cook porridge instead. And then two hipsters opened the Cereal Killer Cafe in Brick Lane, serving only breakfast cereal at around £3 a portion, and all hell broke loose.
Last night, Channel 4 News broadcast a report channelling the spirit of Brasseye, in which the correspondent went to the café and started haranguing the owners for charging prices that would, he said, exclude the local community.
What, three quid? Ok, it's more than you pay if you eat at home, but that's kind of the deal with going out to a restaurant. It's hardly like they've opened up a Bentley garage where billionaires can eat caviar and glug Krug as they rev their overpriced engines and laugh at the locals. At the Dorchester, your morning meal can set you back £36, and I bet they don't have imported Lucky Charms on the menu, either.
Some people will really struggle to find even a couple of spare pounds, but unfortunately that means that they won't be able to afford to eat out at all. I have a huge amount of sympathy for them, but if we get up in arms about a place that charges no more than the price of a Starbucks coffee or a Big Mac, then the only thing to do will be to close all restaurants, so that nobody feels excluded from a place they can't afford anyway.
The whole thing's being portrayed as if the poor are being jumped from their beds and frogmarched down to the café to spend their last few pence on Coco Pops served in a trendy bowl. People are not, in fact, being forced to eat there. I am sure that those who don't like or can't afford expensive cereal feel much the same way as I do when I go down my street and see the local waxing salon or the kebab house. Not generally for me (although sometimes a kebab does come in handy, I grant you), but live and let live.
Classic cereals: in pictures

Show all 5
Most of all, though, it's immensely patronising to suggest that "locals" wouldn't enjoy this kind of thing, as if these stupid old east Londoners couldn't possibly want to do anything but eat egg and chips with brown sauce and play out Eastenders stereotypes from the 1990s.
Areas change, and so do the people living there. The brilliant thing about Brick Lane is that it shows the way in which London has evolved over time and communities have fused. Firstly there were the Irish, then Jewish and Asian communities. Now some hipsters have moved in. Big deal. Change keeps this most eclectic of areas vibrant, and if there's a place where I can wash down my Sugar Puffs with a quick curry and a salt beef sandwich, then that's all to the good.
It may be, of course, that nobody is actually up for paying £3 when you can get porridge at home for 4p, as Baroness Jenkin would point out. But we should be applauding the entrepreneurship of the Cereal Killer Café, not slating them for trying. If people don't want it, then it will close down. But my guess is that the community will embrace this new café just as much as the changes that have gone before.
Register for free to continue reading
Registration is a free and easy way to support our truly independent journalism
By registering, you will also enjoy limited access to Premium articles, exclusive newsletters, commenting, and virtual events with our leading journalists
Already have an account? sign in
Join our new commenting forum
Join thought-provoking conversations, follow other Independent readers and see their replies