The Left should learn about plain speaking from George Galloway
The Right is better at communicating because it uses stories so much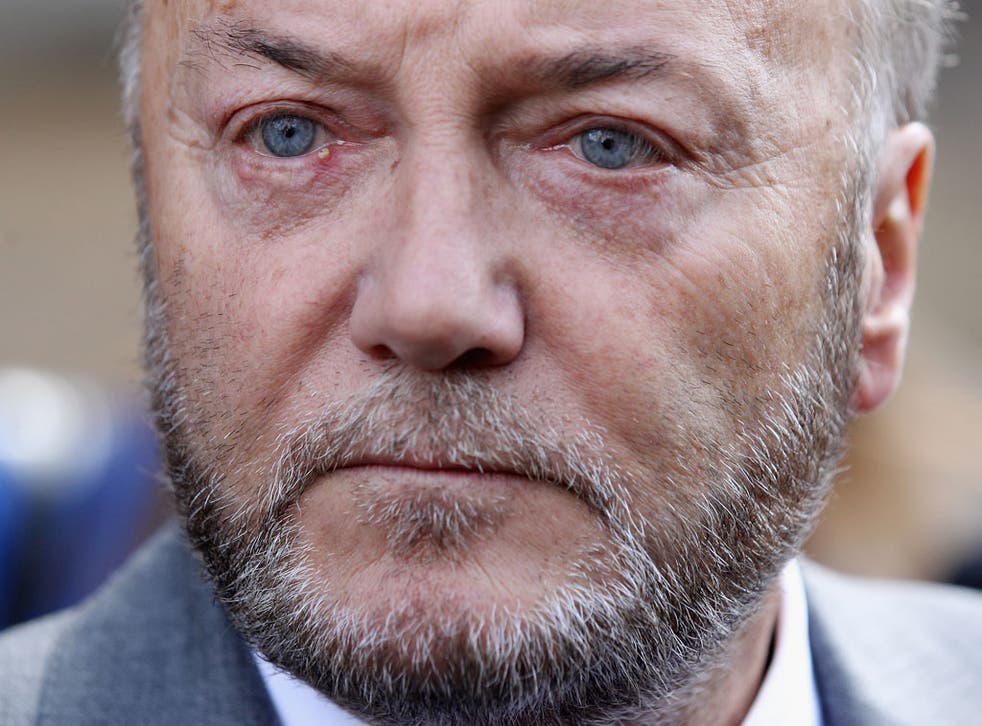 No politician is as demonised or as despised by the political and media establishment as George Galloway.
It is only partly because he is afflicted with the disease of charismatic British left-wing political figures, which is to provide ample self-destructive material to feed his many enemies. He was mocked for a largely disastrous appearance on Celebrity Big Brother. He has made unacceptable comments about rape – "not everybody needs to be asked prior to each insertion" – that repulsed virtually everybody. He has made apparently sympathetic remarks about brutal dictators (although, unlike some of his detractors, he hasn't sold them arms, funded them or even been paid by them).
A few weeks ago, he stood in Parliament to demand David Cameron explain why Britain was apparently intervening to save Mali from Islamist thugs, when it was supporting very similar groups in Syria. "Wherever there is a brutal Arab dictator in the world," the Prime Minister spat back, "he will have the support of [Galloway]." All sides of the House roared their approval: and so the political elite closed ranks against a man sent by the people of Bradford to express their disgust with the Westminster club.
Surprising, then, to see the response he attracted on last week's Question Time. Yes, when he first appeared on the nation's TV screens, a debate raged on Twitter about whether he looked more like Dr No or Ming the Merciless. And yet he was met with repeated, resounding applause from the audience. The answer is clear. Labour's representative on the panel, Mary Creagh, spoke the language of the political elite – technocratic, stripped of passion, with too much jargon and management speak, with phrases like "direction of travel". But Galloway offered direct, clear answers; he spoke eloquently, and with language that resonated with non-politicos; he had enthusiasm, conviction and – to borrow a Tony Benn phrase – said what he meant and meant what he said.
A lesson for Labour, then. Even a figure with a long-haul flight's worth of baggage can be cheered if they use populist language that connects with people and their experiences. But as New Labour remorselessly helped to professionalise politics, it bred a generation of "on-message" politicians with focus group-approved lines. Verbless sentences – "new challenges, new ideas"; macho cliches – "taking the tough decisions"; platitudes like "fairness". A new breed of political Kreminologists were assembled to decipher insufferably dull speeches and articles by politicians.
In truth, the Right is better at communicating because it uses stories so much; the Left often rely on cold facts and statistics. But people connect better with stories. The classic right-wing story of our time is to compare the national deficit to a household budget. Any serious economist will tell you this is gibberish – which house has a money printing press, and will mum get sacked if young Dan stops spending his pocket money? – but it resonates with people. "Of course – if I'm in debt, why would I borrow even more money to get out of it?" voters think, even as the Government is forced to do exactly that because of the failures of austerity. The same goes with relentless examples of scroungers in mansions full of feral children and plasma TVs. A tiny unrepresentative minority are portrayed as the tip of an iceberg, scrubbing away the reality of unemployed and disabled people; but because it taps into a very small element of truth, it resonates.
Not that I'm saying the Left should indulge in casual dishonesty or inaccurate generalisations. But policies can seem pretty abstract until they relate to human beings. Take the poisoned welfare debate: the scrounger caricature needs to be smashed with stories of low-paid workers struggling to make ends meet; unemployed people desperately looking for work; disabled people having their state support removed – all of whom are having their benefits slashed.
"Facts and figures, when used, should create a moral point in a memorable way," explains US political linguist George Lakoff. His point is that "framing" is key: that is having, an over-arching narrative, or story. When you start using the language of your opponent, you have lost. This is exactly what several senior Labour politicians have a habit of doing. The "debate" on the welfare state is a classic example. Management-consultants-turned-politicians like Liam Byrne accept political goalposts set by the Right, de facto accepting the "scrounger" or "skiver" caricatures, leaving them playing on territory where the Tories will always win.
New Labour ideologues always feared policies that sounded too left-wing, but the truth is most voters do not think in terms of "left" and "right", they think in terms of issues that have to be addressed, with policies that are coherent, convincing and make sense with their own experiences. The Right have a habit of using moderate language to sell radical ideas; the Left would do well to learn from them. It needs to drop clinical terms: use the price of bread or vegetables or surging energy prices rather than "inflation", for example. The Right often use hooks in the news – like the horrific cases of Karen Matthews or Baby P – to make a wider point, as though they reveal an otherwise ignored truth about "the other Britain". The Left certainly should not go to such crass or tasteless lengths, but the principle remains.
The Right have turned having outriders into an artform. Take the Taxpayers' Alliance, a big business-funded hard-right lobby group posturing as the voice of people who pay taxes. They float radical right-wing ideas impossible for a mainstream Conservative politician to propose. In doing so, they shift the goalposts of debate to the Right. "I wouldn't go quite as far as that, however..." a Tory MP can say, making a previously radical idea seem moderate.
The appetite for left-wing populism is greater than it has been for a generation. Much of the Establishment – from banks to the media – have been discredited by scandal. Free-market capitalism is a wreck. But the Left is a long way from learning how to put its case. Gorgeous George is one of the most charismatic politicians of our time, but also one of the most divisive, and still manages to win over the audience. You don't have to like him; but, if you want to change the world, you do have to learn from him.
Twitter: @owenjones84
Register for free to continue reading
Registration is a free and easy way to support our truly independent journalism
By registering, you will also enjoy limited access to Premium articles, exclusive newsletters, commenting, and virtual events with our leading journalists
Already have an account? sign in
Join our new commenting forum
Join thought-provoking conversations, follow other Independent readers and see their replies