The legacy of One Direction isn't anything to do with the 1D boys or Simon Cowell, but the extraordinary power of teenage girls
As well as being smarter than anyone else in music, Directioners are alchemists, extracting wonder from the ordinary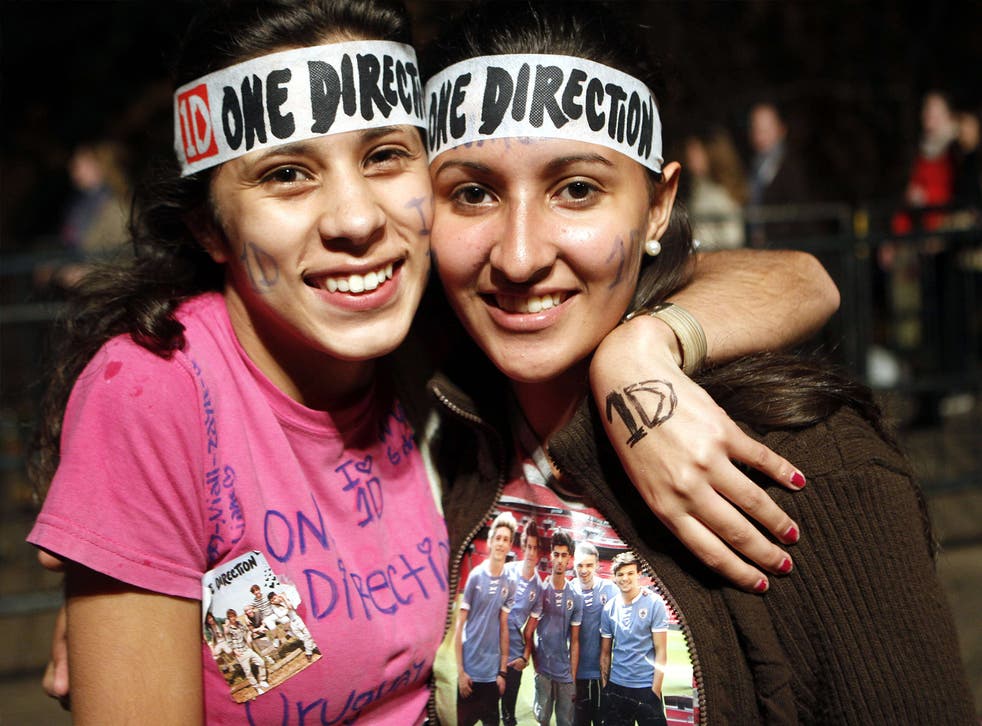 People are often surprised when they discover that I love One Direction. Maybe it's because I spent my teen years obsessively cataloguing Rolling Stones singles, or maybe its because I took Milton seriously at university. Maybe its simply because I'm not twelve years old with H A R R Y scribbled across my forehead in permanent marker.
But I do. I love One Direction. I have written at length about how much I love them. I love their stupid faces. I love the way their music makes me feel dizzy, I love their silly jokes, I love their evolving style, I love the way they tease each other, I love their stupid faces, I love their weightless lyrics, I love their bad grammar on Twitter. Did I mention their glorious, stupid little faces?
If you ask their fans what makes the boys so perfect, you'll be met with an endless stream of varied, even contradictory answers. Girls around the world shower praise on them for wildly different reasons. One Direction are stretched to accommodate the tastes of a constantly expanding audience, cut out and customised to personal preference by a million different girls, held to standards they could never feasibly meet.
The beauty of this feat is that, when you think about it, One Direction are nothing special. The greatest trick of all was designing a band of such impossibly normal boys. Since they were plucked from ordinary, working-class homes in Chesire, Bradford, Doncaster, Westmeath and Birmingham, the boys and their fans have obsessed over this normality.
"We're just normal people doing this abnormal job," Niall protested last week, adding to a long line of newspaper headlines all insisting this same fact. A quick glance back at X Factor audition tapes proves it: at their core, the One Direction boys are average: averagely charming, averagely beautiful and averagely talented, elevated above their utterly usual beginnings by forces outside of their control.
I love so many things about One Direction, but the thing I love most about them isn't really them at all: it's their fans. The complete mediocrity of the boys themselves only highlights the magic of their fans. The millions of girls that worship the band are artists in every sense: extracting wonder from the ordinary, uniting hearts and minds over miles, creating something from nothing. They are alchemists.
The legacy of One Direction isn't the story of a media mogul, or a juggernaught of Saturday night TV. It is testament to the extraordinary power of teenage girls. Because One Direction, their management, and their label all know that the band was built by teenage girls, in their bedrooms, talking to each other on their laptops.
Despite their portrayal in the press and online, One Direction fans aren't stupid. They're cleverer, more insightful, and more creative than anyone else in music. They are the sole engineers of the band's unbelievable success.
When the five boys were ejected from the X Factor, the first fans took to social media to show an appetite for the band, which secured their deal with Sony. When Modest Management began tweeting from the boys' personal accounts, fans noticed the subtle difference in spelling, capitalisation, tone and grammar, and called the management out so fiercely that they understood One Direction would only be successful if they had a direct relationship with their fans.
The fans break records, and download obscure songs until they earn a place in mainstream charts radio play. When One Direction tell the press that they owe everything to their fans, the only surprising part is that it's undeniably true.
One Direction fans upset about the potential end of the band aren't hysterical, or stupid, or selfish. They've built an empire with their own hands, and it's hard to let go of your work. But the wonderful thing about One Direction is that it's a phenomenon so much larger than the four or five average boys that constitute it. One Direction as a fandom won't be over until the fans move on, and they aren't going to abandon ship any time soon.
To read Anna's long read on One Direction's split click here
1D: Crazy things Directioners say

Show all 20
Register for free to continue reading
Registration is a free and easy way to support our truly independent journalism
By registering, you will also enjoy limited access to Premium articles, exclusive newsletters, commenting, and virtual events with our leading journalists
Already have an account? sign in
Register for free to continue reading
Registration is a free and easy way to support our truly independent journalism
By registering, you will also enjoy limited access to Premium articles, exclusive newsletters, commenting, and virtual events with our leading journalists
Already have an account? sign in
Join our new commenting forum
Join thought-provoking conversations, follow other Independent readers and see their replies