The long road to recovery
Unicef are doing vital work rehabilitating child soldiers in the north of the Central African Republic, but rebel activity and a lack of funds put the future of the project in doubt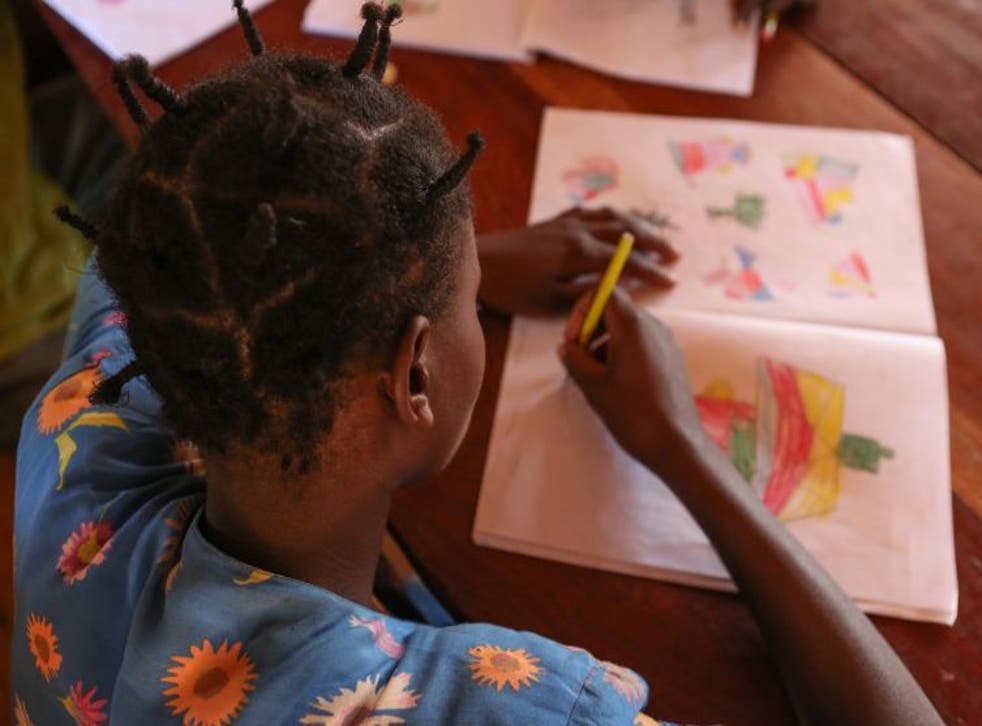 Please donate to our appeal for child soldiers here.
One of the boys grabbed a girl and threw her to the ground. She lay in the dirt beside the other children, their hands clasped behind their backs. Over them stood a group of young men, all sporting sunglasses and with their weapons cradled in their arms.
Suddenly one of the children tried to make a run for it. She got a little over twenty metres before her attackers hunted her down. As she was dragged back to where the rest of the group were waiting, the watching audience started to clap and cheer from where they were sat on rows of wooden benches .
"Good try," shouted one dressed in an imitation Chelsea football shirt. "You nearly did it."
"Not good enough," another countered. "You are getting too slow. You need to run more."
At this, everyone started laughing and clapping their hands again. Even those lying on the ground looked up to grin and share the general mirth.
For this scene in the war-torn Central African Republic (CAR) was not being enacted for real. This time the children's villages were not actually being attacked by armed men, and they were not being taken by one of the local paramilitary groups to be brainwashed and brutalised.
It was role-play, performed in a Unicef rehabilitation centre for former child soldiers. The weapons on show were not guns but pieces of wood and discarded water bottles tied together for the purpose of make-believe.
Keven Bermudez, the children's psychologist, explained the key role exercises like this have in enabling those at the centre to face, and then recover from, the dangers they had endured in the bush.
"These experiences were very frightening for the children and they never had an opportunity to express fear," he said. "In this safe context, they are able to re-enact these experiences and feel less fearful about these memories. That elaborates their memories, fills in the missing pieces, and reconstructs a narrative that gives some coherence to their lives."
The scene may have been a re-enactment but it was nevertheless unsettling to witness how the children could so readily recreate what had once been all too terrifyingly real.
The boys who played the armed men who attacked their villages – kicking over market stalls and grabbing boys and girls to take away with them – suddenly adopted a swagger and menace previously absent. Those selected as their victims cowered and scrambled on the ground in a manner which showed only too clearly their personal understanding of forced subservience.
This is Haute-Kotto province in the Central African Republic and the home of the centre run by Unicef, the leading children's charity for which The Independent Christmas Appeal is raising funds from its readers this year. It is based in the regional capital, Bria, in an area home to numerous warring rebel bands, each struggling for political authority and control over the local diamond mines.
The two main factions, the Union of Democratic Forces for Unity (UFDR) and the Convention of Patriots for Justice and Peace (CPJP), are meant to have signed a peace treaty in which they pledged to hand over all the children in their ranks. It is a promise they have failed to keep, the boys and girls being released in dribs and drabs thanks to complex negotiations by Unicef.
But violence continues to plague the area. A splinter group from the UFDR went on a rampage last week, forcing tens of thousands from their homes and causing the rehabilitation centre where the role play had been enacted to be temporarily evacuated.
Centres like this are at the core of the work Unicef undertakes in the former French colony. For Unicef, negotiating the children's release from a group is only the first step. It is at the centres that the children who have been released are demobilised, put back in school, and given psychological help and vocational training. They are reunited with their families or resettled with foster carers if they cannot return to their families.
The head of the Bria project, Rodolphe Mbale Yosua, explained how the children are withdrawn and unable to show emotion when they first arrive. It can take weeks of methodical work to re-establish their self-confidence and convince the children to once again trust adults and believe that can live a normal life in the outside world.
He said the message his staff seek to impress is one of self-worth. "We understand you," he said they tell the children. "You were used. You have been subjected and the people who did this will never be courageous enough to admit it to you. Look ahead. Look to the future. You have come out. You can transform yourselves. You are courageous. You are intelligent. You have enormous potential."
So far his centre has helped 48 former child soldiers in the process of reclaiming their lives. Two classrooms have been built and a dormitory block established so that the newest arrivals can be housed in safety. An on-sight infirmary provides treatment for the most immediate medical problems and a kitchen prepares regular meals.
Despite the crucial work being done there, the centre risks closure in May unless more funding is gathered – which is why The Independent has made it the focus of our Christmas appeal. A lack of financial resources could also mean Unicef's plans to open a similar centre in Odo, the capital of the region plagued by the notorious Lord's Resistance Army led by Joseph Kony, might also have to be abandoned.
Mr Yosua warned that closure of the Bria centre would be a terrible "betrayal" of the children.
"What if they arrive with us only shortly before we are meant to close?" Mr Yosua asked. "The process of social integration may not be completed. When we start to work with them, we can't stop. All their new hopes would be dashed. It's difficult to think that we could suddenly close the doors."
Register for free to continue reading
Registration is a free and easy way to support our truly independent journalism
By registering, you will also enjoy limited access to Premium articles, exclusive newsletters, commenting, and virtual events with our leading journalists
Already have an account? sign in
Register for free to continue reading
Registration is a free and easy way to support our truly independent journalism
By registering, you will also enjoy limited access to Premium articles, exclusive newsletters, commenting, and virtual events with our leading journalists
Already have an account? sign in
Join our new commenting forum
Join thought-provoking conversations, follow other Independent readers and see their replies