The Michael Le Vell verdict is in, but all the lessons are still to learn
Le Vell will live with the stigma for the rest of his life, but this provides no justification to change the law around anonymity in rape and sexual assault cases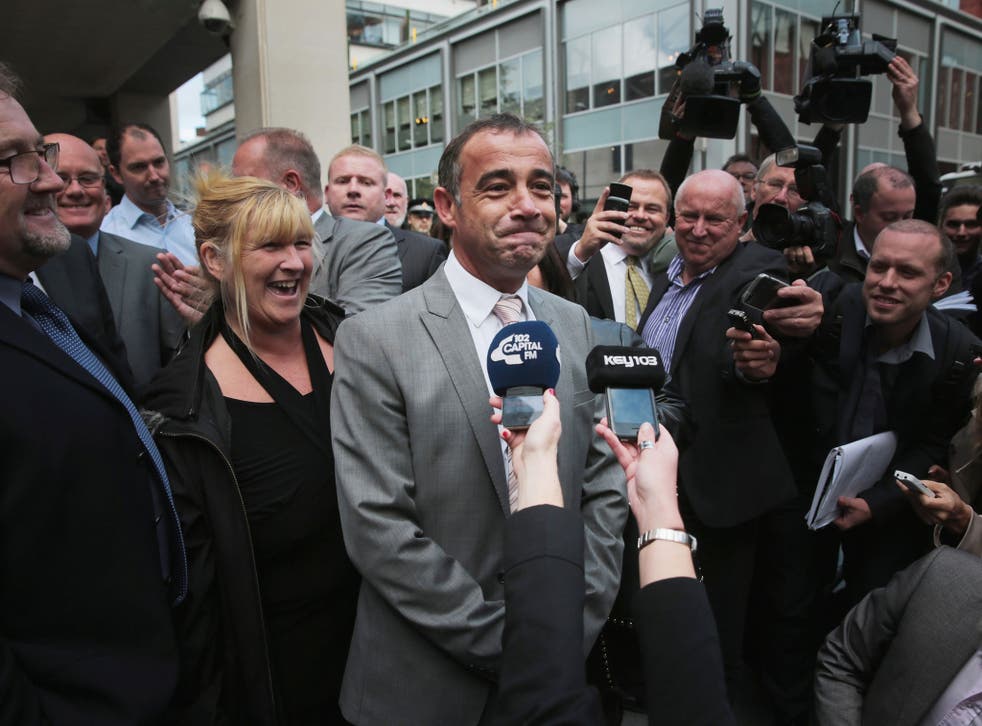 To follow the court case involving the Coronation Street actor Michael Le Vell was disturbing to say the least. There were the claims from his accuser that when she was six, the TV star held a teddy bear over her mouth to stifle her screams – evidence we now know to be wrong. There was what we learnt about about Le Vell's private life – the one-night stands while his wife battled breast cancer being particularly repellent. And there was the prospect of a man who has sought the help of Alcoholics Anonymous celebrating with a pint of lager.
But there are wider issues thrown up by the case that also leave a deep sense of unease. That a jury found him unanimously – and promptly – not guilty of all charges should be a welcome reminder of the principles of justice and of "innocent until proved guilty". Yet we should be concerned about what happens next.
First, there will be those who suggest that anonymity in rape and sexual assault cases must not only cover the accuser but also the accused. There are strong arguments in favour of this. Those falsely accused find their private lives raked over in court. Even if they are acquitted, there is, campaigners for change say, a stigma attached to the innocent man (and we are nearly always talking about a man).
A poll for this newspaper earlier this year found that three out of four people would be in favour of defendants remaining anonymous until they were convicted. This is certainly a proposal with widespread support.
In Le Vell's case, the prosecution aired a full load of dirty laundry, or "little dark secrets" as Manchester Crown Court was told. He admitted to being an alcoholic, drinking seven or eight pints a day in his local pub. He admitted to having affairs. The picture painted was of a seedy, washed-up actor who had considered quitting Britain's longest-running soap. No further questions, your honour. Some even argue that the alleged victim should not be able to hide behind the shield of anonymity, that it is easy for someone to "casually" make accusations of rape knowing they can never be identified, even when the case is dropped or a not guilty verdict is reached.
Yet, while Le Vell's ordeal has no doubt been traumatic, and he will live with the stigma of this case for the rest of his life, it would be dangerous to change the law around anonymity in rape and sexual assault cases. Genuine victims need protection because of the trauma they have been through. There is nothing "casual" about coming forward and telling police you have been raped or sexually assaulted. Telling the truth or not, you have to be prepared to be interviewed in detail by police, including undergoing medical examination, then go to court and present evidence against your alleged perpetrator. This is not something a person would do lightly.
During a test period in 2011 and 2012, when false allegation cases were referred to the Director of Public Prosecutions, there were only 35 prosecutions for false allegations of rape, compared to 5,651 prosecutions for rape. I cannot find any research into why an individual would falsely cry rape, but recent cases suggest some are motivated by revenge. What is clear is that the small proportion of false allegations does not justify lifting anonymity for the overwhelming majority where victims are genuine.
So does this mean that the identities of the accused should be protected too? I do not believe so. Rape convictions are increasing all the time – last year was the highest ever figure, 63 per cent of all prosecutions, compared to 58 per cent in 2007/08. Yet the problem is getting cases to even come to court: out of 78,000 rape victims every year, just 1,070 rapists are convicted. Four in five rapes are not even reported to police. It is no wonder that organisations representing rape victims talk of perpetrators already having a sense of being able to "get away with it, and giving the accused anonymity would only heighten that.
Publicity also encourages other victims to come forward – look at Stuart Hall (convicted on various charges of sexual assault though not rape) and the Rochdale grooming cases, where one woman's complaint prompted others to break their silence. And in the rush to applaud as "Corrie Kev is cleared", we must not forget about the accuser. She is still young, and has been put through the ordeal of giving evidence in court against someone she said raped her. A jury found her evidence to be "inconsistent, incoherent and unbelievable", but, besides the continuing shield of anonymity, she also needs support and counselling, whatever her motivation for making the claims.
The Le Vell case has implications for Operation Yewtree. Hall has been convicted, and there seems little doubt, given the multitude of allegations against him, that Savile was also guilty of his crimes, what happens to all the men currently on bail or awaiting trial who were arrested by Yewtree police over mainly historic allegations? A police investigation into Jim Davidson was dropped last month, after the CPS found there was insufficient evidence relating to historic sexual assault allegations. Le Vell's accuser made her historic allegations in 2011, before the Savile scandal emerged a year later, but he was only charged earlier this year, after she made a fresh complaint.
There must now be a fear, in the legal teams and families of the Yewtree accused, that the Le Vell case shows how an innocent man can be dragged to court, the details of his life strewn across newspapers for all to read, on the basis of unfounded allegations. The Yewtree net has been cast far and wide, has taken in allegations decades old, with no hope of DNA evidence. In the trawl for real perpetrators, innocent people have also been caught.
But there is an outcome just as worrying, potentially even more so, an unforeseen consequence of the whole operation, and it is this: that the Le Vell case sets a precedent for future juries to follow. Paradoxically, while innocent men may be among those whose cases are still to be heard, there must be a concern that the guilty will get off, because a jury might be less inclined to believe an alleged victim. Juries are always told by judges to put aside any previous cases and come to their verdicts on the basis of the evidence in front of them, but in practice these men and women can be influenced by prior events.
There are no happy outcomes from the Le Vell case. But after the apparent eagerness to prosecute post-Savile, one day a guilty man may walk free.
Register for free to continue reading
Registration is a free and easy way to support our truly independent journalism
By registering, you will also enjoy limited access to Premium articles, exclusive newsletters, commenting, and virtual events with our leading journalists
Already have an account? sign in
Register for free to continue reading
Registration is a free and easy way to support our truly independent journalism
By registering, you will also enjoy limited access to Premium articles, exclusive newsletters, commenting, and virtual events with our leading journalists
Already have an account? sign in