The real mystery is how placidly we accept the scandal of bankers' bonuses
It's a subject the Government wants everyone to forget about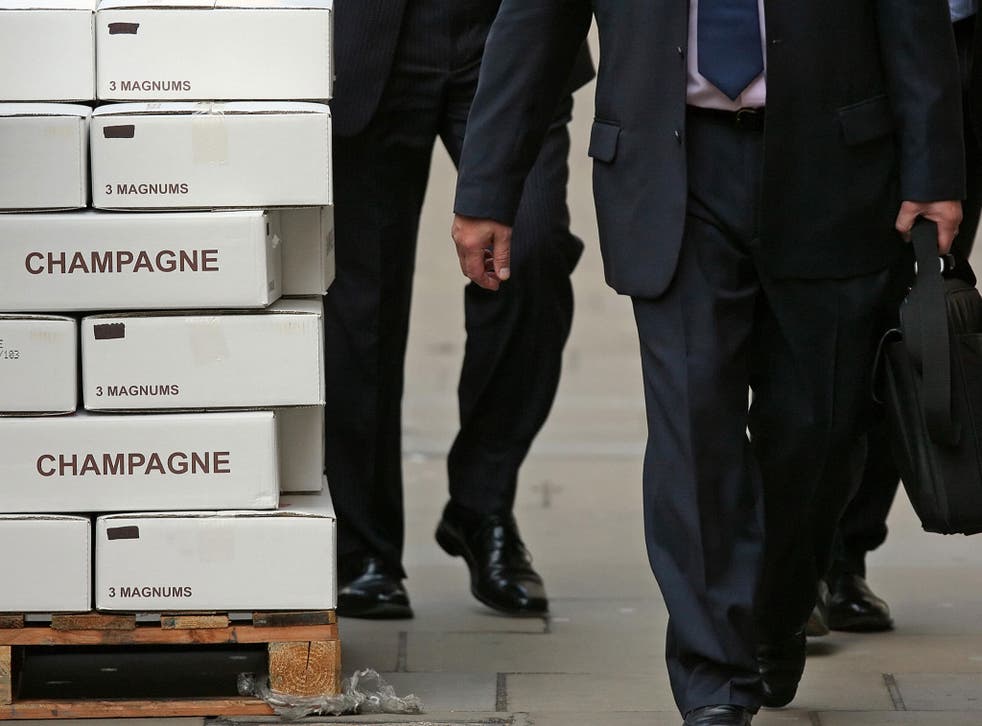 The sun is streaming in, there are three weeks until the clocks go forward, and there is a sense of new beginnings. However, there is a depressing familiarity to the news agenda as the floods of winter begin to recede from the memories of all but those directly affected.
The West's lame helplessness in the face of Putin's territorial machinations, the worsening Stephen Lawrence revelations, or the latest trial of a household name on sex charges? Then there's bankers' bonuses, the subject the Government wishes would we would forget.
Here's the first paragraph of the BBC's report about the Co-op: "The Co-operative Group is set to give pay rises and bonuses to its senior staff despite the near collapse of its banking division."
If that's not bad enough: "The Co-op… expected to report the worst losses in its history this month, said this would reflect the greater experience of its new top team."
We are told that the Co-op claims "executive pay was in line with comparable firms", while recommending its new-ish chief executive should get a £3.66m package. That's Euan Sutherland, the CEO who said that last year was the worst in the Co-op's 150-year history and that it "had lost its way".
It's not just the Co-op. The usual justification for these payouts and packages is that this is what you need to pay to attract top talent. That would have been the same justification at the time for the previous management team: former CEO Peter Marks (£1.3m base a year), his predecessor Neville Richardson (£4.6m package in his last year) and ex-Chairman, Peter Flowers, the disgraced former Methodist minister, who got the job despite a relative lack of banking experience and then had to resign in an alleged sex and drugs scandal.
Meanwhile there's Barclays where profits are down 32 per cent, with 7,000 job cuts, and £2.4bn in bonuses); RBS (losses of £8.2bn, £3m in shares to new boss) and Lloyds, (nearly £10bn set aside for PPI mis-selling), where boss Antonio Horta-Osorio gets a £1.6m bonus. The staff? A 2 per cent rise.
I'm in favour of bonuses as a reward for achievement. Staff should be incentivised to achieve, but incentivised in the manner of (yes, it's a cliché) John Lewis, which this month announced all staff would receive a 15 per cent bonus (two per cent down on last year). You may also know that the highest-paid director at John Lewis cannot earn more than 75 times the staff's average salary.
The European Commission is looking at proposals that would force the 10,000 stock market-listed companies across the EU to reveal similar pay ratios. This would make it easier to compare bosses' pay and highlight those who are paid excessively in relation to their peers. It might make for some ugly reading.
Over the past decade, median FTSE chief executives' pay has risen by 243 per cent at a time of wage stagnation for the majority of the population. It is not just the bankers. But those other FTSE companies have not required multi-billion pound bail-outs.
None of this is new, but there's been no legislation despite all the Government's earlier rhetoric. It's difficult to see what form it could actually take. That's why nothing changes. The real mystery is not that people are still furious about bankers' bonuses, it's that they are not even angrier.
Register for free to continue reading
Registration is a free and easy way to support our truly independent journalism
By registering, you will also enjoy limited access to Premium articles, exclusive newsletters, commenting, and virtual events with our leading journalists
Already have an account? sign in
Register for free to continue reading
Registration is a free and easy way to support our truly independent journalism
By registering, you will also enjoy limited access to Premium articles, exclusive newsletters, commenting, and virtual events with our leading journalists
Already have an account? sign in
Join our new commenting forum
Join thought-provoking conversations, follow other Independent readers and see their replies