The Robin Hood Tax is a more sensible and fairer way of helping our economy to recover
Labour does have some responsibility for the crash - not because we over-spent, but because we didn't regulate enough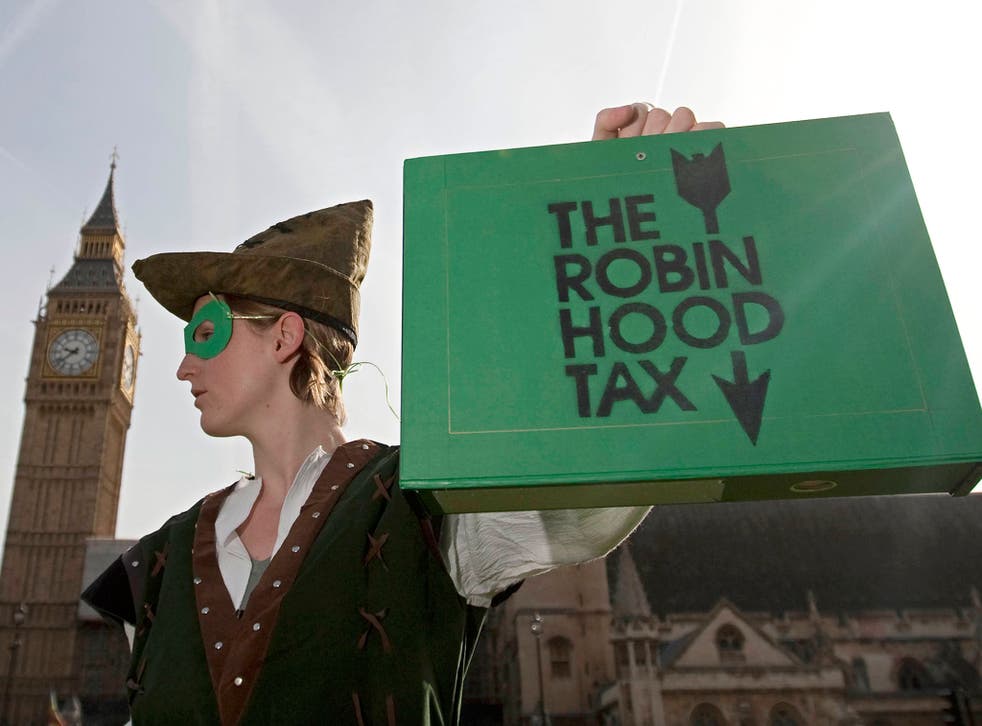 The movement for the Robin Hood Tax has been an incredibly successful insurgent campaign, now supported by nearly a million people, to put a small tax on the purchase of financial assets – stocks, shares and derivatives – a financial transactions tax (FTT).
It is based on two very simple concepts. The first, as the name suggests, is based on the idea that the rich should contribute a little more to stop the suffering of the poorest; and secondly the economic reality that it was the reckless behaviour of the finance sector that got us into this mess and they should be paying for it.
If we cast our minds back almost eight years, to September 2007, customers were not queuing out of the doors of Northern Rock branches because a Labour government had spent too much on nurses and teachers. Just two weeks before, George Osborne had backed Labour's spending plans.
Labour does have some responsibility for the crash. Not because we spent too much, but because we didn't regulate enough.
Much of Europe has not covered itself in glory either in responding to the crash. But now eleven European countries have got together and have a proposal on the table to put a FTT into operation. What was the UK's response – to engage with our European partners and join this initiative? No, George Osborne tried and failed to take them to court for threatening the UK finance sector, wasting public money in the process.
In the US, a previously unfancied socialist called Bernie Sanders is running for the Democrat presidential nomination. His policies strike a chord with millions of ordinary Americans. He has put forward an Inclusive Prosperity Bill that proposes a Financial Transaction Tax on stocks, bonds and derivatives.
In 2011, my colleague John McDonnell MP moved an amendment to the Finance Bill simply asking the UK government to report on the feasibility of introducing an FTT. We were just two of 25 MPs who supported it.
How much could be raised from a FTT is dependent upon many factors, although the IPPR thinktank estimated in 2013 that it could raise as much as £20 billion in the UK alone. That revenue would be enough not to need a single cut to welfare in this Parliament, and to reverse those from the last. It could help close the deficit and pay off our debts, or fund a sovereign wealth fund to invest in infrastructure for a more balanced economy.
Such a fund could create well-paid skilled jobs in the industries needed to tackle climate change - construction, energy and engineering. Millions of our young people deserve a prosperous future, safe from the threat of climate change. These highly-skilled, well-paid jobs would also go a long way to improving Britain's lagging productivity.
But the FTT is not just about raising revenue, it is as Ann Pettifor says, about putting "sand in the wheels" of the speculative and destabilising activity that led to the crash. Getting the balance right to maximise revenue and to have a deterrent effect will need careful consideration.
We are still paying for the last crisis, and yet there are fears in the bond markets and in the housing market that things are becoming unstable again. As these warnings become louder, Chancellor George Osborne has made a concerted effort to resist any regulation on the finance sector, and in his recent budget announced that the bank levy will be wound down – even as he announces further welfare cuts for the poorest.
His policies of pay restraint, house price inflation and a reliance on rising consumer debt look to be setting the scene for another slowdown, if not worse. As the party funded by hedge funds, it is no surprise that this most ideological of chancellors has appointed a hedge fund partner to the vacancy on the Bank of England's Monetary Policy Committee.
The monetary levers that bailed us out last time will not be available again. Interest rates are already at zero, the Bank of England has already poured £375 billion into its quantitative easing, and we are running a larger deficit with more debt than in 2007.
The route to recovery for all cannot rely on the systemically reckless speculation of the City of London. Given Sherwood constituency Labour party recently gave me their backing, perhaps this Robin Hood movement has momentum.
Register for free to continue reading
Registration is a free and easy way to support our truly independent journalism
By registering, you will also enjoy limited access to Premium articles, exclusive newsletters, commenting, and virtual events with our leading journalists
Already have an account? sign in
Register for free to continue reading
Registration is a free and easy way to support our truly independent journalism
By registering, you will also enjoy limited access to Premium articles, exclusive newsletters, commenting, and virtual events with our leading journalists
Already have an account? sign in
Join our new commenting forum
Join thought-provoking conversations, follow other Independent readers and see their replies