There is no 'golden age' for Malala to return to in Pakistan
The message is simple: everything Malala has learned is wrong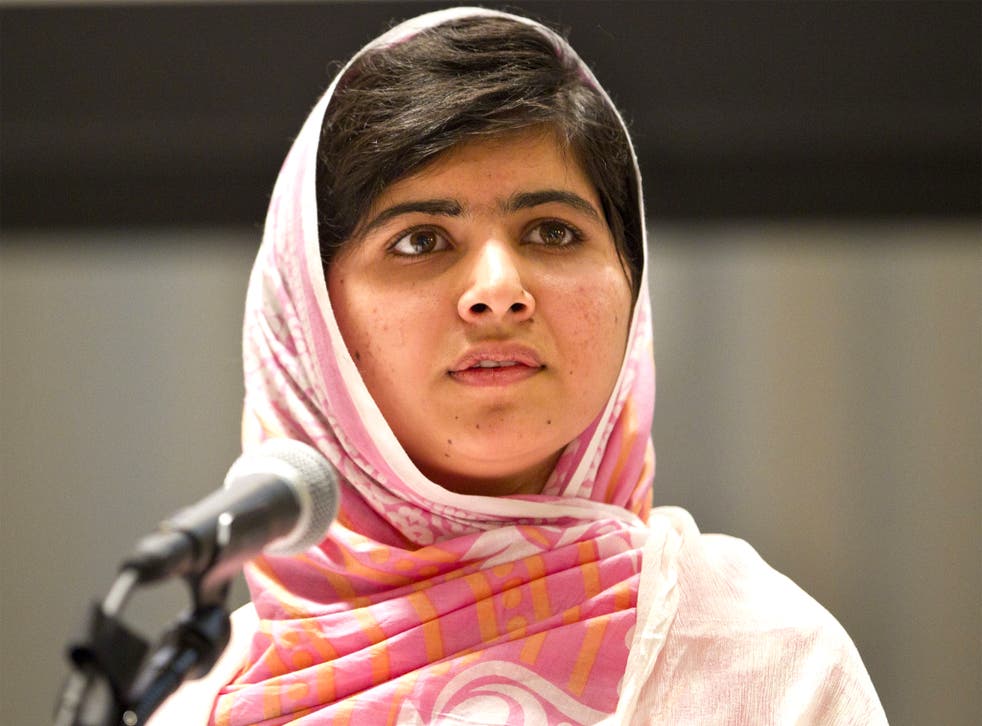 I am not privy to Malala Yousafzai's plans, but I strongly advise her against returning to Pakistan, at least as long as Adnan Rashid is a free man. The open letter sent to her by Rashid and widely published yesterday – there is a facsimile on the website of The New York Times – is a remarkable but also a terrifying document.
In the most insidious and seductive tones, Rashid, a Pakistan Taliban leader who escaped from the jail where he was imprisoned for trying to assassinate former president Pervez Musharraf, declares how shocked he was by her shooting and how much he wished he had been able to prevent it. "My all [sic] emotions were brotherly for you," he gushes, "because we belong to the same Yousafzai tribe."
The letter's message is simple: Malala may desire an education, but everything she has learned is wrong. Like generations of Muslims before her, she has been gulled by the fiendish British scheme to colonise its subjects' brains. Rashid quotes a passage by Lord Macaulay which is still famous in the subcontinent, arguing that Britain's task is to create "a class of persons Indian in blood and colour, but English in tastes, in opinions, in morals and in intellect".
This passage has provoked and infuriated Indians and Pakistanis ever since – because it came to pass. That is how Britain was able to rule India with a tiny force of soldiers and administrators. Macaulay's words divided Indians into two parties. On the one hand there were people such as Sir Syed Ahmed Khan, a passionate advocate of Muslims being educated to fulfil their potential. As one of his supporters, Nazir Ahmed, wrote, "While all of us were spending time in useless disputation/The men of Europe leap into the void of God's creation… /Now God himself has moved to share his secrets with these nations/Because they have perceived the mode of Nature's operations."
On the other hand, there were those who looked back to an imaginary golden age before the British, who vilified technological progress and urged Indians – both Hindus and Muslims – to return to the simplicity of the village, the temple, the Koran.
That was nearly a century ago. But Gandhi failed to impose his faith in the spinning wheel on the independence movement: Nehru and Jinnah realised there was no real alternative to studying hard to catch up with the West.
The tragedy is that, 100 years on, Rashid and people like him are still trapped in that sterile debate. They still dream of a return to the golden age when, according to Rashid, "almost every citizen was able to read or write … No poverty, no crises and no clashes of civilisation or religion. Because the education system was based on noble thoughts and noble curriculum".
Rashid, a technician with the Pakistan Air Force before he found his vocation with the Taliban, presumably knows the world of modern technology better than most people reading this column. But the sting of humiliation in Macaulay's words drove him to reject it, to embrace a world where learning means memorising the Koran by heart and murdering your enemies, including teenage girls, and persuading yourself therein lies the path of virtue and godliness.
He desires the same for Malala, urging her to turn her back on the "satanic" West, "adopt the Islamic and pushtoon [sic] culture, join any female Islamic madrassah … study and learn the book of Allah".
They are words of brotherly concern and admonition. And if Malala does not care to follow them, it is clear enough what will follow. Nowhere does Rashid apologise for or condemn the Taliban's attempt to murder her. "It was shocking for me," he declares, and he implies that it could have been avoided "if I had advised you before".
The attack could have been avoided, in other words, if she had abandoned her path and followed his. But as she did not do so, it was justified, however shocking. If she is so reckless as to go home, Adnan Rashid and his men will be on the lookout for her.
Italy has been shamed enough
Roberto Calderoli, a northern Italian dentist, has fashioned a brilliant political career out of saying the unsayable. But this time he may have gone too far.
When leaky boats crammed with dead and dying Africans were towed into Lampedusa harbour, Calderoli urged the Italian navy to send gunboats to fire on them. When Italy won the World Cup, he crowed about beating a French side composed of "blacks, Muslims and communists".
Berlusconi, his ally, asked him to devise an electoral law that would make it impossible for the opposition ever to win again. He did so, then later went on television to describe his law as a porcata (a load of rubbish).
By such means, in a political system that defies satire, Calderoli has risen to be deputy speaker of the Senate. But when he said that Cécile Kyenge, Italy's first black cabinet minister, put him in mind of an orangutan, he may have gone too far. Now he is under investigation for racial defamation, and Prime Minister Enrico Letta is demanding that he resigns. It's about time. He has brought enough shame on Italy already.
Register for free to continue reading
Registration is a free and easy way to support our truly independent journalism
By registering, you will also enjoy limited access to Premium articles, exclusive newsletters, commenting, and virtual events with our leading journalists
Already have an account? sign in
Join our new commenting forum
Join thought-provoking conversations, follow other Independent readers and see their replies