There's a momentous vote in Scotland today: St Andrews may admit women golfers
If clubs want to stem the decline in their membership – and finances – they need to look at their own culture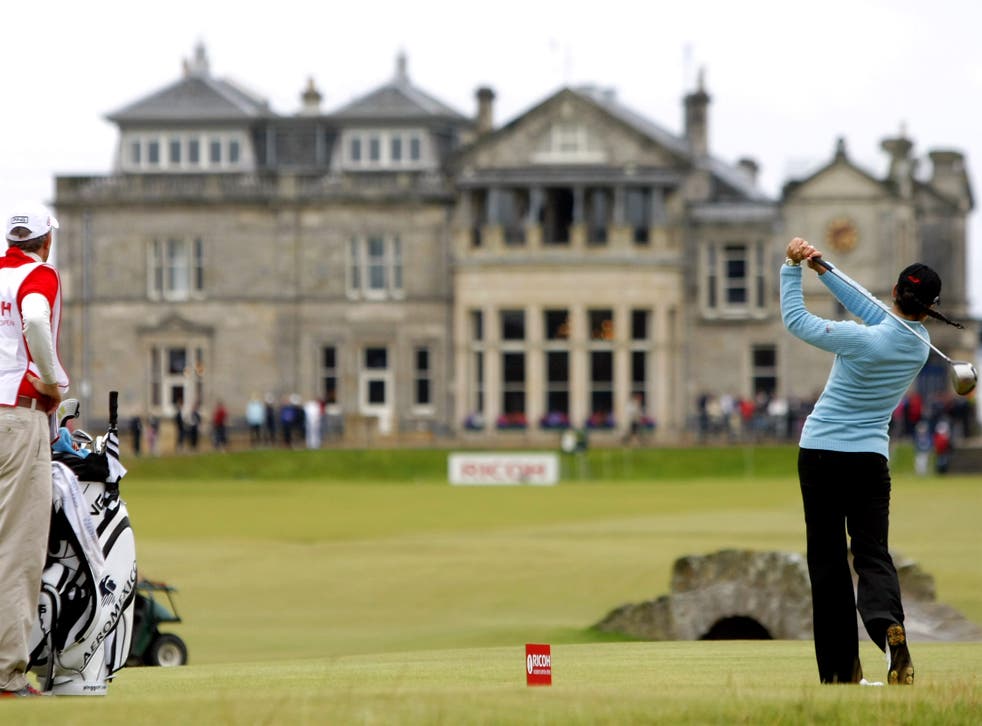 A momentous, irreversible decision that could overturn three centuries of history rests in the hands of voters today – not only for the 4.2 million Scots who will vote on independence, but the for 2,400 members of the Royal and Ancient Golf Club of St Andrews, who are balloting on whether or not to admit women.
When compared to the vote that could break up the United Kingdom, the decision on permitting women into the St Andrews clubhouse, whose interior is as grand and stuffy as a master's room in an Oxbridge college, may seem small – irrelevant, even. Yet it is of huge significance not only for sex equality but for the future of the sport.
For months now, since the club committee wrote to members suggesting it was time for change, the outcome has been far easier to predict than the referendum. One St Andrews member I know (who will vote Yes in both the referendum and the Royal and Ancient ballot) expects his fellow-golfers to back change because they are proud of their world status as the home of golf. St Andrews leads the world in the sport – not just in its history but its rules and prestige – so, he says, how can it, in the 21st century, exclude women?
In fact, St Andrews – despite the grandeur of its clubhouse – is more welcoming and progressive than it seems. Non-members can enter a ballot to play on certain days, and local people queue up for spare tee-off slots on the day. The old course is on common land so walkers cross the fairways whenever they like. Yes, the R&A has been slow to introduce gender equality (Augusta – host club of the US Masters – which used to be whites-only, admitted women in 2012), but the real force against women is at Muirfield, where, I am told, a group of diehards is determined to ensure that the prospect of female members any time soon is as likely as Alex Salmond voting No today.
Royal St George's in Sandwich in Kent is one of the other remaining major clubs to bar women – although it is making a decision next year. These outposts of maleness, like a handful of private members clubs in London, will be curious relics if St Andrews votes Yes.
Golf's problem, then, is not its attitude to women but its wider image. Membership of golf clubs has been falling in recent years. The cost of a subscription is a major factor, but it is not the only reason. St Andrews' historic moment represents a wider opportunity for golf to have a relaunch.
I am not one of those people who regards golf as a good walk spoiled. Watching the professional game is gripping. I also fancy myself as someone who, given the chance, would be quite handy with the clubs – you should have seen me sink a 30ft putt when I was eight months pregnant.
It would be great to turn up to my nearest golf club and play there and then. But instead, there is the tortuous procedure of waiting to be nominated, going on a waiting list, then paying hundreds of pounds for annual membership. Once you're in, golf clubs – in England particularly, more than Scotland – are stiffened by class and petty rules. When my partner took his teenage sons to play at a club where he is a member, he was approached by a committee jobsworth who said the boys could not tee off because they each didn't have their own bags.
So if clubs want to stem the decline in their membership – and finances – they need to look at their own culture. They should be more open to the idea of pay-as-you-go customers, and encourage more women and young people to join, rather than put off anyone who turns up wearing the wrong shoes. Because if St Andrews, the birthplace of golf, can change, then golf can change too.
Mattel, the makers of Barbie, has ridden to the defence of its most famous toy after one of the dolls was heard saying "What the fuck?" to an eight-year-old girl.
It has emerged that the mother who caught Barbie turning the air from pink to blue misheard, and that the doll, who is programmed to say 15 enlightened phrases such as "I love a makeover" and "There is no substitute for glitter", was actually saying, "Off the hook". So Mattel are, to coin a phrase, off the hook.
Yet as far as I am concerned I would be happier rushing out to buy one for my four-year-old daughter if Barbie could be a better role model. How about "I love to code", "I want to be an astronaut" or "Let's play football!" for starters?
I guess Possible Swearing Barbie is a sort of progress – in my day, she couldn't talk and just stared vacantly into space.
Register for free to continue reading
Registration is a free and easy way to support our truly independent journalism
By registering, you will also enjoy limited access to Premium articles, exclusive newsletters, commenting, and virtual events with our leading journalists
Already have an account? sign in
Register for free to continue reading
Registration is a free and easy way to support our truly independent journalism
By registering, you will also enjoy limited access to Premium articles, exclusive newsletters, commenting, and virtual events with our leading journalists
Already have an account? sign in
Join our new commenting forum
Join thought-provoking conversations, follow other Independent readers and see their replies