TV leaders' debate: Who won?
We asked three of our editors and contributors to give their takes on last night's seven-way political battle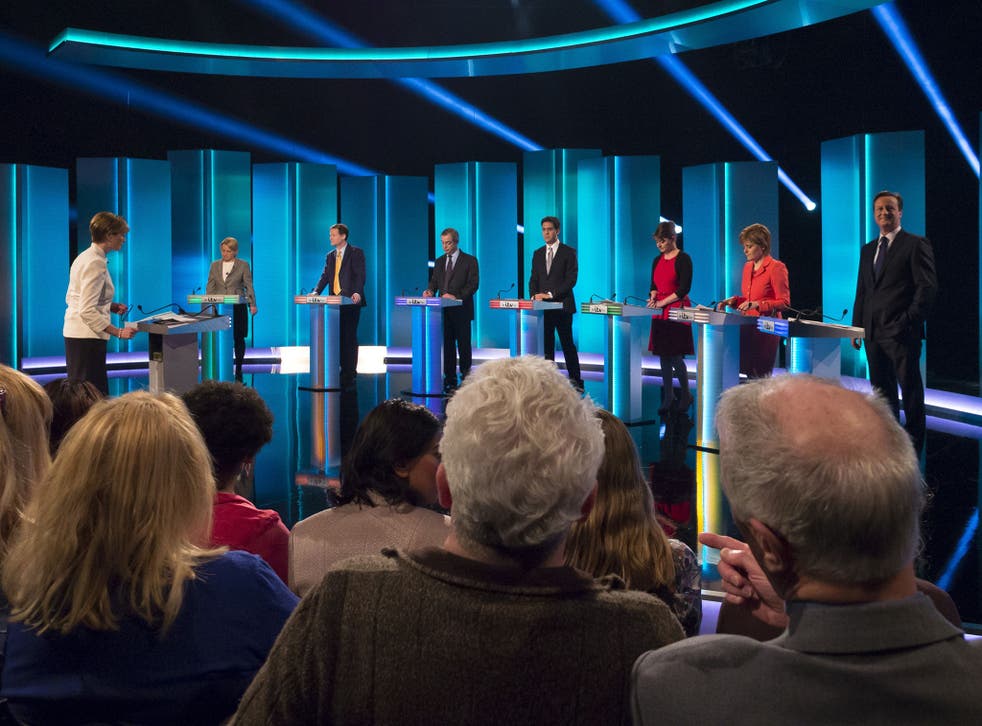 Aside from "what is the deficit?" and "why is everyone so sweaty?", "who won the debate last night?" is the question everyone's asking this morning.
The polls say one thing, but what do the experts think? We asked three of our editors and contributors to give their opinions.
Jane Merrick
Political Editor of The Independent on Sunday
It is no surprise that the different polling companies declared different winners for last night's leaders' debate. It says it all about an election that nobody – not even the voters – can call.
The entire nation is floating. We are a swing country. But if I had to name one person who stood out for me it was Nicola Sturgeon. The SNP leader had the calmest delivery, the sharpest lines and put the anti-austerity case best. She also pricked the bubble of the immigration debate – which surely hit a low last weekend with Labour's "Controls on immigration" mug – by telling her fellow leaders that the "fear of Ukip" had stymied all rational debate on the subject. And she addressed the British people as a whole – which is clever, considering she wants to break up the union.
David Cameron just looked really irritated to be there. Perhaps this was part of the strategy, to seem aloof, or "in command" as senior Tories kept saying. It seemed to work, because the average of the three snap polls last night put the Prime Minister in the lead by just half a point over Ed Miliband. The Labour leader certainly did not "flop" as one newspaper put it. He just struggled to make a real impact. The real surprise was that Nigel Farage stumbled and failed to score big, as he did against Nick Clegg last year, possibly because he has lost the novelty factor. His bar-room "get real" manner seemed hackneyed. We may have reached Peak Farage.
Lee Williams
Writer and activist
There were no major gaffes but also (almost) no rounds of applause in a debate that was diluted by volume while running along tediously predictable lines.
Cameron and Miliband seemed intent on only attacking each other, desperately and anachronistically trying to cling to the old two party system. Meanwhile, Nick Clegg tried to cling to their coat tails even more desperately, constantly talking about "balance", which could equally be interpreted as "compromise".
Nicola Sturgeon was impressive but a bit of a one trick pony on an anti-austerity line. Leanne Wood seemed to be addressing herself solely to the Welsh, which was kind of understandable but also a bit strange in a debate for the whole of the UK. And Natalie Bennett at times seemed to be visibly telling herself not to cock up. Meanwhile Nigel Farage tried to be the voice of reason but ended up blaming everything on foreigners, which was obviously the biggest shock of the night.
There was no one winner. On balance I'd give it to the female, left-wing trio of Bennett, Sturgeon and Wood who offered reasonableness, compassion and a fresh perspective along with the best moment of the night – and one of only a handful of points that got a round of applause – when Leanne Wood told Nigel Farage he should be ashamed of himself for trying to blame failures in the NHS (along with everything else) on immigrants.
Max Benwell
Writer and Commissioning Editor, Independent Voices
Miliband and Cameron were neck and neck and Clegg was crying inside, but we knew this was going to be the case all along.
Nicola Sturgeon came out best, and the polls seem to agree. While Miliband benefited from people's low expectations in the last debate, she benefited from the fact that most people had no expectations at all. Plenty of people south of the border had probably never heard her speak before. And if you're a Sun reader, it's likely that up to that point you'd only seen her swinging from Miley Cyrus' wrecking ball, so seeing her take on all the men with so much clarity and conviction was great.
It was also a good night for the two smaller parties. Plaid Cymru's Leanne Wood was uninspiring but did well doing what must have been the biggest media appearance of her career so far. She came across as a convincing progressive, and not the sort who would backtrack or U-turn – although everything is easier said than done when you're not in power and never will be.
Natalie Bennett proved once more that the Greens have evolved into more than just a single issue party, but I'm not sure she achieved much else. Her performance was so wooden that I began to suspect that her desire to save the trees could be rooted more in self-preservation than political conviction. Caroline Lucas' return to leadership must be on the cards, surely?
On Farage, Nick Clegg called it: the Ukip leader really does seem to think that all of the UK's issues can be solved by exiting the EU. Watching Farage wax unlyrically about HIV+ immigrants and health tourism when he could have been talking about real problems within the NHS was bizarre. It would be like Natalie Bennett saying: "Right, I know it's not popular to say this, but if we're going to improve education in this country, we're going to have to cut carbon emission by at least 25 per cent. And if we're going to solve the housing crisis, then what about the rainforests, guys?"
TV leaders' debate 2015

Show all 8
Register for free to continue reading
Registration is a free and easy way to support our truly independent journalism
By registering, you will also enjoy limited access to Premium articles, exclusive newsletters, commenting, and virtual events with our leading journalists
Already have an account? sign in
Join our new commenting forum
Join thought-provoking conversations, follow other Independent readers and see their replies