Ukip is not 'anti-immigration', we are anti-uncontrolled immigration
We don't want to pull up the drawbridge. We want to control who comes over it.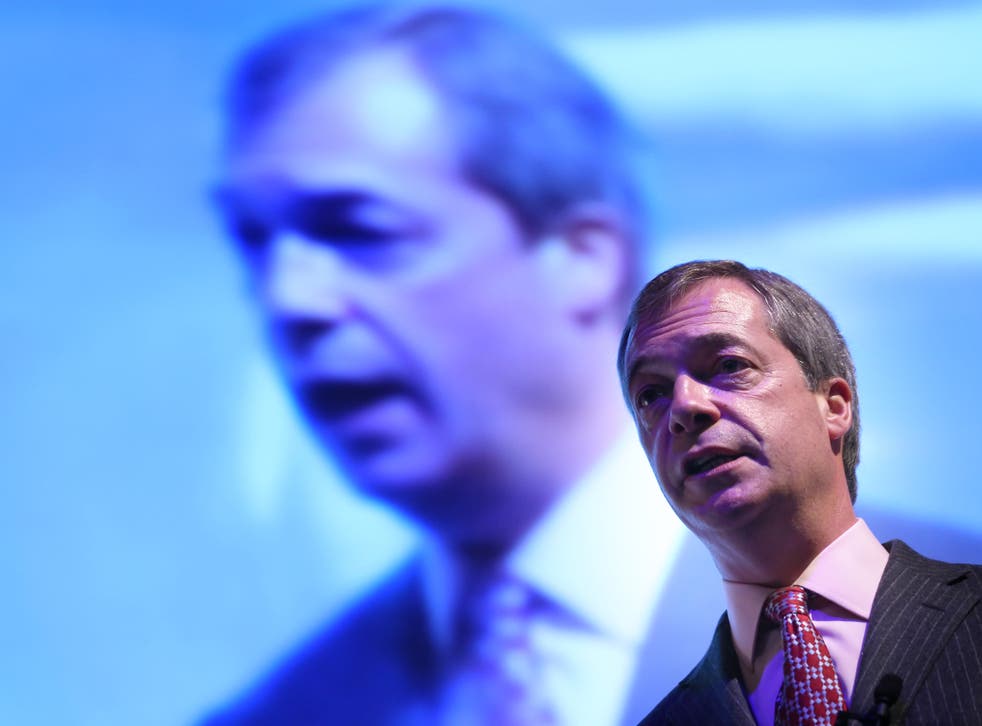 "Anti-immigration rhetoric" is an accusation regularly levelled at Ukip, and it has happened again in the case of one of the party's so-called rising stars, who, as reported in this newspaper yesterday, has publicly distanced herself from the party. Leaving aside the fact that Alexandra Swann initially resigned her membership when she wasn't selected as a Ukip MEP candidate, this episode brings a key issue to the forefront.
Ukip has never been "anti-immigration". We are anti-uncontrolled immigration – which is a quite different thing from this far-fetched idea that one hears coming from Nick Clegg and his ilk that we want to pull up the drawbridge. We don't want to pull it up. We want to control who comes over it.
This is something that anyone viewing the "In-Out" debates could have seen: the determined refusal to admit that Ukip doesn't have a problem with letting foreign-born nationals come to live, settle and work in this country. The difference between us and the other parties is that we don't want to decide who comes here based purely on geography. The Tories can only control immigration from outside the EU and this means tight controls on those people coming from countries we have traditionally had close ties with.
Our historic link with the Commonwealth and our trading links going back centuries mean this country has always had a steady flow of immigration and emigration. Our fair justice system and meritocratic mentality meant that we became the destination of choice for many displaced, persecuted peoples. And of course after the Second World War, we actively invited people from the Commonwealth to emigrate to the UK.
Providing refuge and opportunity for skilled migrants who want to work hard and assimilate into our society is not what Ukip has a problem with. Instead, we insist that this country has an immigration policy that has both quantity and quality control.
What we have seen over the past decade is an unprecedented level of migration such as we have never seen before, with no skills or language tests for entry but with full access to one of the most generous welfare systems in the world. It is an outrage that parents with children not even living in the UK are given child support benefit which is then sent out of the country. It is an insult to our own youngsters that politicians think they are lazy and that we need migrants from Eastern Europe to come to pick our fruit. Before 2004 strawberries did not go rotting in the field as feckless 18-year-olds pointed and laughed.
But we should also look at the other side of the coin: this week Polish MP Artur Debski arrived on a budget flight from Poland and plans to seek work in London and live on £100 a week. This is not because he's heard about the expenses opportunities for politicians in this country, but because he sees the number of young people leaving Poland to work in the UK as "dangerous".
"Brain Drain" is a serious problem for all countries but especially poorer countries. For if their brightest and best leave to seek work abroad, doing jobs which are below their skill set, this has consequences both there and in the country they move to. It is simply not an optimal allocation of skills and talents. It will stifle growth in their home country whilst causing a downward depression on wages and an oversupply in the unskilled labour market in the country they migrate to.
The definition of full employment is that everyone who wants a job, has one. Until we make fundamental reforms to our social security to ensure that a life on benefits is not an option – as well as reforming our immigration policy – we will see abuses of the system and a resentment towards migrants by sectors of society who feel pushed out.
Liberate our high streets
The question of our high streets is still one successive governments try to address with little success. But instead of "tsars" and "enterprise zones", I think there could be some simple, fundamental reforms which could make a huge difference to struggling businesses.
Take parking. A hairdresser in North London says she is losing clients because of the high cost and difficulty in parking for her customers, with limits on time permitted which are less than the length of time of her appointment.
And business rates must be reformed. Why, when businesses are the engine of growth and provide employment and prosperity in this country, are we not slashing rates? It is completely short-sighted of this Government to think that small businesses should fork out sky-high rates when that money could be used on employing a new member of staff.
The money which goes to Government in taxation is inefficiently spent. The money which goes towards expanding a business and providing employment is what brings abut economic growth. Why don't we give that a shot instead of launching endless new, yet fundamentally useless, initiatives?
Register for free to continue reading
Registration is a free and easy way to support our truly independent journalism
By registering, you will also enjoy limited access to Premium articles, exclusive newsletters, commenting, and virtual events with our leading journalists
Already have an account? sign in
Register for free to continue reading
Registration is a free and easy way to support our truly independent journalism
By registering, you will also enjoy limited access to Premium articles, exclusive newsletters, commenting, and virtual events with our leading journalists
Already have an account? sign in
Join our new commenting forum
Join thought-provoking conversations, follow other Independent readers and see their replies