Voices in Danger: In Honduras, they come after your family too
Dina Meza got into investigative journalism when her brother was "disappeared"; now her own children face the same threat from the targets of her work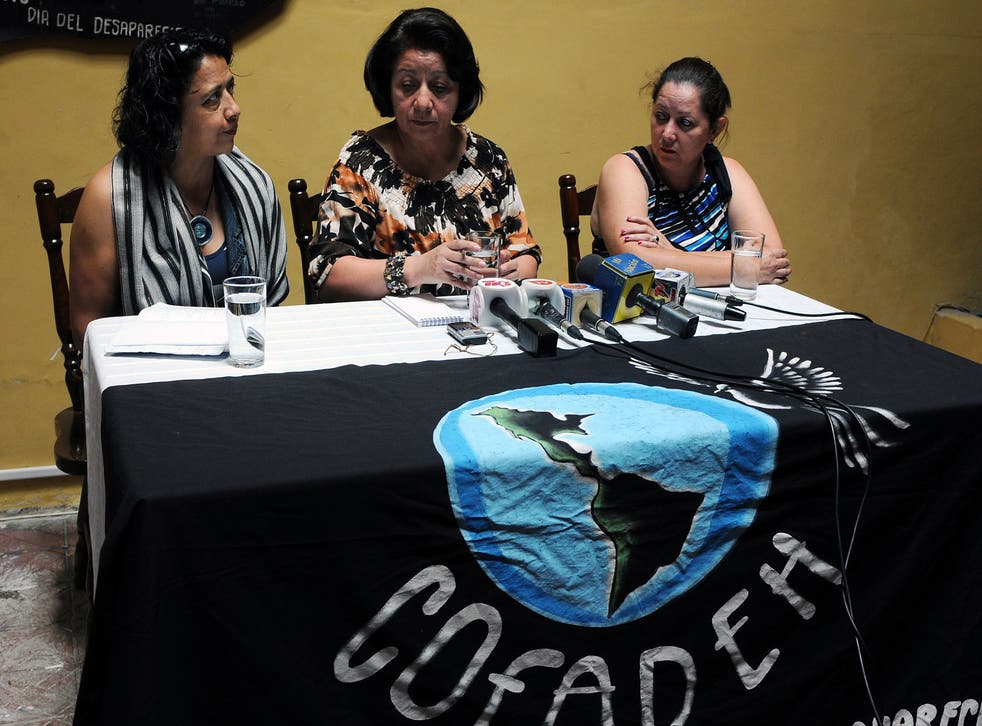 Dina Meza says she had little choice about what type of reporting she would pursue when she left journalism college in Honduras.
Just as she was graduating in 1989, her brother Victor was "disappeared" by the security forces – one of the hundreds to vanish at the behest of the regime militias in that terrible decade for the country. He was on his way home from his office, where he ran a farm workers' collective, when a group of men in a car with no licence plates threatened him with guns and dragged him to a secret prison.
He was tortured there for a week with electric shocks and beatings before being presented by the military at a press conference as being a "captured guerrilla fighter". His captors then threw him into jail.
As well as sharing this story through social media, you can help Dina and other journalists in Honduras by calling on the government there to investigate the harassment of her and other journalists in the country, and take serious steps to prevent it and protect them in their work. The address can be found at the bottom of this piece.
"It made me angry, the injustice. I knew then that I had ro cover human rights abuses. I never had any choice!" laughs Dina, now 50.
Dina is a huge personality, crackling with energy and campaigning passion, always quick to laugh, even when recalling the most awful events in her eventful life. She must be a formidable opponent for those in power whose wrongs she exposes.
In the first of her many victories, her brother was freed in an amnesty after a campaign led by Dina for his liberation.
She spent much of the 1990s working for a magazine title which translates into English as "Disappeared". It was a campaigning journal calling for human rights and exposing the many cases of abuse so prevalent in Honduras.
She moved on to a newspaper, then a TV station, both run by the Honduran "oligarchs" – wealthy families who control most of the media in the country. But, after being constantly pressurised to tone down or scrap her investigative stories, she quit. In 2004, she joined the feisty revistazo.com website.
"They were covering abuses committed by the security firms, against labour rights, the kind of stories the mainstream media didn't want to cover," she says.
Private security firms have often been used in the country to break up protests and civil unrest, which has been rife in the country in disputes over land rights. They are regularly accused of violent conduct.
Dina's work was dangerous. As well as report on human rights, Revistazo also worked on behalf of victims who could not afford legal representation in judicial disputes.
On 4 December 2006, Dina and the company's lawyer Dionisio Diaz had arranged to meet in the Supreme Court for one such hearing into alleged abuses by security firms. On Diaz's way from their office to go to court, two men on a motorbike drove past him.
"They shot him dead. Right in the middle of the street," she says. She recalls running outside to see his lifeless body. "He was just lying there. I saw the bulletholes in him. It was really shocking: he was my friend. My colleague."
Far from ending with those bullets, the harassment quickly turned its focus on her and has rarely ceased since.
First it was the most unsubtle of verbal threats. The owner of a security firm she was investigating phoned her saying: "Stop your work or I will destroy your organisation." She had the call taped and passed it on to the Attorney General, who did nothing.
Then an employee of the security company phoned to tell her what a "lovely looking daughter she had". It was clearly meant, she claims, in a sexually threatening way towards the 13 year old. The caller made it clear that her children were being followed at school and college.
Instead of keeping quiet, she tracked the man down to confront him. But he was shameless, telling her to her face: "Watch out, or I can't be held responsible for what might happen to your daughter."
Since February of last year she received phone calls and text messages with disgustingly graphic sexual threats against her. Her harassers phoned her landline at home repeatedly in the middle of the night. "It would click and go dead, click and go dead. Eventually I stopped picking up," she says, chuckling again. "So they would call my mobile and play funeral music, or make more horrible threats of a sexual nature against me."
She has no idea which of the organisations her journalism is exposing is making the threats at any one time: the police, security firms, abusive employers. Although she passes on her suspicions to the police, along with the phone numbers of the abusive callers, nothing is ever done about it, she claims.
She recalls a host of other threats and abuses – too many to document here – always accompanying her tales with a laugh or a joke. But when I ask about the harassment of her children, her exuberant voice quietens markedly and breaks with emotion. Children, spouses, friends, are all seen as fair game by those seeking to silence journalists in her country.
"Last November, my 19-year-old son was on the bus coming home from college," she says. "A man got in next to him, showing him a pistol and said, threateningly: "Relax." He warned him that a group of gunmen were coming in a car behind the bus.
"The man pretended to assault him. He took my son's SIM card from his phone and said his gang was going to 'take his contacts '. He thought they were going to kill him."
Eventually, the man got off the bus, climbed into the car that had indeed been following, and drove away, leaving her son shaking with fear.
"When he got home he was in a terrible state: 'They were going to kill me, Mum," he said. I was already sick with worry because I'd been trying to call him but of course his phone didn't work. It was awful," she says.
The lives of her daughter and two sons, 22, 19 and 13 respectively, have been badly affected by the constant danger of having such a high profile campaigning mother. They can never travel alone, never go to public places or live a normal private life. They have to keep in constant mobile phone contact with their mother in case of kidnap.
The only reason her son took the bus that day was because she had forgotten to book him the usual taxi.
Her daughter has repeated nightmares that the military will come to her home and torture her, or shoot her while she is in her car. They had to move house last year because the children were being followed and photographed.
When I interview Dina, she is in the London headquarters of Amnesty International, having just completed a four-month human rights course at the University of York.
She admits she is partly here in the UK to give herself and her children a break from the harassment they all suffer when she is at home.
But she is also doing a lecture tour of Europe, telling her stories and publicising the plight of journalists and human rights workers in her country.
"Over here, you do not have a good sense of what is the reality in my country," she says: "I have to tell people what it is like."
She urges Europeans to pressurise their MPs to push the Honduran government to get a grip on the abuse of journalists and human rights more generally in Honduras. She applauds the Voices in Danger project for drawing attention to cases like hers.
I ask her whether, for all that she and her family have been through over the decades, she would ever consider just giving up. Living a quiet life.
That laugh comes again: "Never! The worst thing I could possibly do is nothing. We are going to keep struggling."
"I could not look into my children´s eyes and tell them I can do nothing about the situation, because to do nothing would be far worse than the threats, beatings or bullets of the police and militaries".
Please write to:
Attorney General
Sr. Luis Alberto Rubí
Fiscal General de la República
Lomas del Guijarro, Avenida República
Dominicana, Edificio Lomas Plaza II
Tegucigalpa, Honduras
Fax: +504 2221 5667
Background on Honduras
Dina and her family's harassment is no isolated case. Amnesty International and other NGOs receive regular complaints from journalists about harassment, particularly by threats through text messages or mobile phone calls.
Since President Lobo took power after a 2009 coup, at least 23 journalists have been murdered, the Honduras National Commissioner for Human Rights says. The most dangerous subjects for reporters to cover include the police and disputes between mining companies and local peasants.
Only last month, Fidelina Sandoval, (pictured) a radio and TV journalist who had been covering purges within the police force and conflicts in the troubled Bajo Aguan region of the country was shot at in an apparent murder attempt.
Another journalist, Karla Zelaya was kidnapped and tortured last November because of her coverage of peasant protests, Reporters Without Borders said. RWB had repeatedly called on the government to protect Zelaya but she received none, it claims.
Register for free to continue reading
Registration is a free and easy way to support our truly independent journalism
By registering, you will also enjoy limited access to Premium articles, exclusive newsletters, commenting, and virtual events with our leading journalists
Already have an account? sign in
Join our new commenting forum
Join thought-provoking conversations, follow other Independent readers and see their replies