We may as well face it, tweet seats are the future
In the rush to be the first to react to a new performance, audiences are drawing the curtain on traditional theatre etiquette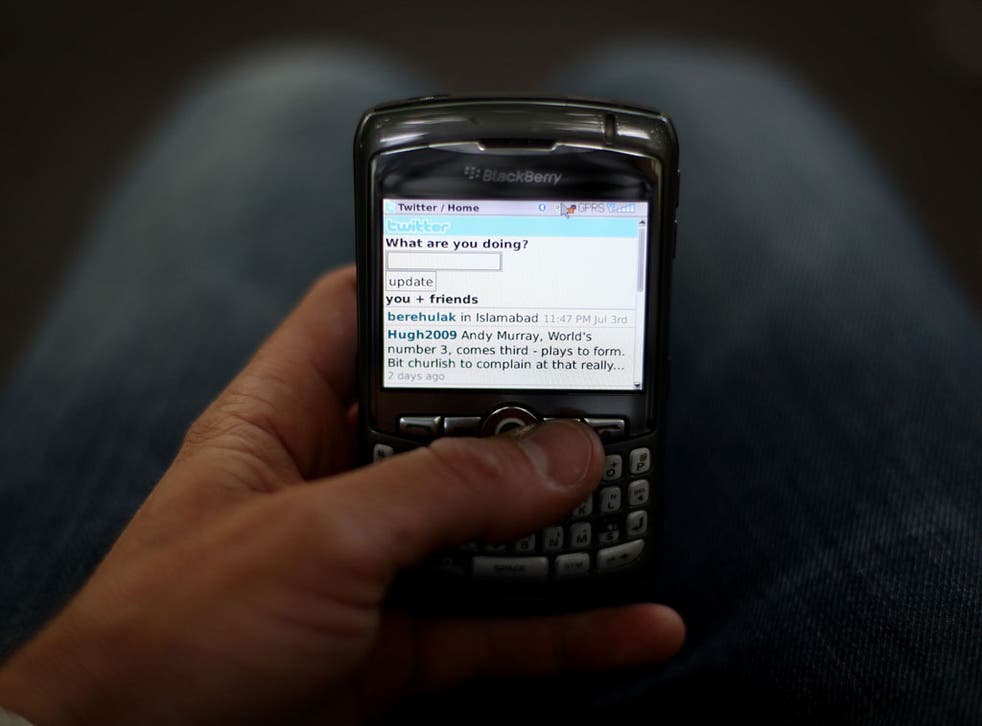 There has never been a pop song about sitting in the back row of the theatre on a Saturday night. Nor in the opera. Nor at a symphony concert. It would look ever so slightly weird to see someone put their arm round their partner at a play. Snogging is a total no-no. Not so at the movies. Theatres and cinemas might both be auditoria with dimmed lights. But live performance traditionally demands a very different etiquette from audiences.
Which brings me to Twitter. For here the etiquette of polite concentration in the auditorium is being challenged. People have been tweeting at the theatre. In a cinema, a light from a mobile phone is also irritating, but it does happen, and to no great protest. However the thought of it at a live performance is rather more disturbing.
It turns out that theatre tweeters are not chatting aimlessly on Twitter, but trying to be the first to post a reaction to the performance they are seeing. And this seems to mean getting it posted before the curtain comes down. It was reported at a performance of the current run of Cat on a Hot Tin Roof at the West Yorkshire Playhouse in Leeds, and raised in a Q and A after the performance. And I have seen it happening, not always that discreetly, in London's West End.
There's little doubt that it disturbs other audience members, and probably even cast members. And, of course, one hopes that people are too busy concentrating on the action to fish their mobile out of their pocket or bag. On the other hand, they are engaged enough to want a post a review.
Is the answer, I wonder, a relatively recent American phenomenon, the tweet seats? This started at a theatre in Los Angeles and has spread to a number of other big cities, with at least one theatre on Broadway now threatening to get in on the act. A section of seating on the side of the auditorium (so that the lights from the phones – in theory – don't disturb the rest of the audience) is reserved as tweet seats.
The first instinct of any regular theatre-goer is to foam at the mouth. But perhaps we should acknowledge the inevitable. OK, I'd be much more inclined to put them in the balcony, as the side of the stalls feels a little too visible. Why not make a small part of the balcony a silent tweeting zone for those who want it?
A few decades ago it would have been near unthinkable to take drinks into the auditorium. Now it's commonplace. I suspect that in less than a decade tweet seats will be commonplace too.
A musical trip down memory lane
I enjoyed going to a memorable but little publicised awards ceremony, the British Academy of Songwriters, Composers and Authors Gold Badge Awards for very special contributions to music. It was attended by some of the cream of the music world, people with a lifetime of achievement behind them.
Among the winners were Nick Mason, the brilliant Pink Floyd drummer who has played on every one of the band's albums, and Chris Welch, the veteran pop journalist who recalled that, in his Melody Maker days, the likes of Jimmy Page and Marc Bolan used to play him their records to seek his advice on whether they would be a hit. He got all such requests right apart from one, when he told the young Andrew Lloyd Webber and Tim Rice there was no chance a musical about Jesus could ever be a hit.
There was also an award for Sir George Martin, the Beatles' producer, now 86. Sir George talked about his moments as a composer, not least of the instrumental part on one of John Lennon's signature songs "In My Life". "I enjoyed composing," concluded Sir George. "Now I'm decomposing."
You can't accommodate more bums without more seats
A triumphant staging of a rarely performed Samuel Beckett play, All That Fall, is winning rave reviews at the tiny Jermyn Street theatre in London. The auditorium can hold only a few dozen people. Last night The River, the much anticipated follow-up to Jerusalem by Jez Butterworth, opened at the only slightly larger Theatre Upstairs at the Royal Court in London. One knows that there are good artistic reasons for staging plays in intimate spaces. But perhaps there is an even stronger case for the country's leading actors and playwrights being seen by a few more people, not least those much-needed new audiences.
Register for free to continue reading
Registration is a free and easy way to support our truly independent journalism
By registering, you will also enjoy limited access to Premium articles, exclusive newsletters, commenting, and virtual events with our leading journalists
Already have an account? sign in
Join our new commenting forum
Join thought-provoking conversations, follow other Independent readers and see their replies