We stopped reviewing books explicitly aimed at just girls, or just boys - the response was incredible. Here, we answer some of our readers' questions
We're not planning to judge books by their cover or ban glitter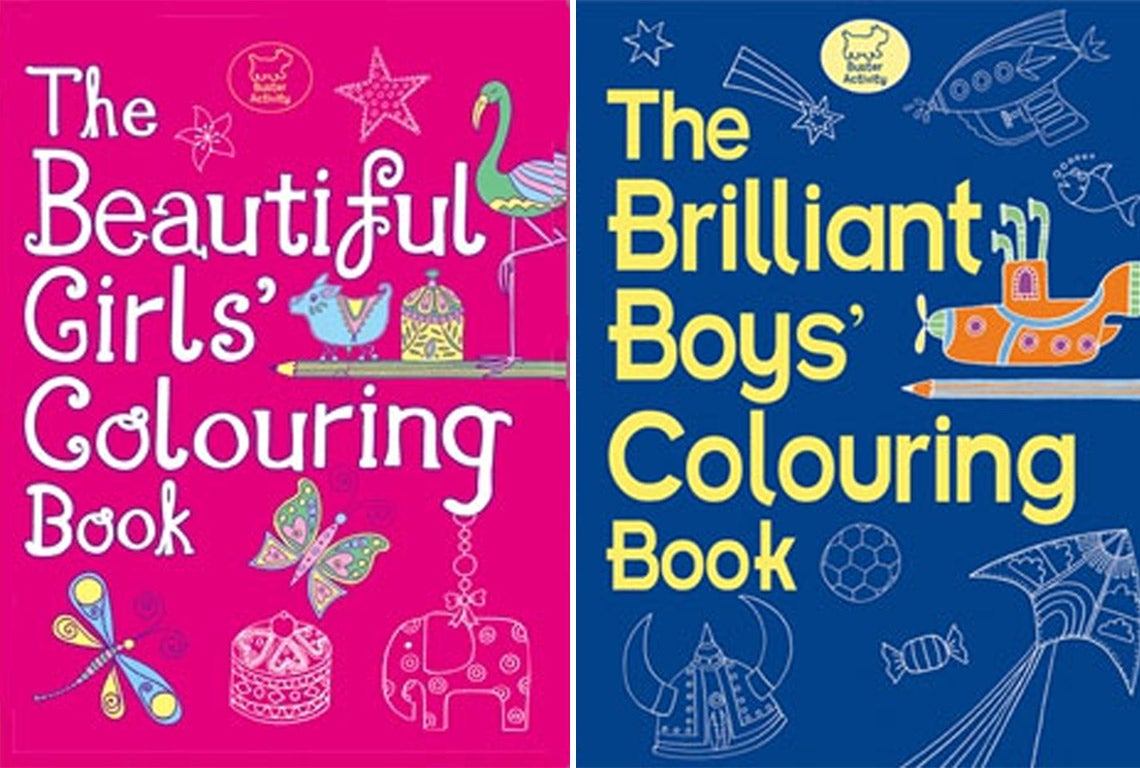 On Sunday, I wrote a comment piece explaining why I, as the literary editor of The Independent on Sunday, along with my colleagues on The Independent and www.independent.co.uk's children's books blog, support the campaign #LetBooksBeBooks and will not review "any book which is explicitly aimed at just girls, or just boys". It created a bit of a stir. Parents, teachers and children's authors and readers have responded in their hundreds, mostly praising the decision. But others have accused the papers of "censorship", and asked us when we'll start burning books. There have been legitimate questions… and some silly ones. So here, I attempt to answer them.
Am I a Nazi?
No. I don't plan to burn any books. Nor to ban them. Just not to review some.
As a rule, I receive close to 1,000 books each month at The Independent on Sunday office, and only have space to review a tiny percentage of those. So, as a literary editor, I make decisions all the time about which books to review (or not). On the whole, I'd rather introduce readers to books that I and my network of very talented and experienced reviewers can recommend. There are exceptions, but not in a children's books special; those are only for recommended books. I've made it clear why I can't recommend a book which excludes half of readers from the outset, and giving a book valuable review space just to explain what is wrong with it seems counterproductive. Wouldn't you rather know which books are great?
Do I judge books by their covers?
No. We won't review books which are "explicitly aimed at just girls, or just boys", as I said. Each book will be judged on its own merits – as always – but an example of "explicitly" targeting a book at boys or girls would be calling the book "The Boys' Book of Sportiness" or "The Girls' Book of Looking Pretty". "The Sporty Book" or "The Gorgeous Book", on the other hand, would pass. (By the way, if I were sent a book called The Girls' Book of You Can Do Pretty Much Anything a Boy Can Do, or vice versa, I might make an exception. But I never have been. These books seem to conform to type.)
Are pink covers barred?
No… And nor is the word "princess" in a title. Glitter, on the whole, is positively welcome.
The strange process that has turned the colour pink into a code for "stereotypically girlie" (when the Victorians thought that pink was for boys) is an interesting subject, but not one to go into here. However, any publisher who releases a pink book about baking with pictures of girls on the cover, alongside a corresponding blue book about football with boys on the cover, is obviously sending a message. Not quite "explicit", but really not very far off.
Will I get rid of chick lit, romance or action novels next?
Not if they're for adults, no. Adults are aware of subtle marketing messages and know how to negotiate them. They're old enough to know what reading is available and make their own choices. However… Do I run reviews of many books for adults that are explicitly aimed at either men or women and contain boring, unimaginative ideas about gender roles for men and women? Not really!
Why the new policy?
If I'm really honest, it's not that new. In five years as a literary editor, I've seen an increasing number of books come across my desk which are either pink, frilly Girls' Books of Shutting Up and Baking Cupcakes or butch, blue Boys' Books of Fighting and Eating Your Snot. Some of them really are that blatant. I've been rejecting these books which limit children's choices and narrow their imaginations for ages, it turns out. I just thought it was worth making that explicit.
Would I have rejected books such as Peter Pan, Just William, Alice in Wonderland or Anne of Green Gables?
Of course not! This is not about books which have mostly male or mostly female characters, or a character's name in the title. However, I would avoid reviewing a Peter Pan's Book of Adventures for Boys (In Which Wendy and Tinkerbell stay home and do Peter's ironing); Really Just William, and the alternative for-girls title, Just His Boring Sister Ethel; Alice's Adventures in Poundland's Lipstick Department or Anne of Pink Bedroom. I mean it: some of the books I receive really are that obvious. If Swallows and Amazons were written today, some publisher would try and turn it into two separate books, in which The Swallows (at least, John and Roger) have adventures on boats, and The Amazons (Peggy and Nancy) enter a beauty pageant.
Do I hate Little Women?
No. Likewise, to the best of my knowledge our music reviews editor has nothing against The Brotherhood of Man.
Am I making life difficult for children's authors?
Not according to those who have contacted me to offer their support. A good author just wants to write a great story, and for that to be available to all children who love to read, or might start to. I've heard stories of writers having to change plots and ditch characters to conform to what a marketing department thinks children should read. Funnily enough, the huge successes (The Hunger Games, Harry Potter, the His Dark Materials trilogy…) seem to be the ones aimed at the widest possible readership.
How are parents and other well-meaning adults supposed to choose books for children?
Well, they could try finding out what the children are interested in. Or, if you don't know the child, ask in a bookshop. Waterstones says: "If someone is unsure of what they want to buy a child, we'd prefer to help them make an informed decision based on more factors than just the child's gender. That's why we have a brilliant range of children's books and informed booksellers on hand to offer help and advice."
Who agrees with me?
Bestselling writers including the Children's Laureate Malorie Blackman and former Children's Laureate Anne Fine (just shortlisted for the CILIP/ Carnegie Prize for the third time); Philip Pullman ("I'm against anything, from age-ranging to pinking and blueing, whose effect is to shut the door in the face of children who might enjoy coming in. No publisher should announce on the cover of any book the sort of readers the book would prefer. Let the readers decide for themselves"); Waterstones; Usborne books; some parents; some teachers; lots of children; a neuroscientist…
Who disagrees?
Among others, Michael O'Mara, who told The Independent about his Beautiful Girls' Colouring Book and Brilliant Boys' Colouring Book: "The boys' one included things like how to make a bow and arrow and how to play certain sports and you'd get things about style and how to look cool in the girls' book." I happen to disagree with him, but he is not the only publisher doing this; perhaps just the only one brave enough to be explicit about his policy.
Am I trying to make boys and girls the same?
No, I'm trying to acknowledge that all children are different.
But books and toys have always been different for boys and girls? Why try to change it?
Not when I was a child in the 1970s. Nor when my parents were children in the 1950s. What I'd like to know is, why are publishers and toy manufacturers changing it now? Is it so that parents of both girls and boys have to buy twice as much stuff?
What's stopping a boy reading a "Girls' Book", or vice versa?
According to parents, teachers, children and booksellers, something is. Often, according to booksellers, it's parents. Otherwise, it's peer pressure. What boy wants to be seen reading a Pink Book of Predictable Love Stories for Girls? And, if we don't expect boys to be interested in that rubbish, why should girls accept it?
Why won't I accept the evidence that boys' and girls' tastes are innately different from birth?
Show me the evidence and I'll consider it. Until I see some, I can only rely on the evidence that says boys' and girls' tastes become different through socialisation. And socialisation happens through things like books. Why don't we try giving children a choice, and see what they're interested in, given free rein?
When is The Independent on Sunday's next children's books special?
Watch this space… And, in the meantime, read the online children's books blog here.
Twitter: @katyguest36912
Join our commenting forum
Join thought-provoking conversations, follow other Independent readers and see their replies