This week's crucial Energy Bill is the Lib Dem's last chance at reclaiming climate credibility
Despite all the disappointments, Lib Dems have an opportunity to redeem their green credentials on June 4th. The director of Friends of the Earth asks if they'll seize it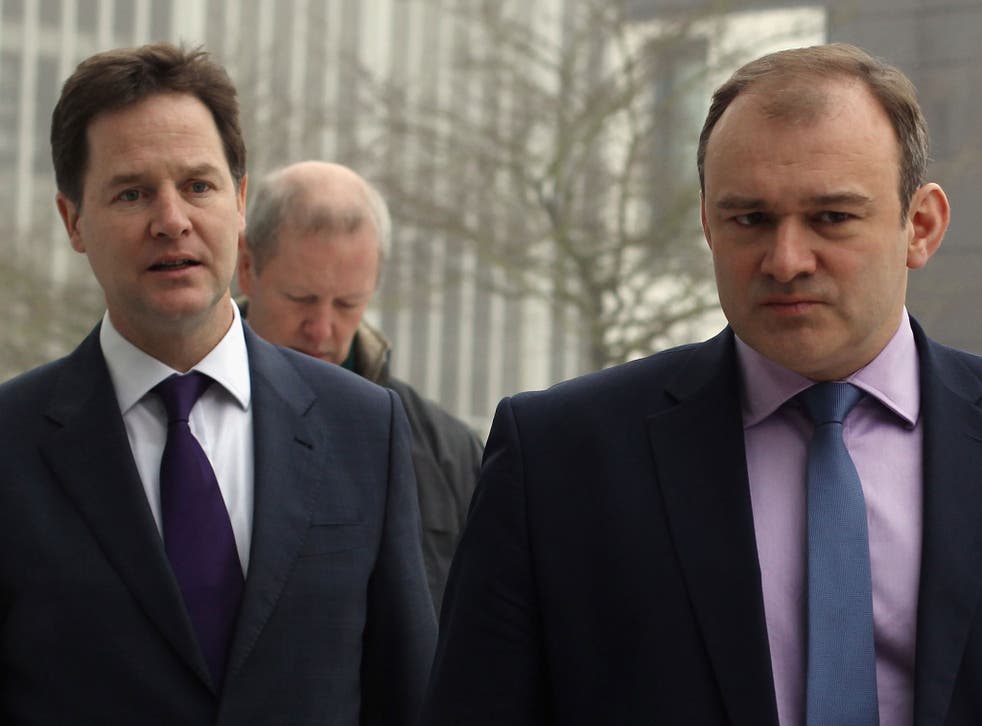 Shortly after failing to win the last election, David Cameron set about proving just how he and his new coalition partners had, y'know, so much in common.
We all remember Cameron standing next to Chris Huhne promising that this would be the "greenest Government ever". He even pledged his services as the fourth Minister in the Department of Energy and Climate Change, just to prove how terribly serious he was about saving the planet. How times have changed.
Cameron's green near-silence in the 36 months since has been deafening. This coupled with key advisor Lord Ashcroft's replacement by the "re-nastifyer" Lynton Crosby, a resurgent Tory right, and the perceived threat of Ukip, reveals Cameron's modernisation project to be all but dead in the water.
I thought the Tories losing their green sheen would be seized upon by Liberal Democrats. Here was a chance to steal back the environment mantle, to show that a junior coalition partner can punch above its weight – especially when it heads up the Whitehall department brief which chimes with the very core of its party values.
Yet the Lib Dems have spectacularly failed to capitalise on the opportunity. Instead, they've managed to deliver at best apologies for, and at worst endorsements of, Osborne's oil and gas tax breaks, his savage attacks on renewables, his dismantling of energy conservation policies, and his fawning at the feet of the shale gas industry. Senior Lib Dems' mealy mouthed defence of incentives for the nuclear industry is scarcely believable.
"Ah yes", claims Ed Davey, "but you're forgetting we've secured a trebling of support for renewables up to 2020. And a Green Investment Bank to boot!". While welcome developments, one is little more than funding to meet a legally binding EU target (risking massive fines if we miss it), and the other is shackled indefinitely by ludicrous borrowing restrictions. Far more impressive was his predecessor Huhne's approach in 2011 when he stood firm against George Osborne's pressure and forced David Cameron's hand to commit Government to halving economy-wide carbon emissions by 2025.
But despite it all, Lib Dems can still redeem their green credentials on 4th June when they face an historic opportunity to positively shape energy and climate policy for decades to come.
Up for grabs is the 'decarbonisation target', a measure that, if adopted in the Government's Energy Bill currently before parliament, would drive investment to slash the carbon intensity of our electricity production by 2030 - bringing with it much needed jobs and growth to match the obvious climate benefits.
Conservative MP Tim Yeo and Labour's Barry Gardiner have tabled the necessary amendments, which have gathered support from all sides of the house. Friends of the Earth has been leading the charge to translate the massive public backing for renewables into law, and I've been staggered by the sheer scale and breadth of support we've received. We've seen more than 200 organisations and almost 100 companies call for a target, telling us it's critical in setting the framework for investor certainty – to 2030 and beyond – that a successful renewables and energy saving industry requires. Even Ed Davey admitted in Parliament that "the vast majority of companies do appear to support a decarbonisation target in the Bill".
The alternative is pretty desperate. Without a clean power target, George Osborne's dash for gas will be given a free run. This fatally undermines UK efforts to curb emissions and adds at least an extra £25 billion to energy bills compared to a future powered by the home-grown renewables that would be the consequence of the target.
So far eleven Liberal Democrat MPs have shown laudable resolve to defy the whips and publicly pledge support for the amendments. Senior members of the party, including President Tim Farron, have also let it be known that they're on side. Assuming they follow through when it comes to tomorrow's vote, these MPs should be applauded for taking a principled stance.
They are joined by five Conservatives (with more privately promising to vote in favour on the day), the entire Labour Party and most of the smaller parties. A genuine rebellion is on the cards. The parliamentary maths is clear: it will be Liberal Democrat MPs that decide the fate of the target on Tuesday.
At an RSA event I chaired on 16 May, the UK's former - and the world's first - Climate Change ambassador, John Ashton CBE, said: "I can't see how any MP who votes against the target will thereafter be able credibly to claim that they support an effective response to climate change."
Liberal Democrat MPs must consider these words on 4 June, steel themselves, and vote in line with their core political values, not George Osborne's.
Andy Atkins is executive director of Friends of the Earth
Join our new commenting forum
Join thought-provoking conversations, follow other Independent readers and see their replies